State & Presidential Election – Tues. Nov. 8 – Early voting begins 10/24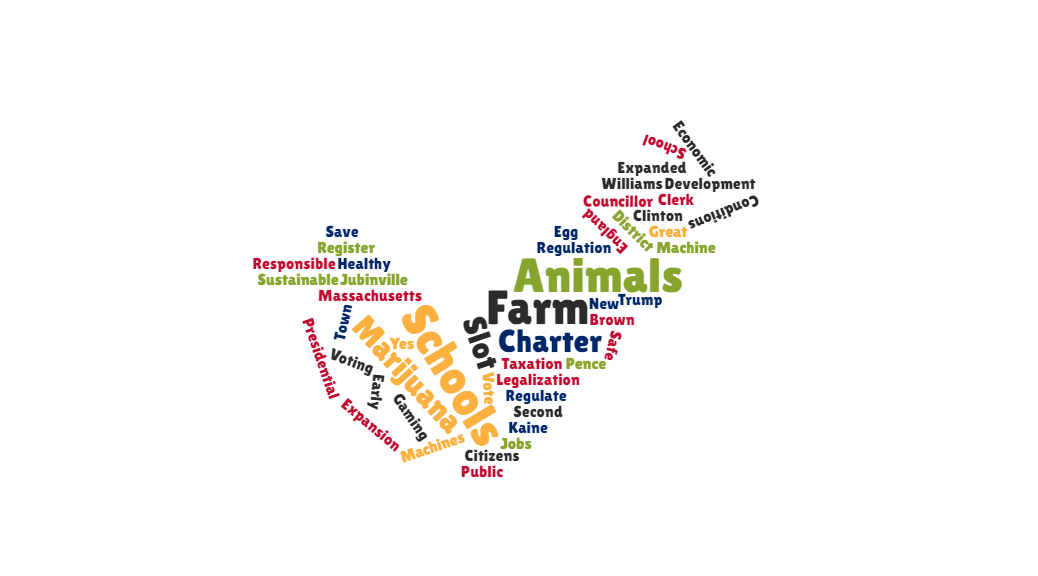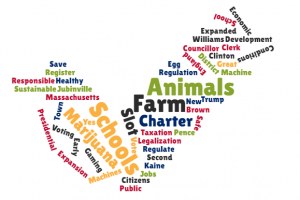 There is no school on Tuesday, November 8 due to a Teacher Professional Day timed as usual to coincide with election day. Because the polls are located at the Middle School, this reduces parking & traffic congestion and increases student safety on this busy day. There are four statewide ballot questions this year, in addition to the state and presidential election.
New this year! Early Voting Oct. 24 – Nov. 4
Early voting can be done in person or by mail by any registered voter. In Hopkinton, early voting can be done in person at Hopkinton Town Hall, 18 Main Street from Monday, October 24 until Friday, November 4. It will be held during our usual business hours which are Monday, Wednesday, and Thursday from 8:00 AM – 4:30 PM, Tuesdays from 8:00 AM – 7:00 PM, and Fridays from 8:00 AM – 2:00 PM. For public convenience, the Hopkinton Town Clerk has decided to offer weekend hours on Saturday, October 29th from 10:00 AM – 2:00 PM. Read more…
New to town, recently moved or not registered to vote?
Wednesday, October 19, 2016 is the last day to register to vote for the Presidential Election
On the November 8 Ballot for Hopkinton residents:
QUESTION 1: Expanded Slot Machine Gaming
This proposed law would allow the state Gaming Commission to issue one additional category 2 license, which would permit operation of a gaming establishment with no table games and not more than 1,250 slot machines. Read more…
A YES VOTE would permit the state Gaming Commission to license one additional slot-machine gaming establishment at a location that meets certain conditions specified in the law. http://massachusettsquestion1.com
A NO VOTE would make no change in current laws regarding gaming. http://macasinos.net
QUESTION 2: Charter School Expansion
This proposed law would allow the state Board of Elementary and Secondary Education to approve up to 12 new charter schools or enrollment expansions in existing charter schools each year. Approvals under this law could expand statewide charter school enrollment by up to 1% of the total statewide public school enrollment each year. New charters and enrollment expansions approved under this law would be exempt from existing limits on the number of charter schools, the number of students enrolled in them, and the amount of local school districts' spending allocated to them. Read more…
A YES VOTE would allow for up to 12 approvals each year of either new charter schools or expanded enrollments in existing charter schools, but not to exceed 1% of the statewide public school enrollment. http://greatschoolsma.org
A NO VOTE would make no change in current laws relative to charter schools. https://saveourpublicschoolsma.com
QUESTION 3: Conditions for Farm Animals
This proposed law would prohibit any farm owner or operator from knowingly confining any breeding pig, calf raised for veal, or egg-laying hen in a way that prevents the animal from lying down, standing up, fully extending its limbs, or turning around freely. The proposed law would also prohibit any business owner or operator in Massachusetts from selling whole eggs intended for human consumption or any uncooked cut of veal or pork if the business owner or operator knows or should know that the hen, breeding pig, or veal calf that produced these products was confined in a manner prohibited by the proposed law. The proposed law would exempt sales of food products that combine veal or pork with other products, including soups, sandwiches, pizzas, hotdogs, or similar processed or prepared food items. Read more…
QUESTION 4: Legalization, Regulation, and Taxation of Marijuana
The proposed law would permit the possession, use, distribution, and cultivation of marijuana in limited amounts by persons age 21 and older and would remove criminal penalties for such activities. It would provide for the regulation of commerce in marijuana, marijuana accessories, and marijuana products and for the taxation of proceeds from sales of these items. Read more…
A YES VOTE would allow persons 21 and older to possess, use, and transfer marijuana and products containing marijuana concentrate (including edible products) and to cultivate marijuana, all in limited amounts, and would provide for the regulation and taxation of commercial sale of marijuana and marijuana products. https://www.regulatemassachusetts.org
A NO VOTE would make no change in current laws relative to marijuana. http://www.safeandhealthyma.com
ELECTORS OF PRESIDENT AND VICE PRESIDENT
CLINTON and KAINE, Democratic
JOHNSON and WELD, Libertarian
STEIN and BARAKA, Green-Rainbow
TRUMP and PENCE, Republican
REPRESENTATIVE IN CONGRESS – FOURTH DISTRICT
JOSEPH P. KENNEDY, III, 12 Gibbs St., Brookline, Democratic
DAVID A. ROSA, 323 Lincoln Ave., Dighton, Republican
COUNCILLOR – SECOND DISTRICT
ROBERT L. JUBINVILLE, 487 Adams St., Milton, Democratic
BRAD WILLIAMS, 29 Furbush Rd., Boston, Republican
SENATOR IN GENERAL COURT – SECOND MIDDLESEX & NORFOLK DISTRICT
KAREN E. SPILKA, 18 Rome Way, Ashland, Democratic
REPRESENTATIVE IN GENERAL COURT – EIGHTH MIDDLESEX DISTRICT
CAROLYN C. DYKEMA, 429 Marshall St., Holliston, Democratic
SHERIFF – MIDDLESEX COUNTY
PETER J. KOUTOUJIAN, 33 Harris St., Waltham, Democratic
---