eHop's mission is to provide timely and factual information about key town matters with the goal of increasing government transparency and fostering civic engagement.
Meet Jose
Jose Moros Obregon is currently a senior at Northeastern University pursuing a BS degree is chemical engineering with a business administration minor. His expected graduation date is May, 2018.
While a student at Northeastern, Jose played Division I soccer for the Huskies before transitioning to club soccer where he was elected President of the student-run interscholastic Men's Club Soccer Program.
"I am ambitious about making a difference in the lives of those around me and the rest of the world. I am determined to have a positive and lasting effect in everything I pursue."
It is that spirit of service and social impact that led Jose to choose eHop as his 2018 Boston Marathon charity of choice.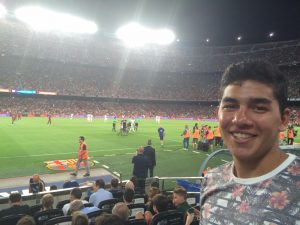 ---
eHop is a 501(c)4 "Civic League" non-profit. We are not a charity, so donations are NOT tax-deductible.