6th Annual "Know Your Vote" Spotlight on Town Meeting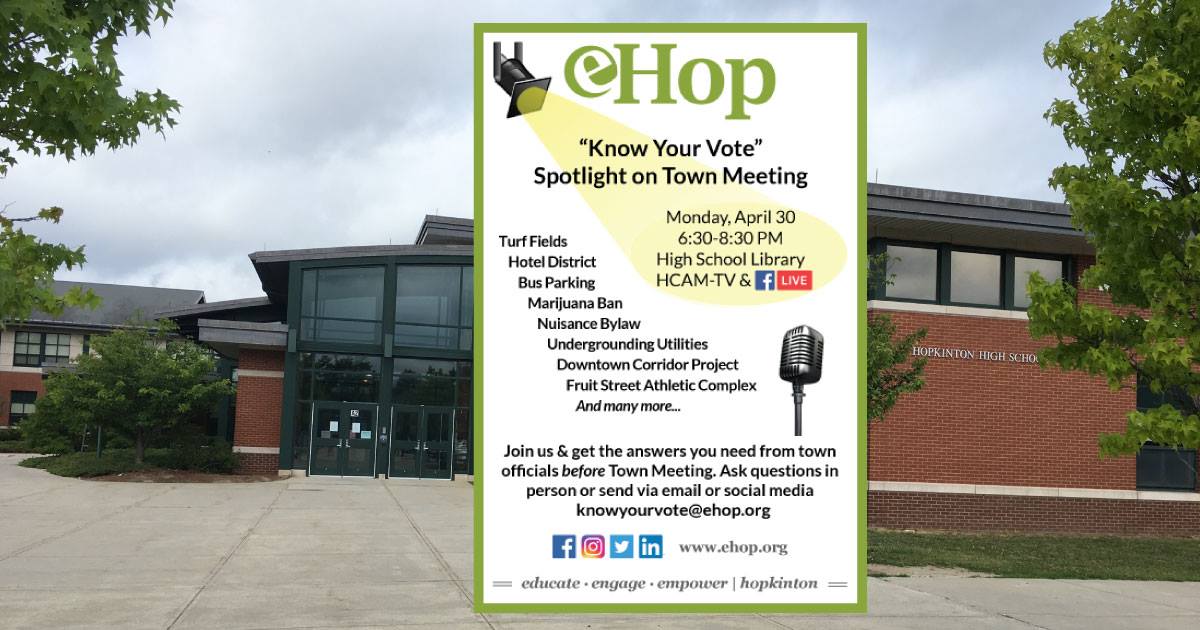 eHop (educate • engage • empower | Hopkinton) will hold its 6th Annual Spotlight Forum on Town Meeting:  Know Your Vote on Monday, April 30, 6:30-8:30 pm in the Hopkinton High School library.   Residents are encouraged to attend and get the answers they need from town officials about all articles to be voted on at Town Meeting.   For those who cannot attend in person, the forum will be broadcast on HCAM-TV (Comcast 8/Verizon 30) and streamed on Facebook Live at facebook.com/eHop01748.
This year residents will vote on a Town budget that calls for a 4.98% tax increase (equivalent to an additional $481 in taxes per average home).  Other significant funding votes will include the Downtown Corridor Project and new turf fields at the High School Athletic Complex. Several important zoning changes are proposed including a permanent ban on non-medical marijuana establishments and expansion of the hotel overlay districts. See the documents below for more details:
All residents are encouraged join the conversation and learn about the potential impact of these and other important votes.  Questions may be submitted in advance and during the forum by email, knowyourvote@ehop.org, and on eHop's social media.
Panelists will include Town Moderator Thomas Garabedian, Town Manager Norman Khumalo, Selectmen Chair John Coutinho, Acting Superintendent of Schools Carol Cavanaugh, School Committee Chair Jean Bertschmann, Director of Land Use and Town Operations Elaine Lazarus, Parks & Recreation Chair Dan Terry, and Director of Youth & Family Services Denise Hildreth, DPW Director, John Westerling, and more.
eHop (www.ehop.org) is a Hopkinton based 501(c)(4) nonprofit whose mission is to provide timely and factual information about key town matters with the goal of increasing government transparency and fostering civic engagement.  Know Your Vote is being held in conjunction with the Town of Hopkinton.
---