Board of Selectmen 11/13/18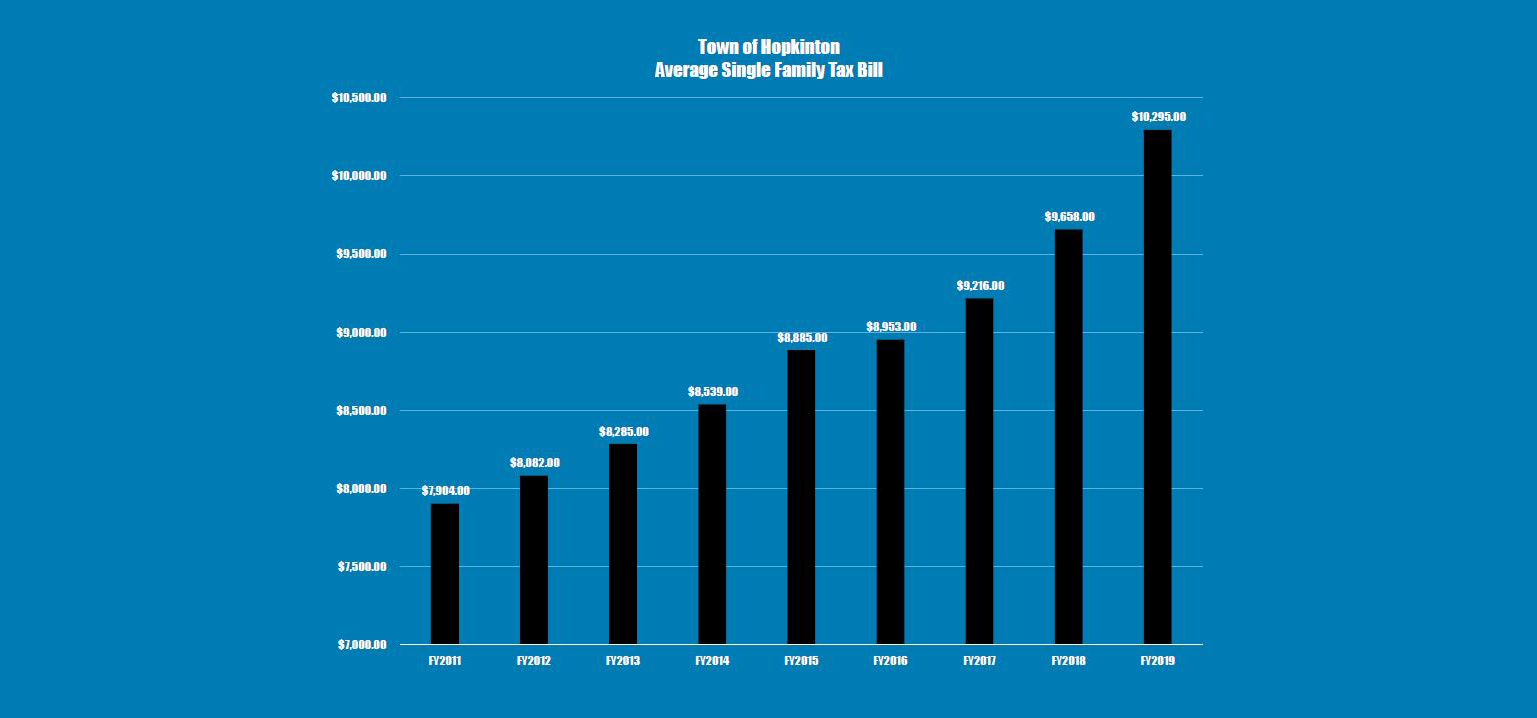 The proposed tax rate for Fiscal Year 2019 is $17.17 per thousand of valuation. The Board of Assessors and the Principal Assessor will appear before the Board of Selectmen on 11/13/18 to present information to assist the Selectmen in making decisions in reference to property tax options. These decisions are:
Selection of a Residential Factor or whether to shift the tax burden from the 'residential and open space class' to the 'commercial, industrial and personal property class', and if so, by what percentage.
Whether or not to grant an Open Space Discount.
Whether or not to grant a Residential Exemption.
Whether or not to grant a Small Commercial Exemption.
---
Agenda Items for Tuesday, November 13 are listed below and the full 47 page meeting packet is available on the town website. As usual the meeting will be televised on HCAM-TV (Comcast 8 / Verizon 30) or the public is welcome to attend in person at Town Hall (2nd Floor).
6:00 PM EXECUTIVE SESSION
6:35 PM PUBLIC FORUM – Residents are invited to share ideas, opinions or ask questions regarding town government.
6:45 PM STAFF APPOINTMENTS

i. SPECIAL POLICE OFFICER APPOINTMENTS The Board of Selectmen will consider appointing the following Public Safety employees as Special Police Officers:

a. Telecommunications Specialist, Kiley Davis
b. Firefighter, Sara Jordan
c. Firefighter, Robert Caron

ii. FIRE DEPARTMENT APPOINTMENT The Fire Chief will advise the Board of Selectmen of his appointment of Firefighter Maxwell Israeloff.

6:55 PM CONSENT AGENDA

i. BOARD MINUTES Approval
ii. eHOP BANNER OVER MAIN STREET
iii. RESIGNATION – The Board of Selectmen will consider accepting the resignation of Timoria Saba as a member and as Chair of the Youth Commission.

7:00 PM POSTED PUBLIC HEARING – TAX CLASSIFICATION HEARING – See pages 9-31 of the meeting packet for a detailed presentation from the Board of Assessors.
The Board will hold a public hearing to determine the percentage of local tax levy to be borne by each class of real and personal property, in accordance with Chapter 40, Section 56, as certified by the Commissioner of Revenue through the Hopkinton Board of Assessor's property assessment of full and fair cash valuation. Oral and written comments from the public will be accepted at the hearing.
7:50 PM MARATHON FUND COMMITTEE CHARGE; BOARD/COMMITTEE APPOINTMENTS

i. The Board of Selectmen will discuss the Marathon Fund Committee Charge.
ii. The Board of Selectmen will consider appointing Don Wolf to the Council on Aging.

8:00 PM FIRE CHIEF/POLICE CHIEF/TOWN MANAGER PERFORMANCE EVALUATION & GOALS (DISCUSSION/ACTION) – The Board of Selectmen will conduct the FY 18 annual reviews and discuss the prospective FY 19 goals for the Town Manager, Police Chief and Fire Chief.
9:00 PM TOWN MANAGER REPORT

a. Naming of Senior Center Kitchen: The Town Manager will seek Board of Selectmen authorization to begin the process of naming the Senior Center kitchen. (ACTION)
Useful Links:
---