Weekly News Roundup – 07/21/2019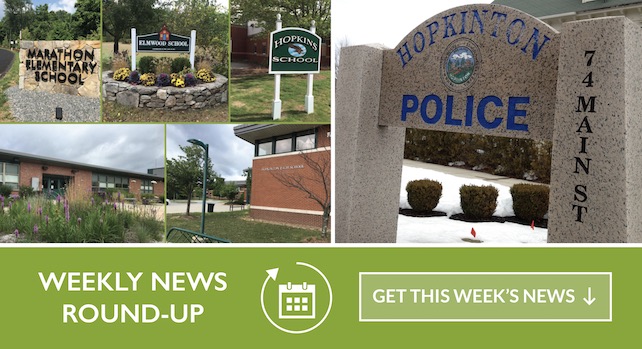 The Hopkinton Police Department launch strategic plan initiative • Community Notice: Work on Cedar Street Water Main to Begin Next Week • HPS enrollment continues to grow inline with the latest projections • Trail Work Opportunity at Whitehall woods • Hopkinton is soliciting a RFP to lease 5 acres of land at Fruit Street for the construction and operation of an animal shelter • Journalists describe low pay, long hours • Hopkinton wants answers on 'thermal anomaly' at LNG tank • The Hopkinton Community Preservation Committee is now accepting Draft Project Funding Applications for Fiscal Year 2021
---
The Hopkinton Police Department launch strategic plan initiative
The Hopkinton Police Department is seeking your feedback. In an effort to evaluate and formalize the vision for the Hopkinton Police Department Chief Lee has launched the process of developing a strategic plan for the Hopkinton Police Department.
The first phase of the strategic plan development process is to conduct a community survey. It is absolutely critical that the Police Department understand the communities expectations. This survey will be used to determine what we do well, what we could do better and what additional services could be provided. The survey only takes a few moments to complete and is available at http://bit.ly/HPDsurvey
More info here.
https://ehop.org/2019/07/hopkinton-police-launch-strategic-plan-development-initiative/
Community Notice: Work on Cedar Street Water Main to Begin Next Week
Please be advised that night work to replace the Cedar Street water main will begin next week. There will be detour signs in place to direct traffic around the construction.
HPS enrollment continues to grow inline with the latest projections
At the July 18, 2019 Hopkinton School Committee Meeting, the Superintendent updated the public with the latest enrollment numbers. As of July 17, there are currently 3,735 students expected this fall in grades PreK-12 (this includes enrolled students and students who have begun the pre-enrollment process). At the moment these numbers are still in line with the NESDEC projections from December 2018, but enrollment will likely rise through August before school actually begins. More info here.
HPS Enrollment Continues to Grow inline with the Latest Projections
Trail Work Opportunity at Whitehall woods
Volunteers are needed for invasive plant control at our Whitehall Woods in Hopkinton. The task at hand is to cut/pile larger invasives and manually remove smaller individuals by hand or with weed wrenches.
Sunday, July 21st
8:00 a.m. – 2:00 p.m.
203 Pond St, Hopkinton
If you can join us, please RSVP to Kristin O'Brien (kobrien@svtweb.org) with times you are available.
http://www.hcam.tv/news/trail-work-opportunity
Hopkinton is soliciting a RFP to lease 5 acres of land at Fruit Street for the construction and operation of an animal shelter.
All questions regarding this Request for Proposals should be directed to the Procurement and Grants manager, Mr. Benjamin Sweeney.
Email: bsweeney@hopkinton-ma.gov
Journalists describe low pay, long hours
TURNING DOWN a $28,000 a year job. Taking the $28,000 a year job but working a second job on top of it. Working 70 hour weeks as the sole staffer of a weekly paper. Not knowing what to tell students about where to look for jobs as they prepare to graduate. Important town meetings going uncovered.
These were the stories mentioned by reporters and professors who testified Wednesday at the State House in favor of a bill filed by state Rep. Lori Ehrlich of Marblehead that would create a 17-member commission to study the state of the media industry in Massachusetts and recommend sustainable local business models for news outlets. More info here
Hopkinton wants answers on 'thermal anomaly' at LNG tank
Fire Chief Steve Slaman is unhappy about town officials being left in the dark about Eversource Energy's plans to identify and repair a "thermal anomaly" that took place in one of three massive liquefied natural gas (LNG) tanks on Wilson Street.
https://www.metrowestdailynews.com/news/20190715/hopkinton-wants-answers-on-thermal-anomaly-at-lng-tank
The Hopkinton Community Preservation Committee is now accepting Draft Project Funding Applications for Fiscal Year 2021
Please submit your application no later than Friday August 9, 2019
Projects allowable under the CPA include the creation and preservation of open space, the preservation of historic sites, the creation and preservation of affordable housing and the creation and preservation of outdoor recreational facilities. Please call (508) 497-9745 or email Shannon Soares at ssoares@hopkintonma.gov if you have any questions or would like an electronic application sent to you.
More details available here
Community Preservation Committee is now accepting Draft Project Funding Applications
---