Weekly Roundup – 09/15/2019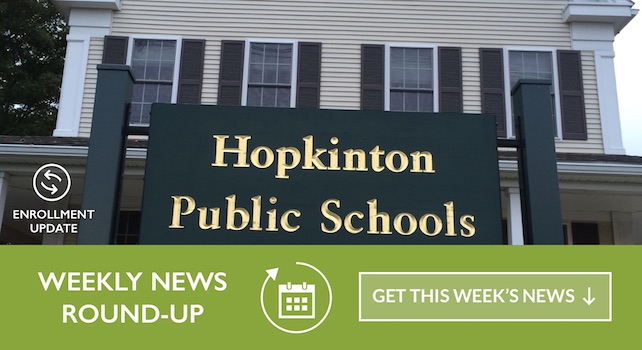 The Hopkinton Community Preservation Committee is now accepting Project Funding Applications for Fiscal Year 2021 • Hopkinton Select Board adds two conditions on Greyhound Friends' license to operate • Update on EMC playground! • UPDATE: HPS Enrollment Continues to Grow, Now Exceeding Recent Projections by 103 students 
---
The Hopkinton Community Preservation Committee is now accepting Project Funding Applications for Fiscal Year 2021
Please submit Full Applications for funding to the Committee by Tuesday, September 24, 2019 for review during the September 26, 2019 meeting
Projects allowable under the CPA include the creation and preservation of open space, the preservation of historic sites, the creation and preservation of affordable housing and the creation and preservation of outdoor recreational facilities.
Hopkinton Select Board adds two conditions on Greyhound Friends' license to operate
During Tuesday's meeting, petitioner Beth Malloy said she believed the organization provided several "misstatements" in its June 15 license application letter.
The board did not revoke the license Tuesday; instead, the five members voted to add two conditions to it:
No members of the organization's board of directors who had previously served on the board prior to February 2017 could once again become a member, unless otherwise approved by the Select Board after a public hearing.
Former Executive Director Louise Coleman is forbidden from ever setting foot on the property
https://www.metrowestdailynews.com/news/20190911/hopkinton-select-board-adds-two-conditions-on-greyhound-friends-license-to-operate
Update on EMC playground!
Construction is expected to begin in mid October.
Update on EMC playground! Construction is expected to begin in mid October. Thank you for your patience! pic.twitter.com/tjWlvoYmkq

— Hopkinton Parks&Rec (@HopParksRec) September 11, 2019
UPDATE: HPS Enrollment Continues to Grow, Now Exceeding Recent Projections by 103 students
At the September 5, 2019 Hopkinton School Committee Meeting, the Superintendent updated the public with the latest enrollment numbers. There are currently 3,902 students this fall in grades PreK-12. These numbers have now exceeded the December 2018 NESDEC projections by 103 Students, and enrollment may continue to rise throughout the school year.
---