Weekly Roundup – 11/03/2019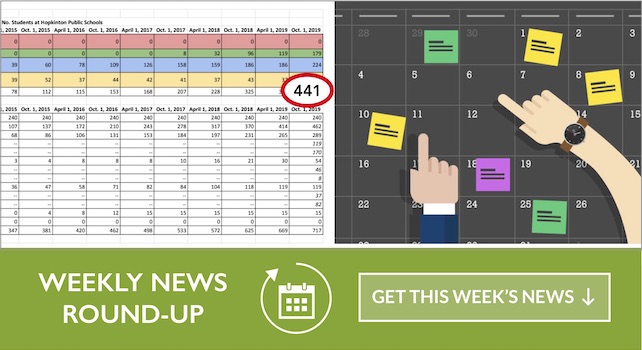 441 HPS students living in Legacy Farms, as of October 1, 2019 • MEPA Certificate Issued for Main Street Corridor Project Environmental Impact Report (EIR) Not Required • Lake Maspenock Weed Management and Control Advisory Group Public Hearing Notice: November 18th 2019 • Hopkinton Public Schools Calendar Survey • Superintendent's Blog: Enrollment Blog 
---
441 HPS students living in Legacy Farms, as of October 1, 2019
As of October 1, 2019 there are now 441 HPS students living in Legacy Farms. The Legacy Farms Host Community Agreement has provisions in place that if the enrollment exceeds 250 students payments to the schools are triggered.
MEPA Certificate Issued for Main Street Corridor Project Environmental Impact Report (EIR) Not Required
The Town of Hopkinton today announced that Secretary of the Executive Office of Energy and Environmental Affairs Kathleen Theoharides on October 11, 2019 issued a MEPA Certificate for the Main Street Corridor Project and has determined that the project does not require an Environmental Impact Report (EIR).
http://www.hcam.tv/news/mepa-certificate-issued-main-street-corridor-project-environmental-impact-report-eir-not
Lake Maspenock Weed Management and Control Advisory Group Public Hearing Notice: November 18th 2019
The Lake Maspenock Weed Management and Control Advisory Group will hold a public hearing on Monday, November 18, 2019 at 7:00 p.m., at the Hopkinton Library, 13 Main Street, Hopkinton, MA to consider the possibility of applying the herbicides "diquat" and "endothall" in Lake Maspenock in calendar year 2020 in order to control weeds.
All interested parties are invited to attend and comment. Attendees are requested to park in the overflow parking lot at St. John the Evangelist Parish, 20 Church Street.
http://www.hcam.tv/news/lake-maspenock-weed-management-and-control-advisory-group-public-hearing-notice-november-18th
Hopkinton Public Schools Calendar Survey
In August 2019 Superintendent Dr. Carol Cavanaugh requested the formation of a calendar review subcommittee that would consider whether the HPS School Calendar is optimally structured to meet the needs of our families and community. As part of the process to develop recommendations to the Hopkinton School Committee, a group of parents, students, teachers, administrators, and community members meeting as a Calendar Review Subcommittee have developed this survey to gather feedback from both the Hopkinton school and broader community to inform recommendations and revisions for the HPS calendar going forward.
View more details to participate in the survey
Superintendent's Blog: Enrollment Blog
In this blog entry, I want to talk a bit about student enrollment and its impacts on our physical plants–that is, our school buildings.
Consider this: In the past three years, we have enrolled a net increase of over 500 students across all grade levels. The school population has risen from about 3,500 students to 4,000 students.  Three years ago, when school opened in 2016, we had just about 500 students in the Hopkins School, a school with 24 regular education classrooms.
https://www.hopkinton.k12.ma.us/about/superintendent/superintendents-blog/~board/superintendents-blog/post/enrollment-blog
---