Weekly News Roundup – 02/16/2020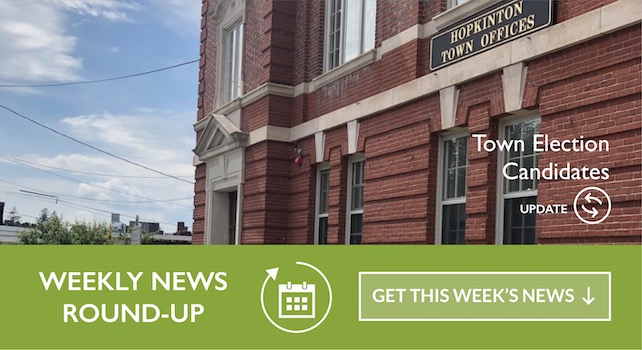 Planning Board Sidewalk Survey • Town Election Candidates Needed • Primary For Presidential Preference Coming Up In Hopkinton • Tobacco regulations adopted after Board of Health hearing on February 10, 2020 • Planning Board Actions Taken – 02/10/2020 • Select Board Actions Taken – 02/12/2020
---
Planning Board Sidewalk Survey
The Hopkinton Planning Board is undertaking a survey of residents' opinions for future sidewalk improvements in Hopkinton. The results of this survey will help the Planning Board understand the community's goals related to future sidewalk improvements.
Town Election Candidates Needed
Considering running for local office, but don't know where to begin?
To become a candidate a person must either obtain and submit nomination papers by securing the signatures of 50 Hopkinton registered voters by Tuesday, March 31; or a person may qualify by being the top vote-getter in one of the town political party caucuses. The Democratic and Republican caucus dates have not been announced yet, but are typically in early April.
Click here for details and an updated list of candidates 
Primary For Presidential Preference Coming Up In Hopkinton
Last day to register is 2/12. Absentee ballots now available. Hopkinton's Town Clerk is reminding voters of the Primary for Presidential Preference on March 3. Anyone who needs absentee ballots can grab one from the clerk's office until March 2.
Absentee ballots have to be returned to the clerk by 8 p.m. on March 3, before polls close. Early voting will take place in the lower level of Town Hall, 18 Main Street, from Feb. 24 to Feb. 28 during the normal office Hours of the Town Clerk.
Click here for online registration and other
Tobacco regulations adopted after Board of Health hearing on February 10, 2020
The Hopkinton Board of Health adopted two new tobacco regulations after the hearing on February 10th, which will take effect on 3/16/20
Planning Board Actions Taken – 02/10/2020
AGENDA ITEMS & ACTIONS TAKEN (UNOFFICIAL):
Administrative Items

Proposed Town Meeting Articles

Car Washes in BD District – Voted to Move Article Forward to the Public Hearing on March 9, 2020

Approval Not Required – 149 Hayden Rowe – The Hayden Rowe Realty Trust – Approved
Minutes of January 13, 2020; January 27, 2020 – Not Yet Approved
MATERIALS FOR THIS MEETING:
Select Board Actions Taken – 02/12/2020
4:30 PM CALL TO ORDER
1. PLEDGE OF ALLEGIANCE
4:31 PM PRESIDENTIAL PRIMARY WARRANT

2. The Select Board will sign the March 3, 2020 Presidential Primary Warrant.
The Select Board moved a motion to sign the warrant. (3-0)
Watch Video ~30 seconds
4:32 PM MILFORD-HOPKINTON SEWER AGREEMENT
3. The Select Board will review an Intermunicipal Gap Agreement for wastewater collection, treatment, disposal between the towns of Hopkinton and Milford.
The Select Board authorized the Town Manager to sign the Gap Agreement. (3-0) 
Watch Video ~1.5 minutes
4:35 PM ADJOURN
---