Weekly News Roundup – 04/05/2020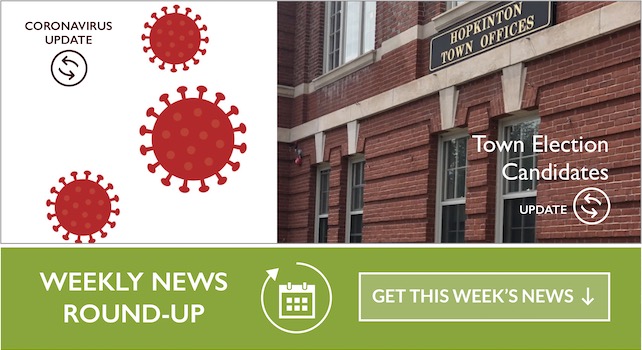 Covid-19 Precautions and Updates • Hopkinton Restaurant Statuses during COVID-19 • Town Election update after nomination paper deadline • Access expanded for local state parks • Coronavirus in Massachusetts: Here's what we know, latest updates town-by-town • Gov. Baker extends stay-at-home advisory, closure of nonessential businesses through May 4 • Municipal Vulnerability Preparedness presentation and survey
---
Covid-19 Precautions and Updates
Previous updates and additional information and resources can be found here: www.hopkintonma.gov/covid-19
Following Governor Baker's updated emergency order from March 31, ONLY designated businesses and organizations providing "COVID-19 Essential Services," such as grocery stores, pharmacies, and restaurants offering take-out or pick up only remain open. All non-essential businesses, retailers, and organizations are closed to workers, customers and the public until Monday, May 4, 2020. See the COVID-19 Essential Business FAQs from the State.
As of 11:00 a.m. on 4/1/20, Hopkinton's Health Department has 9 total confirmed COVID-19 cases; 3 of those cases are active, with 6 recoveries and zero deaths. Our most recent cases fall within the 20-29 age range. The Health Department and Board of Health want to reiterate how important it is for all of our residents to practice social distancing and avoid any unnecessary contact.
April 1, 2020 update – Includes important updates including Community impact, Economic impact (stimulus checks) and Income Tax filing date extension
Hopkinton Restaurant Statuses during COVID-19
During this pandemic, many businesses have been impacted. Many restaurants have temporarily closed or moved to a take-out or curbside-pickup option. HCAM's Mike Torosian has compiled the below status of restaurants in Hopkinton.
http://www.hcam.tv/restaurant-statuses
Town Election update after nomination paper deadline
Although the Town Election has been postponed, nomination papers were still due by March 31. Candidates may also be nominated at their political party caucus. Party caucuses would normally be held by April 10 at the latest, but both parties have requested an extension from the Select Board due to the COVID-19 social distancing guidelines. The Select Board will also be discussing the caucus dates and the new proposed election date of June 29 at their next meeting. eHop will report on the new caucus and election dates when they are available. There is only one contested race so far this year, for the Select Board. There are currently no candidates for Commissioners of Trust Funds or Constable. Candidates are welcome to email a candidate statement, a photo and a link to their campaign website or social media to eHop and we will be happy to post it on our website along with info about all the other candidates. Please send to webmaster@ehop.org
Access expanded for local state parks
DCR will open select state parks early and expand access to other parks to provide additional open space opportunities for residents, the governor said. DCR will also be limiting the amount of parking spaces available at certain high-visitation state parks.
Coastal parkways that provide access to state beaches will also be closed to both parking and dropping off passengers.
https://www.metrowestdailynews.com/news/20200402/ashland-natick-and-hopkinton-state-parks-will-be-open-more-during-coronavirus-outbreak
Coronavirus in Massachusetts: Here's what we know, latest updates town-by-town
192 Massachusetts residents have died and 10,402 people have tested positive, representing the largest one-day increase, for COVID-19 as of Friday. The fourth and fifth COVID-19 related deaths in Framingham were also reported. Gov. Baker said the state's model shows "somewhere between 47,000 and 172,000 cases during the course of the pandemic."
https://www.metrowestdailynews.com/news/20200402/coronavirus-in-massachusetts-heres-what-we-know-latest-updates-town-by-town
Gov. Baker extends stay-at-home advisory, closure of nonessential businesses through May 4
Gov. Charlie Baker on Tuesday announced the extension of the state's stay-at-home advisory and mandatory closure of nonessential businesses through May 4.
"This order also extends the 10 person limit on social gatherings until May 4 as well," Baker said.
As part of his new order that takes effect Wednesday at noon, the state is also updating its list of essential businesses.
https://hopkinton.wickedlocal.com/news/20200331/gov-baker-extends-stay-at-home-advisory-closure-of-nonessential-businesses-through-may-4
Municipal Vulnerability Preparedness presentation and survey
The Town of Hopkinton was a awarded a grant from the Commonwealth's Municipal Vulnerability Preparedness (MVP) Program to create a list of priority action items to advance the community's resilience to projected climate change impacts and to update the Town's Hazard Mitigation Plan. In December, a group of stakeholders met to identify strengths, vulnerabilities, and actions to further build the Town's resilience. The Town of Hopkinton would like to receive feedback via the survey link provided below after you've watched the Listening Session March 24, 2020 below.
Hopkinton Municipal Vulnerability Preparedness Listening Session Online March 24, 2020
---