Select Board Actions Taken – 05/05/2020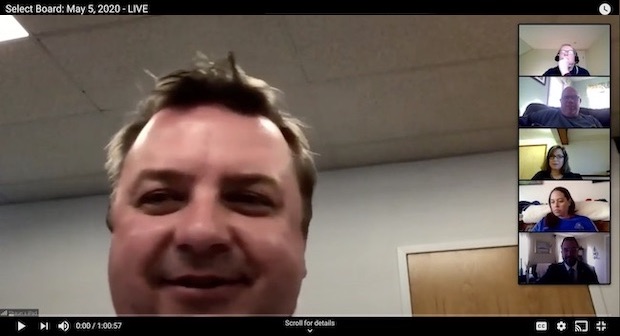 Public Forum • Covid-19 Update • Consent Agenda • FY 2020 AND FY 2021 Budget Updates • Town Manager Report 
---
The meeting video is available on the HCAM YouTube Channel and the Actions Taken are posted in blue below.
TOWN OF HOPKINTON
SELECT BOARD MEETING
Tuesday, May 05, 2020 6:00 PM
Remote Meeting
6:31 PM PUBLIC FORUM
2. Residents are invited to share ideas, opinions or ask questions regarding Town Government.
The Select Board discussed likely postponement of Town Meeting to September. No official action is taken yet.
View Video ~3.5 minutes
6:35 PM COVID-19 UPDATE 
3. The Select Board will receive an update from the Board of Health on the Town's response to COVID-19.
View Video ~22 minutes
6:50 PM CONSENT AGENDA
4.
i. MINUTES – The Select Board will consider approving the Minutes of the 4/28/20 meeting.
ii. GIFTS
The Select Board will consider accepting the following Ambulance Fund gifts:
a. $25.00 from John Cade and Julia Cade, 3 Katy Lane, Norwalk CT
b. $50.00 from Oskar Feldmann and Carol Feldmann, 71 Oak St., Holliston, in memory of Francis Pyne
c. $25.00 from Robyn Lawyer and Aaron Lawyer, 13 Ridge Rd., Hopkinton, in memory of Francis Pyne
The Select Board approved the Consent Agenda. (5-0)

View Video ~1 minute
7:00 PM FY 2020 AND FY 2021 BUDGET AND ANNUAL TOWN MEETING UPDATES
5. The Select Board will consider FY 2020 and 2021 Budget and annual town meeting updates.
View Video ~12 minutes
7:15 PM TOWN MANAGER REPORT
6. a. Main Street Corridor Project Update. The Select Board will consider voting to adopt an Order of Taking for temporary and permanent easements required for the Main Street Corridor Project. Due to an unexpected delay in the Middlesex Registry of Deeds ability to file and record the original Order of Taking there is a possibility that the Order of Taking will not be on record before the statutory 30-day deadline has expired on May
7.
b. Special Election: The Town Manager will give the Select Board a heads-up on a prospective special election.
c. Request to lift hiring freeze: Dispatcher and FireFighter/Paramedic
Supporting Exhibits: Town Manager Report
View Agenda Packet – Page 3
The Select Board allowed the Town to fill the following positions: Firefighter/Paramedic; Dispatcher. (5-0)
View Video ~11 minutes
---
Upcoming Select Board Meetings
1. May 19, 2020
2. June 2, 2020
3. June 16, 2020
4. June 22, 2020 Annual Town Meeting
The listed matters are those reasonably anticipated by the Chair to be discussed at the meeting. Not all items may in fact be discussed and other items not listed may also be brought up for discussion to the extent permitted by law. Unless an agenda item is a posted public hearing, the matter may be considered earlier than the indicated time if there are last minute cancellations or other unforeseen events which cause the Board to move more quickly through the agenda.
---