Weekly News Update – 06/14/2020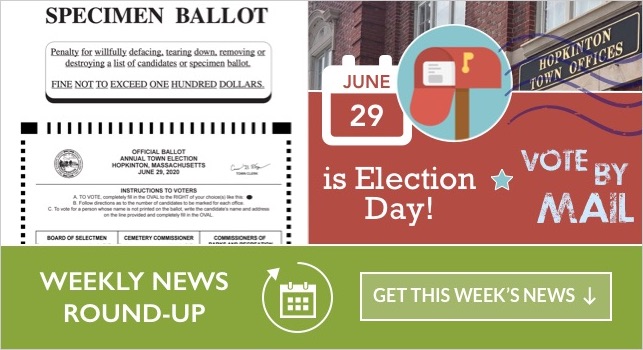 Covid-19 Updates & Precautions • Town Election 2020 • Select Board approves expanded outdoor seating for 5 local restaurants • DPW – Roadwork Notice • Town of Hopkinton Maintains AAA rating for issue of $9.5M in Bonds for School Construction • Guidance from Department of Elementary and Secondary Education offers glimpse at what Massachusetts schools will look like come fall • Second Black Lives Matter protest draws 400 to Town Common
---
Covid-19 Updates & Precautions
This page provides information, maps and resources about the coronavirus response in our local area.
Visit Hopkinton, MA – Coronavirus Response Hub
As of 6/820, Hopkinton's Health Department is reporting 120 total confirmed COVID-19 cases; 5 of those cases are active, with 102 recoveries and 13 deaths. You can see historical tracking and updates on Hopkinton's Community Impact Dashboard
The most recent update from June 10th includes:
Annual Town Election rescheduled to be held on June 29, 2020 – Specimen Ballot now available
Library Service Status Dashboard
Massachusetts Department of Public Health COVID-19 weekly Public Health Report
Hopkinton Covid-19 Testing Event
Hopkinton Temporary Outdoor Dining Rules and Regulations: New Guidelines document added
The update from June 8th includes:
Town Election 2020
June 29, 2020 – Polls are open 7:00 AM – 8:00 PM
Hopkinton Middle School Brown Gym, 88 Hayden Rowe St
New Due to COVID-19 Guidelines – All voters are encouraged to stay safe and vote by absentee ballot this year!
Information About the Candidates in Contested Races
Select Board, 3 Years, Vote for 1 – Contested Race
School Committee, 3 Years, Vote for 2 – Contested Race
Select Board approves expanded outdoor seating for 5 local restaurants
At a special Select Board meeting on Thursday afternoon, the members unanimously approved plans by five local restaurants to expand outdoor seating in order to serve more customers while maintaining social distancing.
Town Manager Norman Khumalo said a town inspection committee visited the restaurants Wednesday to evaluate each establishment's plans. The group included Fire Chief Steve Slaman, building inspector Chuck Kadlik, Health Department director Shaun McAuliffe, public health nurse Kasey Mauro and assistant town manager Elaine Lazarus.
DPW – Roadwork Notice
As we approach the start of our roadway resurfacing season I would like to thank the residents of Hopkinton for their continued support of our Pavement Management Program. We had a very successful 2019 season and plan to continue that in 2020 as funding allows. Each street that is on this year's list has been inspected and evaluated to determine which treatment method is best based on its current condition. This will help ensure that we are maximizing the use of our roadwork funding.
View list of streets that are currently scheduled to be resurfaced this year
Town of Hopkinton Maintains AAA rating for issue of $9.5M in Bonds for School Construction
The Town of Hopkinton is pleased to announce that it has maintained its AAA credit rating for the recent issue of $9.5M in bonds to be used for school construction. The Triple A Bond rating represents the highest level of creditworthiness a municipality can achieve and allows the town to borrow money at the lowest commercial interest rates possible.
Guidance from Department of Elementary and Secondary Education offers glimpse at what Massachusetts schools will look like come fall
The department is "operating with the best information we have as of early June about how to maintain the health and safety of our students and staff in any in-person school programs and limit the risk of COVID-19 transmission," according to a memo from Commissioner Jeffrey C. Riley.
One big difference will be class size. Under the initial guidance, group sizes would be restricted to a maximum of 10 students, with a maximum of 12 individuals, including students and staff, in each room.
Second Black Lives Matter protest draws 400 to Town Common
"Everyone was asking will we have another [protest], and I was asking that," said Carly Grant, one of the organizers. "Then I thought, why don't I just start it?"
When Floyd died after being restrained by Minneapolis police — including one officer who kneeled on his neck for almost nine minutes — public anger quickly spread, sparking a now-global Black Lives Matter protest movement.
After an informal vigil last Sunday drew 200 demonstrators to the Town Common, organizers worked to build on the momentum.
Related Article:
Protest on Hopkinton Town Common – 5/31/2020
---