Weekly News Roundup – 07/13/2020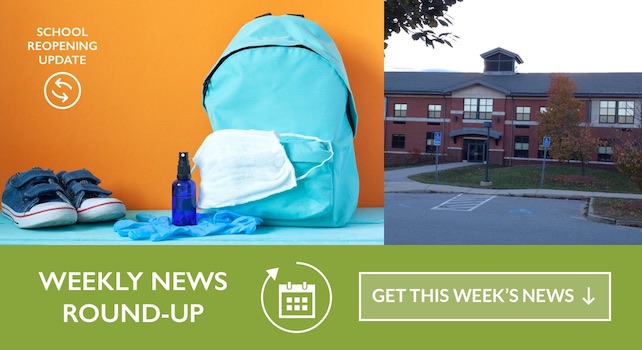 Covid-19 Updates & Precautions • School Committee Anti-Racism Resolution • Town Boards and Committees Announcements • Openings on Town Boards and Committees • I-90/495 reconstruction aims to ease traffic, reduce bottlenecks, crashes • Road sealing work begins Monday • Reentry Group starts discussion on reopening Hopkinton schools • School Committee addresses concerns with reopening guidance
---
Covid-19 Updates & Precautions
This page provides information, maps and resources about the coronavirus response in our local area.
Visit Hopkinton, MA – Coronavirus Response Hub
As of 7/10/20, Hopkinton's Health Department is reporting 131 total confirmed COVID-19 cases; 7 of those cases are active, with 112 recoveries and 13 deaths. You can see historical tracking and updates on Hopkinton's Community Impact Dashboard
The most recent update from July 10th includes:
July 10th Update
"Stop the Spread" Free Covid-19 Testing Sites
Mental Health Resources – Reminder
The update from July 8th includes:
Covid-19 Elections Update – New MA Law 
Massachusetts Department of Public Health COVID-19 weekly Public Health Report
Hopkinton Public Schools
RELATED NEWS: 
School Committee Anti-Racism Resolution
School Committee Vice Chair Nancy Cavanaugh shared on Thursday that the Hopkinton School Committee adopted the Massachusetts Association of School Committee's Resolution on Anti-Racism, containing actionable items to help keep the district on course.
Town Boards and Committees Announcements
The Select Board voted Tedstone as Chair & Nasrullah as Vice-Chair. The School Committee voted Fargiano as Chair & Cavanaugh as Vice-Chair. The Planning Board will meet 7/13 to select their new Chair and announce the resignation of Amy Ritterbusch so that a vacancy notice can be posted.
RELATED:
The following Town boards & committees have one or more vacancies. Please see the Town website at hopkintonma.gov for information about the duties of specific boards and committees. Interested residents must apply via the online volunteer form at hopkintonma.gov/hug.
Road sealing work begins Monday
Mike Mansir, the town's highway manager, tweeted yesterday that crack sealing work will start Monday (July 13) and take about two weeks.
Work hours will be 7 a.m.-3 p.m. No vehicles should be parked in the street as it will prevent the contractor from completing the work. One lane of traffic will be open at all times.
I-90/495 reconstruction aims to ease traffic, reduce bottlenecks, crashes
State transportation leaders and project officials posted a webinar Thursday outlining the 25% design details of the project, which includes seven new direct and semi-direct ramps connecting the two interstates. The designated ramps and lanes for each traffic maneuver will make getting off the highway and merging much safer, project officials said.
RELATED:
Hopkinton/Westborough – Design Public Hearing webinar and comment period. Webinar publication date: Thursday July 9, 2020 – Comment period: July 9 – July 23

Reentry Group starts discussion on reopening Hopkinton schools
The Hopkinton Reentry Group met for the first time Tuesday to discuss how to reopen schools this fall. Different ideas were discussed, but one factor is certain: Schools will look very different than the traditional model.
"The political feel is that the commissioner is pushing schools to open with a hybrid model," Cavanaugh said. "Keeping schools closed comes with economic, societal and mental health costs."
Right now the guidelines from the commissioner of education and the governor have been delivered from "30,000 feet," she said. "We have no guidelines for transpiration," she cited as one example, and food service also is "in a tentative place."
RELATED NEWS:
Hopkinton will "make decisions based on the resources we have in front of us, the health and safety of our kids and what we believe are the best kinds of instruction for our students, given the parameters," she said. "We're going to create a plan that is just right for Hopkinton."
The fall return of in-person school has unleashed a tsunami of marketing on cash-strapped districts. Since the COVID-19 pandemic hit in mid-March, Tremblay said unsolicited pitches have come "fast and furious." And if it's not equipment meant to protect against the coronavirus, it's remote learning software.
---