Weekly News Roundup – 08/01/2021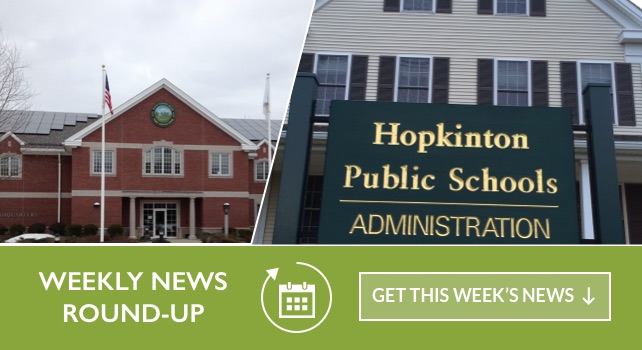 Main Street Corridor Project – Weekly Update • Holliston, Hopkinton and Sherborn Police Restructure Regional Co-Response Jail Diversion Program, Offer Increased Intervention Services • Conservation Commission pleased with water mitigation improvements at Pulte development • Planning Board discusses requests from Eversource regarding work at LNG facility • School Committee's Listening Series runs Aug. 1-24 • Hopkinton's Elementary School Building Committee-2 Begins Work • Local firefighters graduate from state fire academy • School Committee roundup: Conduct policy discussed; HHS addition work continues
---
Main  Street Corridor Project – Weekly Update
What to Expect for the Week of August 2, 2021
Continuation of the Drainage Installation along Main Street (from Claflin Ave to 89-91 Main Street)
Continue installation of Mast Arm Foundation for Traffic Signals along the corridor
MassDOT Survey Crews to continue to locate limits of easements within the corridor
Delivery of Drainage Materials
https://hopkintonmainstreet.com/
RELATED: Live Construction Video Feeds are available for the Main Street Corridor Project, check where crews are working and traffic / weather conditions before you leave your home or office.
Holliston, Hopkinton and Sherborn Police Restructure Regional Co-Response Jail Diversion Program, Offer Increased Intervention Services
Hopkinton Police Chief Joseph Bennett, Holliston Police Chief Matthew Stone and Sherborn Police Interim Chief David Bento are pleased to announce that their departments' co-response Jail Diversion Program has recently been restructured and will now offer increased intervention services to its communities.
Conservation Commission pleased with water mitigation improvements at Pulte development
The commission first discussed the mitigation efforts recently performed at a Pulte Homes development at Legacy Farms North, after the company was requested by the commission to prevent sedimentation from going into the water system of Hopkinton and neighboring Ashland. Photos were shown comparing the site between July 13 and July 27, and there was a marked improvement.
Planning Board discusses requests from Eversource regarding work at LNG facility
School Committee's Listening Series runs Aug. 1-24
The School Committee on Monday announced the schedule for its Listening Series, which it describes as "targeted office hours to help the School Committee hear directly from specific sectors of our school community about their lived experiences, challenges, successes and concerns about diversity, equity and inclusion."
Hopkinton's Elementary School Building Committee-2 Begins Work
The newly formed Hopkinton Elementary School Building Committee – 2 (ESBC-2) met for the first time on Thursday, July 15, at the Elmwood School.
The newly formed committee's documented mission is "To facilitate the development of a proposed solution to the operational and educational constraints of Elmwood School that will be supported by the voters of Hopkinton, as well as the MSBA."
Local firefighters graduate from state fire academy
STOW – Several local firefighters were scheduled to graduate from the firefighters academy on Friday.
In all 40 firefighters from two separate sessions of the Massachusetts Firefighting Academy were scheduled to graduate at a ceremony at the Department of Fire Services in Stow.
School Committee roundup: Conduct policy discussed; HHS addition work continues
The bulk of Thursday's School Committee meeting focused on the discussion of norms for committee members, which serve as a code of conduct and policy.
Committee members reviewed the policy guidance provided by the Massachusetts Association of School Committees (MASC) to incorporate into its past policy strategies. No vote was taken, as this was more of a working discussion.
One addition to the norms that was discussed was the MASC explanation of a committee meeting being held in public versus it being a public meeting.
---