Weekly News Update – 02/12/2023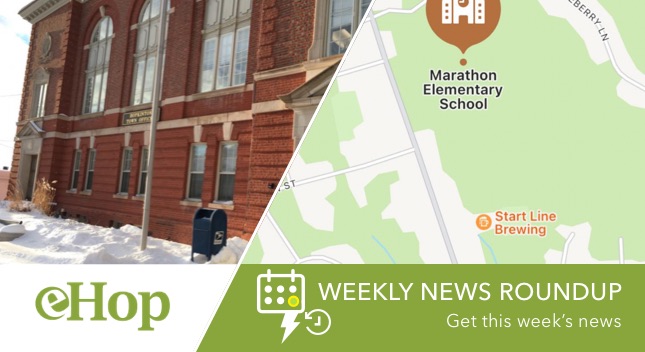 ESBC reviews site options as it heads toward selection next week • Conservation Commission split on decision to proceed with gas pipeline at Mass. Laborers facility   • Planning Board jolted by ongoing issues with Grasshopper Energy solar farm • Select Board struggles with RECC decision, considers Town Meeting vote • Select Board roundup: HHS car parade OK'd for final year • School Committee selects 3-grade configuration for Elmwood replacement • Town of Hopkinton Responds to Power Outage Caused by Tree Knocked Down Due to High Winds • Town Election 2023. Candidates needed
---
ESBC reviews site options as it heads toward selection next week
A traffic consultant told the Elementary School Building Committee on Tuesday that building a three-grade school on Hayden Rowe Street was doable and would not significantly impact traffic there. However, he said it likely would add an additional 150-200 cars during peak times.
Cost estimates show little variation
The committee also looked at cost estimates for the various sites now that the Grades 2-3 configurations have been eliminated. In general, VERTEX project director Jeff D'Amico said there is not much difference in price between the Hayden Rowe conceptual designs called "Pinwheel" and "Village," with both having east and west possibilities.
Color coding review continues
The committee continued looking at a color-coded matrix that rates how the different schemes measure up to stated criteria such as sustainability and construction impacts to neighbors.
Conservation Commission split on decision to proceed with gas pipeline at Mass. Laborers facility
The Conservation Commission at its meeting Tuesday night approved 4-3 the notice of intent hearing on the Massachusetts Laborers Training facility's initially proposed gas line under the Wetlands Protection Act, the preferred option of the developer, after some concessions were reached during the meeting.
But under the town bylaw, the margin was 4-3 against the measure. On the initial vote, members Melissa Recos, Kerry Reed, Jim Ciriello and chair Jeff Barnes voted in favor, with Janine LeBlanc, Ted Barker-Hook and Ed Harrow dissenting. Ciriello was the additional dissenter on the second vote.
Planning Board jolted by ongoing issues with Grasshopper Energy solar farm
Principal Planner John Gelcich explained that the original special permit was issued in 2019, and the amended one was issued in 2021 for the layout of the solar panels "but not for landscaping." He noted that the initial plans "did not indicate which species were going where" and that native plantings must be used.
"They promised — and we put in the conditions — that before any plantings were done, they would have to come back to me to review the plan before they planted them to see what was changed," he said. "They did not do that."
What further jolted committee members was when Gelcich said Grasshopper has been "generating energy and I assume generating revenue" while not receiving final approval of the plans from the board first. Gelcich explained that while it was believed that the company could not do that until obtaining a certificate of occupancy, it is legal for Grasshopper to connect to the solar array without town approval.
Select Board struggles with RECC decision, considers Town Meeting vote
With one week remaining before the Select Board is to take a formal position on whether or not to sign an inter-municipal agreement with three neighboring towns to form a regional emergency dispatch center, local emergency personnel continued to push the board to oppose the plan.
Dispatcher Shannon Casey, speaking on behalf of the Hopkinton Dispatchers Union, said the town will lose the personal touch it is used to receiving with the regional emergency dispatch center (RECC).
Select Board roundup: HHS car parade OK'd for final year
A divided Select Board on Tuesday agreed to approve a graduation car parade for Hopkinton High School's Class of 2023, but with the understanding that this will be the final year for the event.
Concerns were raised about the impact on emergency access and the disruption to traffic. It was noted that when the parade was first held in 2020, it was intended to be a one-time event to recognize those students who had most of their senior year celebratory events canceled (with a scaled-down graduation postponed until that summer).
School Committee selects 3-grade configuration for Elmwood replacement
The Hopkinton School Committee on Thursday voted to have a Grades 2-3-4 configuration for the proposed Elmwood School project, citing cost savings and the ability to address needs system-wide to address growing enrollment.
However, member Holly Morand abstained from voting, saying she couldn't bring herself to approve the change after hearing some teachers' concerns.
Batlle-Rafferty said issues like Americans with Disabilities Act considerations, safety, traffic and more are being examined "intensively" by the building committee during the process.
Vice Chair Amanda Fargiano noted that the plans must adhere to the requirements laid out in the district's educational plan and received reassurance from Superintendent Carol Cavanaugh that was the case.
Town of Hopkinton Responds to Power Outage Caused by Tree Knocked Down Due to High Winds
Town Manager Norman Khumalo, Police Chief Joseph Bennett, and Fire Chief William Miller report that the Town of Hopkinton is responding to a power outage.
At about 6:54 p.m. on Friday, the Hopkinton Communications Department received reports that a large tree on School Street had fallen. Hopkinton Police and Fire responded to the scene, discovering that the tree had knocked down wires and a pole, damaging a transformer. Power was knocked out in the area surrounding School Street. No one was injured.
Town Election 2023. Candidates needed
Running List, last updated 02/07/23.
Considering running for local office, but don't know where to begin? To become a candidate a person must either obtain and submit nomination papers by securing the signatures of 50 Hopkinton registered voters by Monday, March 27, 2023 at 5PM or a person may qualify by being the top vote-getter in one of the town political party caucuses, which are typically held in early April.
---
---