Planning Board – Did You Know?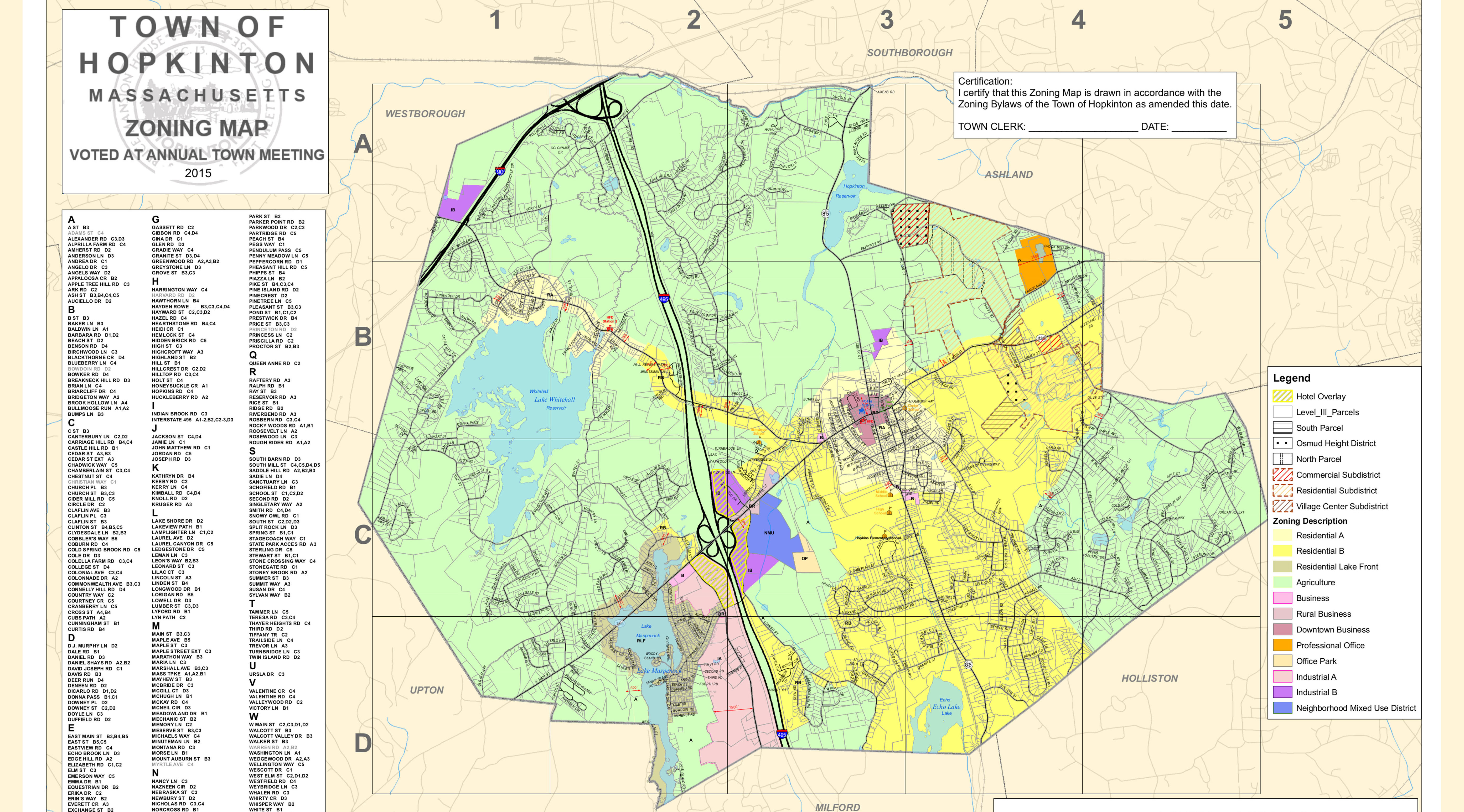 A board of nine members, elected for five-year terms on a rotating basis. The Planning Board is charged with the following duties, which are contained in the Mass. General Laws and the Hopkinton Zoning and General Bylaws:
Adopting a Master Plan for the Town. The current Master Plan was adopted in 2007.
Conducting studies, and, when necessary, preparing plans of the resources, possibilities and needs of the Town for submittal to the Board of Selectmen for their consideration.
Serving as the local authority for the Subdivision Control Law; adopting Rules and Regulations governing the subdivision of land in the Town of Hopkinton ; reviewing all preliminary and definitive plan submittals, and endorsing approval-not-required plans.
Drafting and submitting zoning amendments for consideration by the Town. When a zoning amendment has been put forward by any entity, the Planning Board holds the public hearing and also reports its recommendation to Town Meeting.
Serving, in some instances, as the Special Permit Granting Authority (SPGA). The Planning Board is charged with issuing the following Special Permits in the Hopkinton Zoning Bylaw: Open Space and Landscape Preservation Development; Garden Apartments in Residential Districts; Senior Housing Developments; Flexible Community Development and Campus Style Development.
Reviewing and proposing the acceptance of streets as Town public ways, with recommendation to the Town Meeting.
Serving as Site Plan Review authority for non-residential Site Plans.
Issuing permits to remove trees and stone wall within street rights of way designated as scenic roads by Town Meeting. The Planning Board also recommends roads for scenic road designation.
Issuing permits for earth removal within the Town of Hopkinton .
Annually appoints the members of the Design Review Board.
Planning Board representatives also serve on the following other Boards and Committees: Open Space Preservation Commission, Community Preservation Committee, Design Review Board, and Zoning Advisory Committee.
The Planning Board typically meets on Mondays twice a month in Town Hall at 7:30 PM.  The Planning Board's staff services are provided by the Department of Land Use, Planning and Permitting.
To run for Planning Board a person must be a registered voter in Hopkinton and either obtain and submit nomination papers by securing the signatures of 50 Hopkinton registered voters; or a person may qualify by being the top vote getter in one of the town political party caucuses; or a combination of both. Planning Board member is currently an unpaid volunteer position, but compensation for any elected official could be voted on at any future town meeting.
Contact Info:
For Further Reading:
---