How to Stay Informed & Engaged with Town Government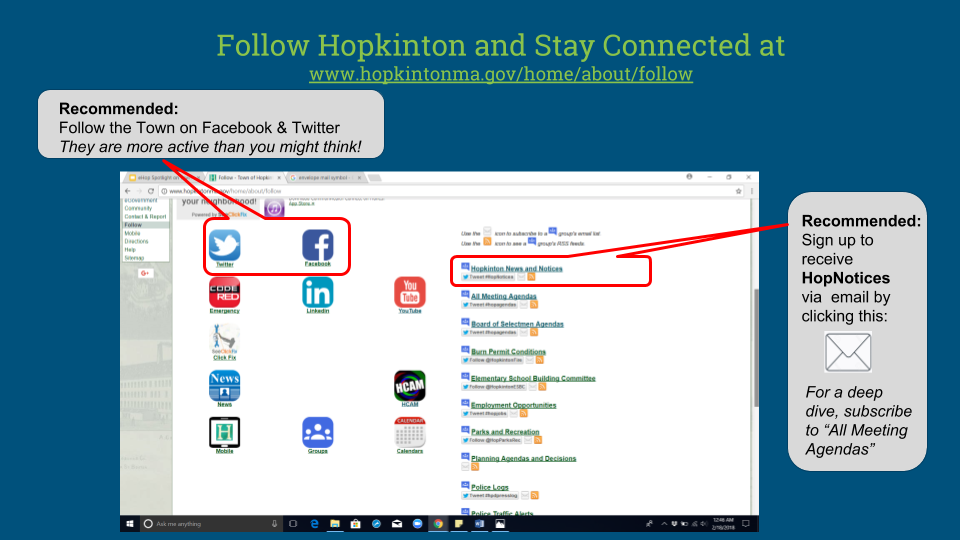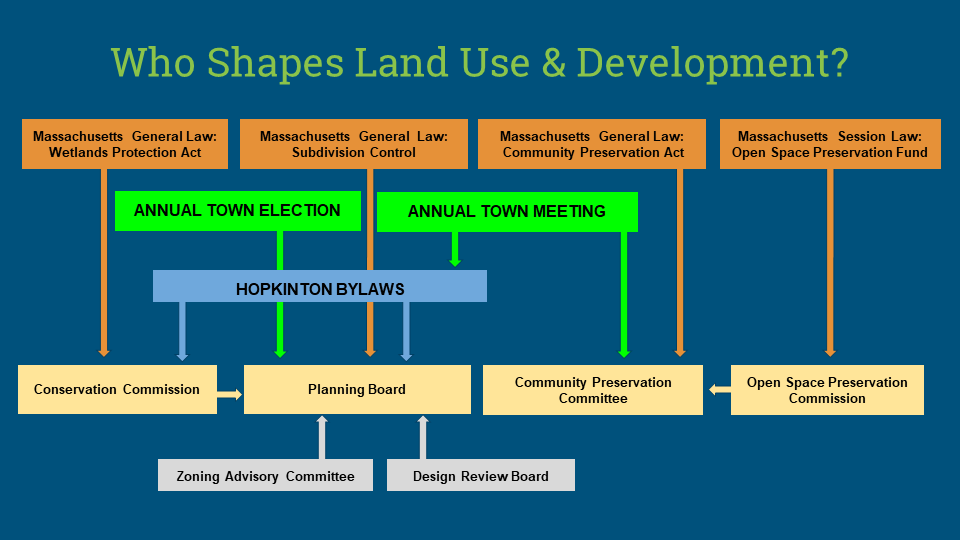 Who Shapes Land Use and Development
Mass General Laws:

Wetlands Protection Act
Subdivision Control
Community Preservation Act
Open Space Preservation Fund

Annual Town Election – Vote on:

Selectmen
Planning Board
School Committee

Annual Town Meeting – Vote on:

General Bylaw changes
Zoning Bylaw changes
Usage of Community Preservation Committee funds
Land purchases

Appointed Committees

Conservation Commission
Community Preservation Committee
Open Space Preservation Commission
Zoning Advisory Committee
Design Review Board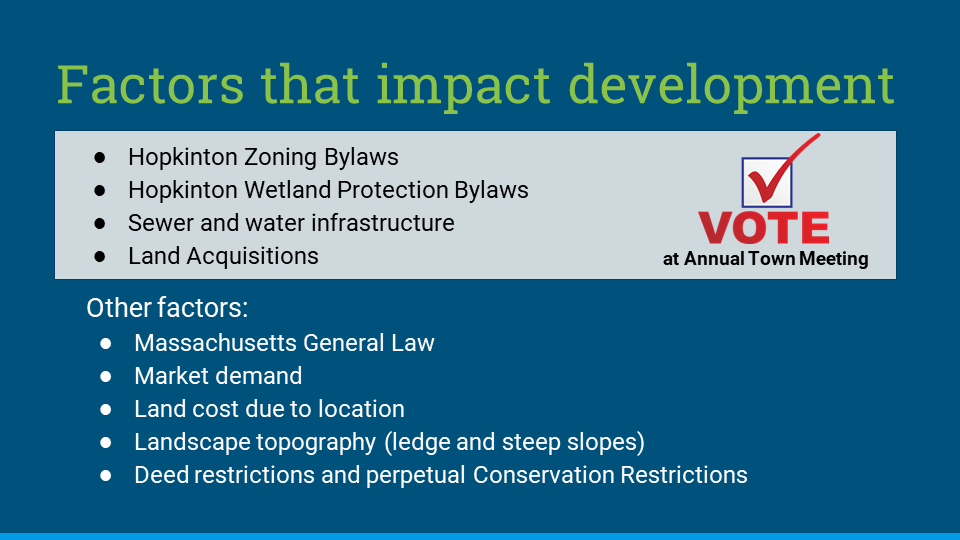 What Residents Can and Cannot Control
Town Meeting Votes:

Hopkinton Zoning Bylaws
Hopkinton Wetland Protection Bylaws
Sewer and water infrastructure
Land Acquisitions

Other Factors Beyond Our Control:

Massachusetts General Law
Market demand
Land cost due to location
Landscape topography (ledge and steep slopes)
Deed restrictions and perpetual Conservation Restrictions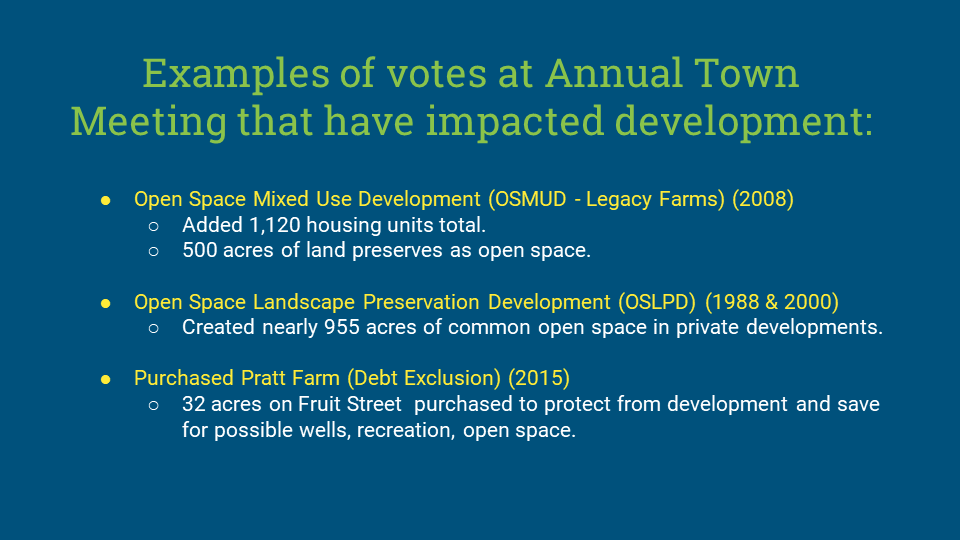 Examples of Land Use and Development Related Votes at Town Meeting
Open Space Mixed Use Development (OSMUD – Legacy Farms) (2008)
Added 1,120 housing units total.
500 acres of land preserves as open space.
Open Space Landscape Preservation Development (OSLPD) (1988 & 2000)
Created nearly 955 acres of common open space in private developments.
Purchased Pratt Farm (Debt Exclusion) (2015)
32 acres on Fruit Street purchased to protect from development and save for possible wells, recreation, open space.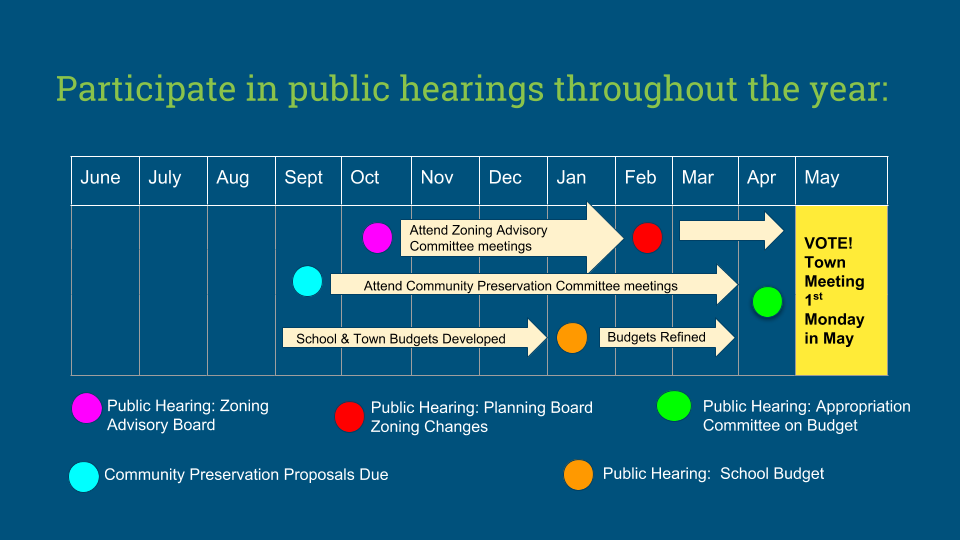 When and how can residents plug into related conversations
September – Community Preservation Committee puts out call for proposals
October – Zoning Advisory Public Hearing
January – School Budget Public Hearing
February – Zoning Proposed Changes Public Hearing
March-April – Appropriation Committee Budget Public Hearing(s)
May – Town Meeting (Begins 1st Monday in May)

Follow Hopkinton and Stay Connected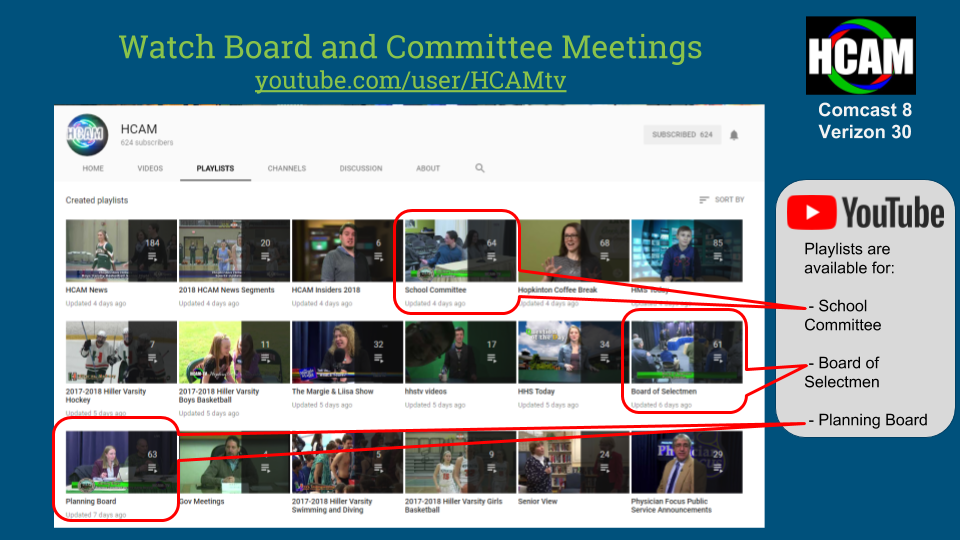 Watch Board and Committee Meetings via HCAM-TV
Selectman, School Committee & Planning Board are aired live on Comcast 8 / Verizon 30
Watch on YouTube the next day

Watch on a phone, tablet or laptop
Agenda items are bookmarked
Jump ahead to the section of the meeting you are interested in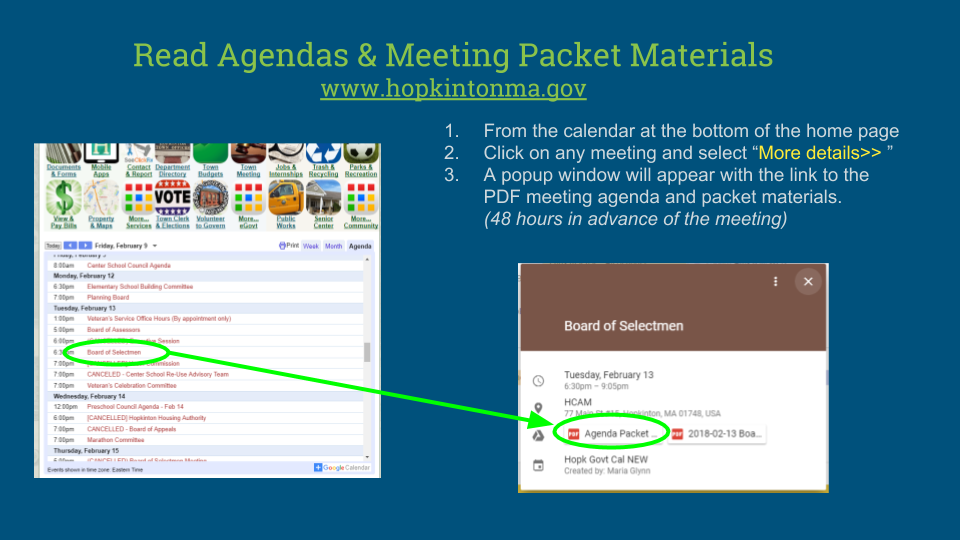 Read Agendas & Meeting Packet Materials
Selectmen, Planning Board and other town committees:

From the calendar at the bottom of the http://www.hopkintonma.gov/ home page 

Click on any meeting and select "

More details>>

"

A popup window will appear with the link to the PDF meeting agenda and packet materials (48 hours in advance of the meeting)

School Committee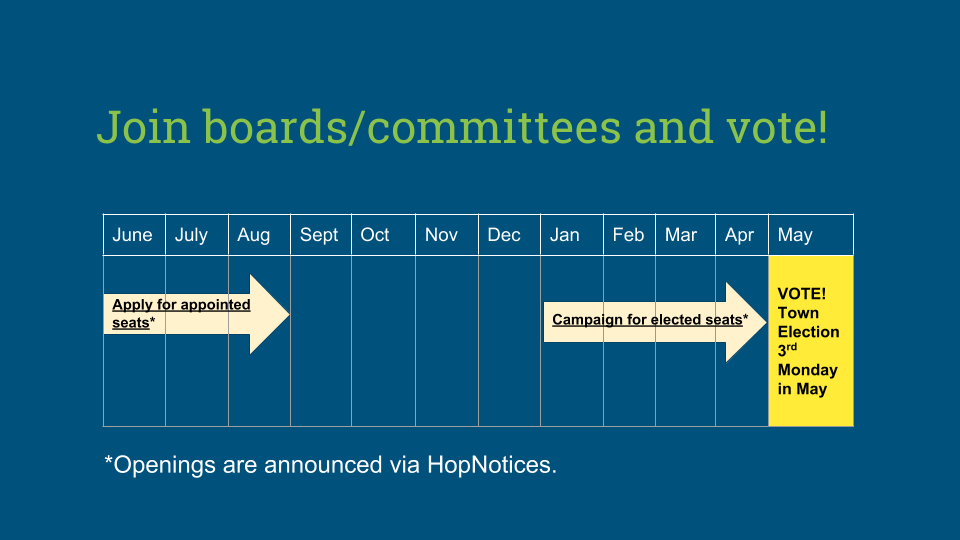 Join boards/committees and vote!
Most appointed seats run from July 1 – June 30, although this varies by committee. Terms vary from 1-5 years.
Apply for most committees in June. Apply online.
Town Election is held the 3rd Monday in May – terms are 3-5 years depending on the office.
Campaign for elected seats in January-May.
Watch the HopNotices emails for mid-year vacancies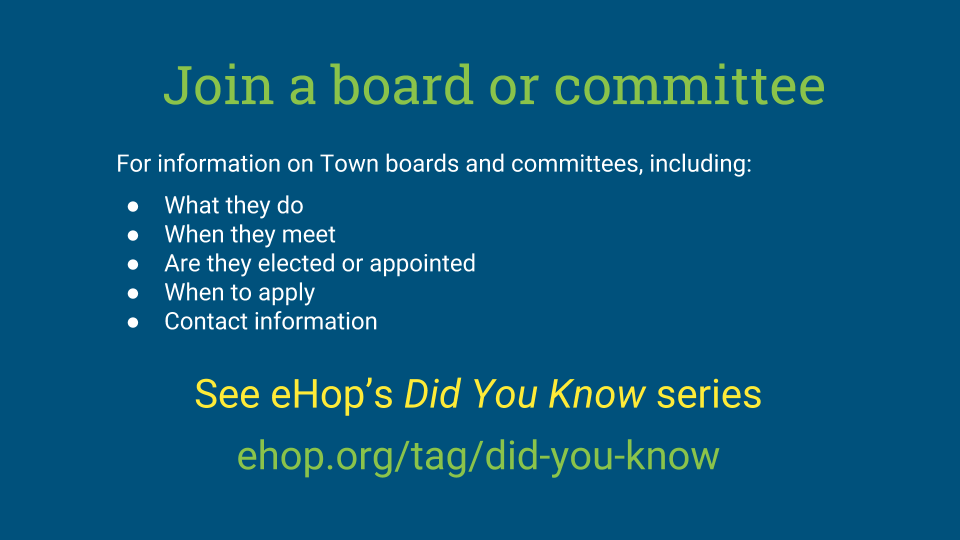 For Information on Town Boards and Committees
See eHop's Did You Know series on Land Use Boards
What they do

When they meet

Are they elected or appointed

When to apply

Contact information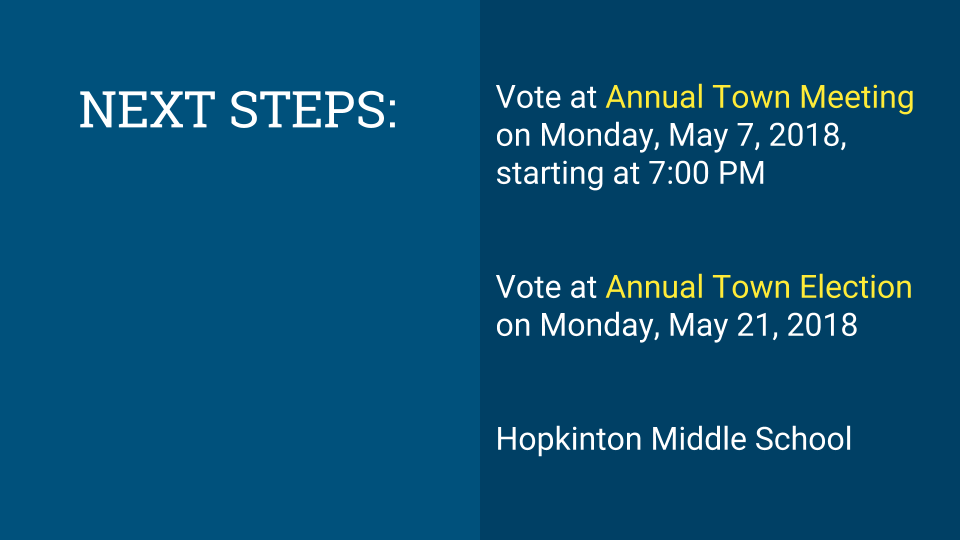 Next Steps
Vote at Annual Town Meeting on Monday, May 7, 2018, starting at 7:00 PM (typically last two nights, no later than 11 PM) – Middle School Auditorium
Vote at Annual Town Election on Monday, May 21, 2018, polls open 7:00 AM – 8:00 PM, Hopkinton Middle School Brown Gym
---