Weekly Roundup for 01/06/2019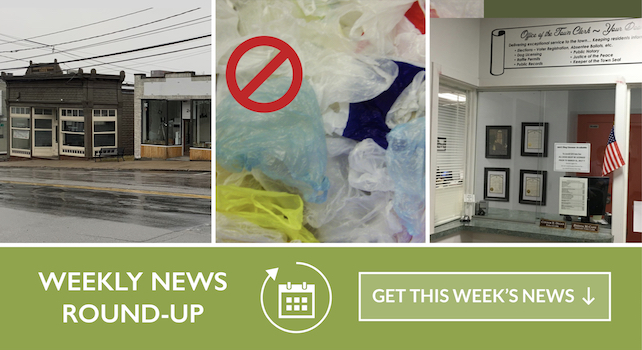 Hopkinton Cafe, Bittersweet Co., to move to new space  •  Historical Commission Reviewed 3 Demolition Applications • Bobbi Gibb sculpture to commemorate women's running history  •  Reminders and notices from the Town Clerk's office  •  Hopkinton board raises tobacco age, bans plastic bags  •  Software increasingly used to manage public records requests  •  Milford woman charged in Hopkinton car crash  •  LakePharma opens Hopkinton biomanufacturing facility • Drive-Thru Mail Drop-Off Box Removed
Hopkinton ice rink on Hayden Rowe is ready once water freezes
The outdoor skating rink will return to the basketball courts outside the middle school on Hayden Rowe Street. All that's needed are freezing temperatures.
http://hopkinton.wickedlocal.com/news/20190103/hopkinton-ice-rink-on-hayden-rowe-is-ready-once-water-freezes
Historical Commission reviewed 3 demolition applications
The Historical Commission held a Public Hearing on 1/3/19 on the following demolition applications:
76 Main St (built 1794) – 6 month demolition delay imposed (maximum allowed by bylaw)
149 Hayden Rowe St – 6 month demolition delay imposed (maximum allowed by bylaw)
57 Hayden Rowe St (demolition of barn only) – permission granted to demolish the barn only
School Budget Update
On 1/3/19 Dr. Cavanaugh presented the Superintendent's budget recommendation at the School Committee Meeting, seeking $48,059,950 in funding for the schools for FY20, representing a 6.67% increase over the FY19 budget. This follows two months of budget presentations and discussions. The packet linked here has excellent highlights including enrollment projections, budgeting challenges, performance rankings, and budget breakdowns. The School Committee will hold a public hearing on the budget on January 10 at 7:00 PM in the High School Library.
SC Meeting Packet 1/3/19
SC Meeting Video 1/3/19
Bobbi Gibb sculpture to commemorate women's running history
Gibb, who is the first woman to finish the Boston Marathon as an unregistered runner in 1966, created the piece based on a famous photo near the finish line. The Hopkinton-based 26.2 Foundation commissioned the project several years ago and thought it was perfect for Gibb to craft the piece.
The sculpture, which will be cast in bronze, is expected to be placed somewhere on private land near the Hopkinton Town Common, but the location is not finalized.
http://hopkinton.wickedlocal.com/news/20181223/bobbi-gibb-sculpture-to-commemorate-womens-running-history 
Reminders and notices from the Town Clerk's office
2019 town census, Dog license renewals, Nomination papers for elected town officers
Our 2019 Annual Census will be out in your mail boxes soon. Please make any changes and send those back to us or drop them off at Town Hall as soon as possible to ensure you and your family are updated.
Dog licenses now need to be renewed for the 2019 calendar year. 2018 licenses expired on December 31, 2018 so make sure you get your pup licensed before a late fee of $25 is assessed on April 1st.
Nomination papers for elected Town officers will be available in the Town Clerk's Office on January 22, 2019. Those interested in seeking to volunteer for elected office in the May 20th Annual Town Election should inquire with the Town Clerk's Office about the process.
http://www.hcam.tv/news/community-notice-new-year-reminders-town-clerks-office
Hopkinton board raises tobacco age, bans plastic bags
With an 11-year-old student taking action to make sure his town is healthier, the Board of Health voted in April 2018 to increase the age to buy tobacco in town from 18 to 21. The board also voted to ban single-use plastic shopping bags. Both regulations went into effect at the beginning of the new year 2019. The public hearing in April drew no residents or business representatives. The regulation is aimed to provide "for protection of the town's aquatic and terrestrial environment, advances solid waste reduction and reduces nuisance litter by implementing a strict and enforceable system that reduces the distribution of single-use plastic check-out bags" in Hopkinton.
https://www.metrowestdailynews.com/news/20180424/hopkinton-board-raises-tobacco-age-bans-plastic-bags
Related article:
https://boston.cbslocal.com/2018/12/31/massachusetts-tobacco-age-law/
Hopkinton Cafe, Bittersweet Co., to move to new space
Bittersweet Cafe is moving into a vacant space next door after its landlord blocked a plan to add a beer and wine license to serve in the evening.
Owner C.J. Dunne showed off the new space at 22-24 Main St. on a video posted on the cafe's Facebook page Friday. "We're hoping to pull the permits sometime at the end of January and go in front of the board and get our approvals from the town," he said.
The cafe/bakery is expected to open by mid-March and the tapas bar in the spring.
http://hopkinton.wickedlocal.com/news/20181230/hopkinton-cafe-bittersweet-co-to-move-to-new-space
Software increasingly used to manage public records requests
In June 2016, Gov. Charlie Baker signed the first major overhaul of the state's public records law in 40 years, which went into effect in 2017. The new law set concrete timelines for public agencies to comply with records requests and limited how much money public agencies can charge for copies. Cities and towns must now appoint a single records access officer who is responsible for overseeing requests.

https://www.milforddailynews.com/news/20190101/software-increasingly-used-to-manage-public-records-requests
Milford woman charged in Hopkinton car crash
Police and fire personnel found a two-car crash with one of the drivers still trapped in her vehicle.
The other driver was identified as Kim Lupien, 55, of Milford. Police said they determined at the scene that Lupien had crossed the double yellow center line and struck the oncoming vehicle head-on.

https://www.milforddailynews.com/news/20181226/milford-woman-charged-in-hopkinton-crash
LakePharma opens Hopkinton biomanufacturing facility
The California company once rumored to be an anchor tenant at the Worcester Biomanufacturing Park is now fully operational at a facility in Hopkinton.
LakePharma operates a facility in Worcester at the Worcester Polytechnic Institute campus and last year raised $30 million to open additional locations in Massachusetts and California.
http://m.wbjournal.com/article/20181219/NEWS01/181219940
CPA fund lacks cash in Massachusetts
The Community Preservation Act is a victim of its own success. At least that's what advocates hope to convince lawmakers this legislative session, as the CPA fund that helps pay for certain types of local projects is now significantly underfunded.
[In 2001, the citizens of Hopkinton voted to adopt the Community Preservation Act (M.G.L. Chapter 267 of the Acts of 2000) and thereby approved a 2% surcharge to the annual real property tax. Revenue from this surcharge is dedicated for the preservation of open space, historic sites, affordable housing and passive/active outdoor recreation.]
http://hopkinton.wickedlocal.com/news/20181218/cpa-fund-lacks-cash-in-massachusetts
FCC Investigates Widespread CenturyLink Outage That Disrupted 911 Service
Update on the 911 Outage that affected Hopkinton and Massachusetts last week: The Federal Communications Commission has launched an investigation into a phone and Internet outage that disrupted 911 services across the country starting Thursday.
https://www.npr.org/2018/12/28/680747866/fcc-investigates-widespread-centurylink-outage-that-disrupted-911-service
New sign at the DPW honoring Thomas McIntyre
A new sign has been erected outside the DPW Building on Wood Street, honoring the late Thomas McIntyre. McIntyre enjoyed restoring pieces of Hopkinton history throughout the town, including the planter in front of Colellas; two fire department bells, one at the Fireman Memorial on Mt. Auburn Street, the other at the Woodville Fire Station. He also created and placed the granite marker at the Pond and Winter Street intersection and the sign in front of the fire station, built from the foundation of the original gazebo at the Town Common. The new facility includes a two-story operations building, storage, fuel depot and salt shed. A wash bay will be included to make sure town trucks are well-maintained.
Drive-Thru Mail Box at Hopkinton Post Office Gone
The drive-thru mail drop off box at the downtown Hopkinton Post Office at 5 Cedar Street has been removed. This is part of a larger trend across the country to remove mail drop-off boxes, both to prevent mail theft and also due to decreasing use by the public. Members of the public may still park and get out of their cars to drop off mail at the Hopkinton Post Office.
---