Weekly Roundup for 01/13/2019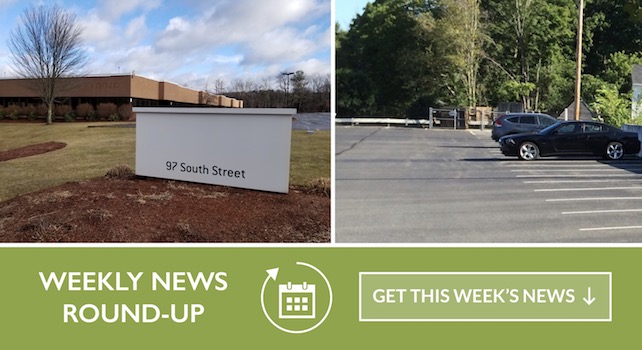 Town government job postings  •  Special Permits not granted to construct 8-unit multi-family residential structure  •  Hopkinton School committee considers future of aging "White house" in front of the Middle school  •  Asian American Commission inaugurates new members  •  Lykan Bioscience seeks tax break in Hopkinton  •  Hopkinton schools explore savings with solar  •  Hopkinton Historic District Commission to review 'Village Center' project  •  Hopkinton school budget further refined
Town government job postings:
Principal town planner
Town of Hopkinton Seeks a Principal Planner
http://www.hcam.tv/news/job-posting-principal-planner-0
Youth and Family Services Director
The Town of Hopkinton seeks a Competent and Caring Youth & Family Services Director
http://www.hcam.tv/news/job-posting-youth-and-family-services-director
Special Permits not granted to construct 8-unit multi-family residential structure

On Wednesday, the Hopkinton Board of Appeals voted unanimously NOT to grant the Special Permits requested by the owner of 18 Cedar Street. The special permits would have been needed to construct an 8-unit multi-family residential structure (apartments).
Hopkinton School committee considers future of aging "White house" in front of the Middle school
(See page 14 of this week's Independent)
The white building in front of the Middle school could be looking at a restoration in the future after discussions commenced on adding a renovation project to the capital projects list.
After a brief discussion, the committee agreed to get a cost to conduct a feasibility study to look at different options for the building.
http://hopkintonindependent.com/
Asian American Commission inaugurates new members
Congratulations to Hopkinton School Committee member Meena Bharath! Asian American Commission inaugurates new members
https://sampan.org/2019/01/asian-american-commission-inaugurates-new-members/
Lykan Bioscience seeks tax break in Hopkinton

Selectmen met Tuesday night to sign off on holding a Special Town Meeting on Feb. 11 to accommodate the Phoenix company's timeline. State law allows towns and cities to grant property tax exemptions through tax increment financing (TIF) deals on new construction with terms negotiated with the company.

The company, which performs cell and gene therapy manufacturing, is eyeing about 63,000 square feet at 97 South St.
http://hopkinton.wickedlocal.com/news/20190109/lykan-bioscience-seeks-tax-break-in-hopkinton
RELATED ARTICLE:
https://ehop.org/2019/01/special-town-meeting-set-for-february-11-2019/
Special Town Meeting set for February 11, 2019
On January 8th the Board of Selectmen voted to hold a Special Town Meeting on February 11, 2019 to vote on a TIF (Tax Increment Finance) that could bring a large manufacturer of cell and gene therapies to Hopkinton.
Lykan Bioscience has agreed to pay for a portion of the cost of Special Town Meeting.
Schedule:
Jan 9 – Jan 23: The warrant will be open
Jan 25: Selectmen will sign the final warrant
Jan 28: Warrant will be posted
Feb 11: Special Town Meeting
Hopkinton schools explore savings with solar
The schools will benefit from entering into a power purchasing agreement with Solect, for which the school district will get credits for the power without owning the panels.
http://hopkinton.wickedlocal.com/news/20190109/hopkinton-schools-explore-savings-with-solar
Hopkinton Historic District Commission to review 'Village Center' project
The Historic District Commission will review a developer's revised plan to build 12 condominiums and a public parking lot downtown. The project, known as Hopkinton Village Center, is at 25-35 Main St. behind two well-known buildings. The HHDC held an initial meeting about the project on 1/10/19 and scheduled the following next steps:
Monday, January 21 at 2:00 PM – Site Walk – Park at 25-35 Main Street and meet between the two buildings. This is not a meeting, just a site walk. The public is welcome.

Thursday, February 7 at 7:00 PM – Public Hearing – Town Hall (Lower Level)
http://hopkinton.wickedlocal.com/news/20190108/hopkinton-historic-district-commission-to-review-village-center-project
RELATED ARTICLE:
https://www.metrowestdailynews.com/news/20190107/hopkinton-developer-proposes-12-condos-public-parking-lot
Hopkinton developer proposes 12 condos, public parking lot
Developer Chuck Joseph told selectmen on Dec. 18 there's not as much of a demand for office and retail space downtown as when the plan was approved in 2008. Previously approved plans allowed for a three-story, 45,000-square-foot mixed-use building.
"We are proposing to build six buildings, two units per building — 12 condominiums on the parcel," he said.
Hopkinton school budget further refined
School officials continue to whittle down next year's school budget as the latest projections show another significant spike in enrollment.
The New England School Development Council predicts an increase of about 100 new students for the 2019-2020 school year. Superintendent Carol Cavanaugh admits enrollment is a guessing game at this point in budgeting.
She recommends an approximately $48 million budget over this year's $45 million, a $3 million difference — or 6.7 percent. That is down from a preliminary budget of $49.5 million a few months ago. Town officials want the increase trimmed to 6.5 percent.
http://hopkinton.wickedlocal.com/news/20190107/hopkinton-school-budget-further-refined
Hopkinton Public Library Attendance Up
Hopkinton Public Library attendance up dramatically during first year of new building. See page 8 of this week's Hopkinton Independent.
---