Board of Selectmen Actions Taken 2/15/19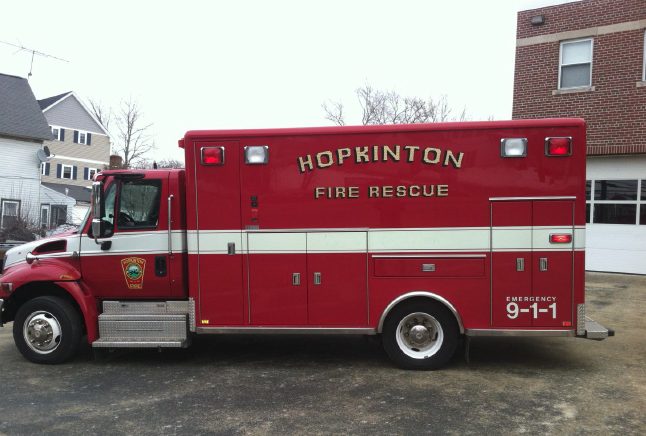 Ambulance Fund Gift • Entertainment License for Marty's
The meeting video is available on the HCAM YouTube Channel and the Actions Taken are posted in blue below.
TOWN OF HOPKINTON
BOARD OF SELECTMEN MEETING AGENDA
Hopkinton Town Hall, 18 Main Street, Hopkinton, MA – Room 215/216,
Friday, February 15, 2019 3:00 PM
ACTIONS TAKEN
3:00 PM CALL TO ORDER
PLEDGE OF ALLEGIANCE
3:01 PM PUBLIC FORUM
Residents are invited to share ideas, opinions or ask questions regarding town
government.
3:05 PM CONSENT AGENDA (ACTION)
1.
i. BOARD MINUTES
The Board of Selectmen will consider approving the 1/29/19 Board of Selectmen Minutes.
ii. AMBULANCE FUND GIFTS
The Board of Selectmen will consider accepting an ambulance fund gift for $50 from Claire & Paul Wright in memory of Marge Wright.
SupportingExhibit​: Ambulance Fund Gift
The Board of Selectmen approved the Consent Agenda. (4-0)
3:10 PM ANNUAL ENTERTAINMENT LICENSE – MARTY'S, 61 MAIN STREET (ACTION)
2. The Hopkinton Board of Selectmen will consider approving an Annual Entertainment
License application from Rachel Werrick, on behalf of Marty's at 61 Main Street, for outdoor Public Entertainment including amplification systems for several outdoor events, to be held on the grounds at 61 Main Street. Such events may include a Food Truck Event, an Annual Spring Fling, and an Annual Octoberfest. One hundred or more patrons may be expected for some events. Supporting Exhibits: Marty's Liquor Annual Entertainment License Application and supporting documents; Legal Notice; Permitting Team Comments; Additional Permitting Team Comments; Link to Marty's letters: http://bit.ly/hopbosMartys

The Board of Selectmen approved an annual entertainment license for Marty's at 61 Main St. with the following contingencies: 1) events must end by 8 pm; 2) there shall be no more than 6 events during the calendar year; 3) there shall be no events on Sundays; and 4) when events are for the benefit of a charity or organization, Marty's shall communicate with the organizers to inform them of the responsibilities under the license. (4-0)

3:15 PM BANNER OVER MAIN STREET (ACTION)
3. The Board of Selectmen will consider approving a request from Vicki Mullins,
on behalf of Faith Community Church, for a 3' x 24' (72 square ft.) banner to be hung over Main Street (near the Muffin House) to promote the World Vision Global 6K Race
for Water, to be held on May 4, 2019. The banner will be hung from April 17, 2019 through April 23, 2019 allowing 14 days maximum for the banner to be up, per the Zoning Bylaw. In accordance with the Zoning Bylaw, the size of a banner may not exceed 75 square feet.
The application was withdrawn.
3:20 PM FY20 COMPREHENSIVE BUDGET AND CAPITAL BUDGET HEARING
4. The Board of Selectmen will review the budget and capital requests of the Fire Department, Police Department, Department of Public Works, Engineering/Facilities Department, and Information Technology Department. Supporting Exhibits: FY20 Comprehensive Budget and Capital Hearing Schedule; Comprehensive Budget Detail; Proposed FY 20 Capital Articles
4:15 PM ADJOURN
_____________________________________________________________________________________
Upcoming Board Meetings
1. February 26, 2019
2. March 5, 2019
3. March 19, 2019
4. April 9, 2019
The listed matters are those reasonably anticipated by the Chair to be discussed at the meeting. Not all items may in fact be discussed and other items not listed may also be brought up for discussion to the extent permitted by law. Unless an agenda item is a posted public hearing, the matter may be considered earlier than the indicated time if there are last minute cancellations or other unforeseen events which cause the Board to move more quickly through the agenda.
Click here for the entire meeting packet, which includes permits, applications, letters and other information.
---