Weekly Roundup for 03/03/2019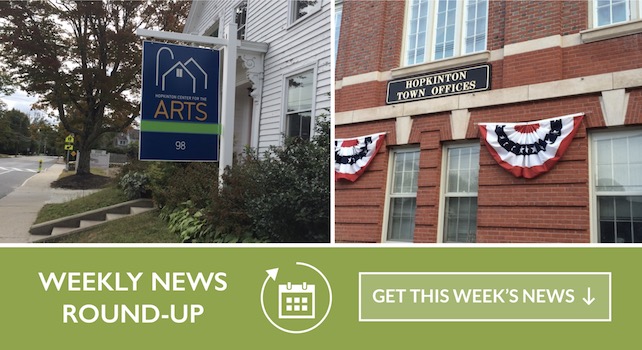 Hopkinton Center for the Arts receives $3,000 Grant from Mass Cultural Council • Hopkinton Excise Tax Due March 25th 2019 • Hopkinton Health Department and MetroWest Health Foundation Surveying Parents of Students about Vaping • State election news: Ranked-choice voting could change Massachusetts elections • Town election update and contested races
Hopkinton Center for the Arts receives $3,000 Grant from Mass Cultural Council 
The Hopkinton Center for the Arts (HCA) has received a 2-year grant of $3,000 from the Mass Cultural Council, a state agency, through its Cultural Investment Portfolio (CIP) Gateway program. This program provides general operating support and project grants to nonprofit organizations with public programs in the arts, sciences, and humanities across Massachusetts. The MCC CIP Gateway grant funds are to support the HCA's organizational goals and to maintain ongoing programs, services, and facilities.
http://www.hcam.tv/news/hopkinton-center-arts-receives-3000-grant-mass-cultural-council-operating-support
Hopkinton Excise Tax Due March 25th 2019
If your car was registered as of January 1st 2019, an excuse bill has been mailed to you.
http://www.hcam.tv/news/hopkinton-excise-tax-due-march-25th-2019
Hopkinton Health Department and MetroWest Health Foundation Surveying Parents of Students about Vaping
The Hopkinton Health Department has partnered with the MetroWest Health Foundation and is seeking parents of students and adults in the community to take the below survey regarding vaping.
Hopkinton Health Director, Shaun McAuliffe stated the results will help develop educational and resource tools for the community.
http://www.hcam.tv/news/hopkinton-health-department-and-metrowest-health-foundation-surveying-parents-students
State election news: Ranked-choice voting could change Massachusetts elections
"Ranked-choice voting is an important reform to our election laws that solves the 'spoiler effect' and vote-splitting, encourages positive, issue-based campaigns and produces a winner that reflects the will of the majority of the electorate," said state Sen. Jason Lewis, D-Winchester, who has introduced legislation to implement ranked-choice voting. Eighty-two of his colleagues have signed on as co-sponsors.
https://hopkinton.wickedlocal.com/news/20190225/ranked-choice-voting-could-change-massachusetts-elections
Town election update and contested races
Parks & Recreation is now a contested race, along with Board of Selectmen, and Board of Library Trustees. No candidates yet for Board of Assessors. Consider stepping up to run if interested!
---