Weekly RoundUp for 03/10/2019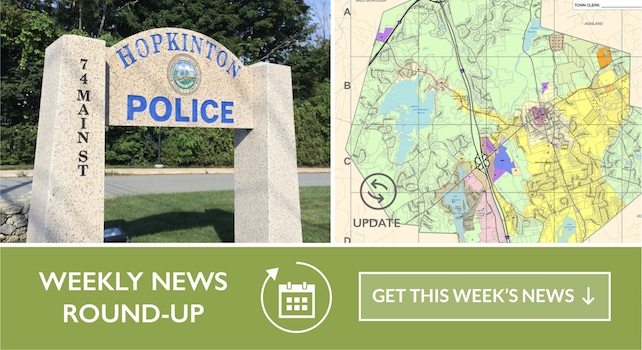 Hopkinton Police Register Private Security Cameras As Crime-Solving Tool • Zoning articles for 2019 Annual Town Meeting (Update after 1st hearing) • The Hopkinton Senior Center expanded hours • Joseph Bennett becomes Hopkinton's first deputy police chief • EHop meets with HopMoms group to chat about civic engagement and participation in town issues • Hopkinton Water Department Requests Help Shoveling Out Fire Hydrants • Hopkinton moves to save historic home • Hopkinton seeks a new Director of Student Services – position to start July 1, 2019 • Housing crisis leaves seniors feeling stuck in Massachusetts
Hopkinton Police Register Private Security Cameras As Crime-Solving Tool
The Hopkinton Police Department is compiling a database of security cameras owned by businesses in town. It is one of a handful of Massachusetts police departments looking to identify sources of surveillance video that potentially could be used to solve crimes.
"Rather than knock on every single door," said Hopkinton Sergeant Scott Van Raalten, "and wait to find a business owner that can give us access, we can refer to this list."
https://www.wgbh.org/news/local-news/2019/03/07/hopkinton-police-register-private-security-cameras-as-crime-solving-tool 
ZONING ARTICLES FOR 2019 ANNUAL TOWN MEETING (UPDATE AFTER 1ST HEARING)
Fourteen proposed zoning changes have been submitted into the 2019 annual town meeting warrant. The Planning Board is required by law to hold a public hearing on every zoning bylaw and zoning map change. The public hearing date of each is noted below. The draft language of the Planning Board's articles may be modified after review by Town Counsel and following the public hearing, and the Board may also decide not to proceed with an article.
https://ehop.org/2019/03/zoning-articles-for-2019-annual-town-meeting-update-after-1st-hearing/
RELATED VIDEO:
Director of Land Use, Elaine Lazarus Discusses Proposed Zoning Bylaw Amendments
In the below video, Director of Land Use and Town Operations, Elaine Lazarus discussed proposed Zoning Bylaw Amendments. Several public hearings will take place in the upcoming Planning Board Meeting on March 25th at 7:30pm. Public participation is heavily encouraged!
http://www.hcam.tv/news/video-director-land-use-elaine-lazarus-discusses-proposed-zoning-bylaw-amendments
The Hopkinton Senior Center expanded hours
The Hopkinton Senior Center is now open late until 7pm on Wednesdays!  Click here to visit their page and learn more about the services and programs offered!
http://www.hopkintonma.gov/departments/senior_center.php
Joseph Bennett becomes Hopkinton's first deputy police chief
Over the past 25 years, Joseph Bennett has held every rank in the department, most recently lieutenant. Selectmen on Tuesday night approved Police Chief Edward Lee's recommendation to promote Bennett to the newly created position. The department previously had two lieutenants under the chief.
https://hopkinton.wickedlocal.com/news/20190306/joseph-bennett-becomes-hopkintons-first-deputy-police-chief
EHop meets with HopMoms group to chat about civic engagement and participation in town issues
Wonderful evening with HopMoms at Chef's Kitchen on Main
https://www.instagram.com/p/BusPkfgh8Mc/?utm_source=ig_twitter_share&igshid=ndkn5u1wcuim
Hopkinton Water Department Requests Help Shoveling Out Fire Hydrants
During the winter hydrants can become buried by snow during a storm. If you have a fire hydrant that that is near your home, please help us make it visible and accessible to the Fire Department for use in an emergency.
http://www.hcam.tv/news/hopkinton-water-department-requests-help-shoveling-out-fire-hydrants
Hopkinton moves to save historic home
Two committees focused on the town's historical resources hope to create a single-property historic district to protect the Aaron and Lucy Claflin House on Main Street from being torn down.
The Historic District Commission created a study committee for the district and will hold a public hearing at 7 p.m. on March 20 at Town Hall, 18 Main St. A second public hearing on the final report will take place on May 1.
https://hopkinton.wickedlocal.com/news/20190305/hopkinton-moves-to-save-historic-home
Hopkinton seeks a new Director of Student Services – position to start July 1, 2019
TITLE: Director of Student Services
TYPE OF POSITION: Full-time (12-month work year), salary commensurate with experience (range $125,000-$145,000 annually)
LOCATION: District, Hopkinton, Massachusetts
AREA OF CONSIDERATION: All qualified candidates
https://www.schoolspring.com/job.cfm?jid=3061159
Housing crisis leaves seniors feeling stuck in Massachusetts
The housing crisis facing seniors in Massachusetts is unique, multifaceted and has far-reaching repercussions. Limited housing stock coupled with economic growth and a growing population are driving up home prices in the Bay State, which in turn increase property tax bills.
https://hopkinton.wickedlocal.com/news/20190304/housing-crisis-leaves-seniors-feeling-stuck-in-massachusetts
---