Zoning Articles for 2019 Annual Town Meeting (update after 1st hearing)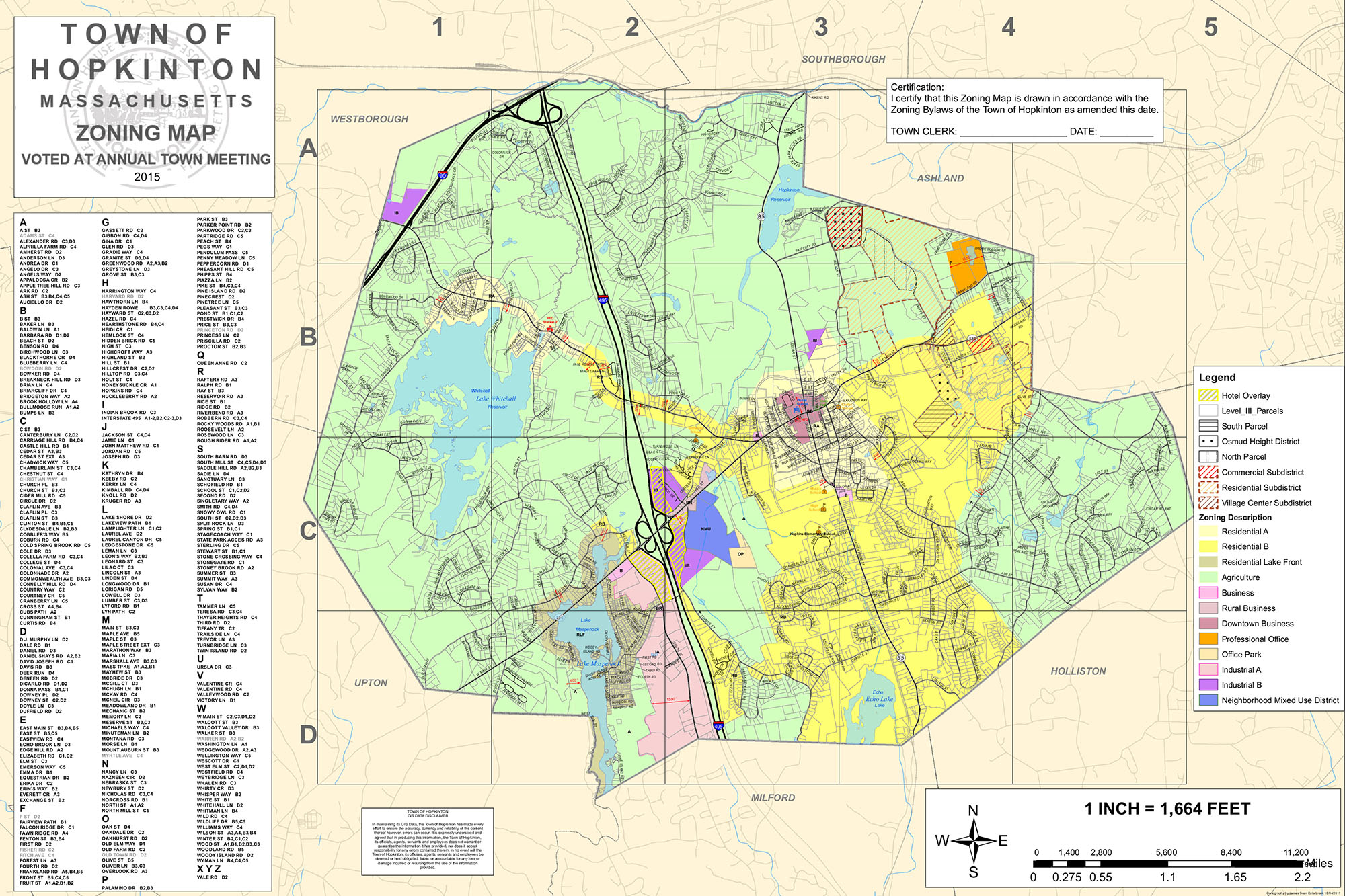 Fourteen proposed zoning changes have been submitted into the 2019 annual town meeting warrant. The Planning Board is required by law to hold a public hearing on every zoning bylaw and zoning map change. The public hearing date of each is noted below. The draft language of the Planning Board's articles may be modified after review by Town Counsel and following the public hearing, and the Board may also decide not to proceed with an article.
Public participation is an integral part of the process. Comments may be voiced at the public hearing, and may also be sent via mail or email to the Board in advance of the hearing (elainel@hopkintonma.gov). In addition to the several Planning Board articles, there are 4 citizens' petitions which propose changes to the Zoning Bylaw. The Planning Board articles are listed first, and the citizens' petitions follow.
1st PUBLIC HEARING was held on FEBRUARY 25, 2019
Temporary Banners – Sponsor: Planning Board – Voted to send to Town Meeting, minor changes such as naming exactly which streets can have banners, and keeping the date range at 14 days.
Commercial Solar Photovoltaic Installations – Sponsor: Planning Board – Continued to 3/25/19
Educational Uses in Industrial A, Industrial B & Professional Office Districts – Sponsor: Planning Board – Voted to remove from the Warrant
Indoor Recreation Uses in Industrial A and Industrial B Districts – Sponsor: Planning Board – Voted to send to Town Meeting, but uses will be by special permit, not by right.
Accessory Retail to Manufacturing Use, Industrial A & Industrial B Districts – Sponsor: Planning Board – Voted to send to Town Meeting, uses allowed by special permit and adjusted to Town Counsel's recommended wording.
Restaurants in Industrial B Districts – Sponsor: Planning Board –  Voted to remove from the warrant, use is still allowed by special permit, but not by right
Car Wash Uses – Sponsor: Planning Board – Continued to 3/25/19
OSMUD Overlay District/Restricted Land-Recreational Parcel Amendments – Sponsor: Planning Board – Voted to send to Town Meeting to allow "cultural" uses, but not "educational"
OSMUD Overlay District, Senior Housing Development Issues: Residents of Age Restricted Housing and Affordable Housing – Sponsor: Planning Board – Continued to 3/25/19
OSMUD Overlay District, Live-In Managers at Assisted Living Facility – Sponsor: Planning Board – Continued to 3/25/19
Self-Storage Facilities in the Industrial A District – Sponsor: Paul Mastroianni/Citizens Petition – Continued to 3/25/19 (sponsor was not in attendance on 3/25/19)
2nd PUBLIC HEARING – MARCH 25, 2019 AT 7:30 PM, TOWN HALL ROOM 215/216
One-Year Growth Restriction – Sponsor: Amy Ritterbusch, Deborah Fein-Brug, et al./Citizens Petition
Subdivision, Garden Apartment & Village Housing Phasing – Sponsor: Amy Ritterbusch, Deborah Fein-Brug, et al./Citizens Petition
Board of Selectmen/Select Board – Sponsor: Amy Groves/Citizens Petition
FOR MORE INFORMATION
---