Weekly Roundup for 02/24/2019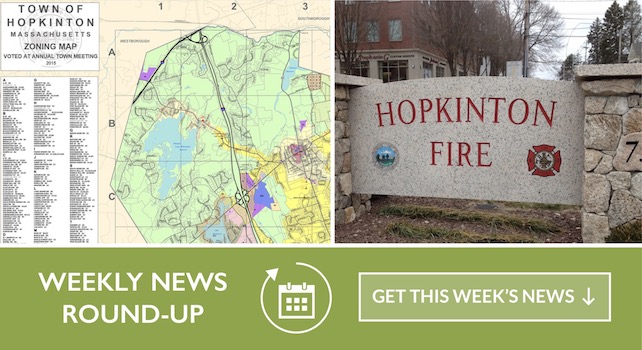 Zoning articles proposed for 2019 Annual Town Meeting and Public Hearings • Video: Hopkinton Fire and Police Department Present FY2020 budget to Selectmen •  Fire sprinkler activation may cause water discoloration  •  Ashland selectmen weigh in on pipeline project  •  Milford Regional's Patient advisory council needs new members  •  Video: Hopkinton Police Department Chief's log
Zoning Articles Proposed for 2019 Annual Town Meeting & Public Hearings
Fourteen proposed zoning changes have been submitted into the 2019 annual town meeting warrant. The Planning Board is required by law to hold a public hearing on every zoning bylaw and zoning map change. The hearings will be Monday, February 25 and Monday, March 25 at 7:30 PM at Town Hall. 
Public participation is an integral part of the process. Comments may be voiced at the public hearing, and may also be sent via mail or email to the Board in advance of the hearing (mail to Planning Board, 18 Main St., Hopkinton, MA 01748; email to Elaine Lazarus at elainel@hopkintonma.gov)
In addition to the several Planning Board articles, there are a few citizens' petitions which propose changes to the Zoning Bylaw. 
https://ehop.org/2019/02/zoning-articles-proposed-for-2019-annual-town-meeting/
Video: Hopkinton Fire & Police Department Present FY2020 Budget to Selectmen
On Friday, February 15th, the Board of Selectmen met with various Town Departments to discuss FY 2020 budget. In the below video, Fire Chief, Stephen Slaman and Police Chief, Edward Lee talk about their department budget requests.
The Hopkinton Fire Department budget includes a request for 3 new Full Time Firefighter positions while the Police Department requests a new Sergeant position. 
http://www.hcam.tv/news/video-hopkinton-fire-police-department-present-fy2020-budget-selectmen 
Fire sprinkler activation may cause water discoloration
Note from Water and Sewer manager
http://www.hcam.tv/news/fire-sprinkler-activation-may-cause-water-discoloration
Regional News: Ashland selectmen weigh in on pipeline project
Ashland, MA – Selectmen have until March 7 to file a pretrial written testimony to the Energy Facilities Siting Board outlining their concerns with Eversource's plan to replace a 3.7-mile high-pressure gas line that runs through town.
Specifically, selectmen, with help from the town's energy experts, will be providing their analysis on the project as a whole, including its environmental impact, construction-related problems and its overall necessity.
https://ashland.wickedlocal.com/news/20190221/ashland-selectmen-weigh-in-on-pipeline-project
Regional Volunteer Opportunity: Milford Regional's Patient Advisory Council Needs New Members
Milford, MA – Milford Regional Medical Center is looking for members to serve on the hospital's Patient and Family Advisory Council (PFAC).
The Patient and Family Advisory Council is dedicated to promoting a partnership between the patients, families, and working professionals affiliated with the Medical Center to promote and foster patient-centered care.
https://patch.com/massachusetts/milford-ma/milford-regional-s-patient-advisory-council-needs-new-members
Video: Hopkinton Police Department Chief's log
Hosted by HPD Chief Ed lee, this series brings you behind the scenes at the Hopkinton Police department to see the latest technology and tactics, as well as interviewing the officers and staff of the Department.
---