Weekly News Roundup – 04/19/2020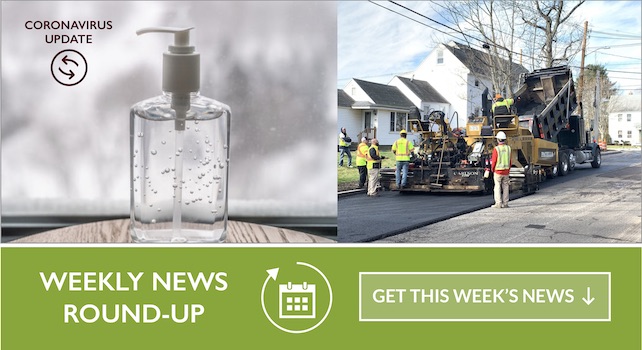 Covid-19 Updates and Precautions • New Town Election and Caucus Dates • Hopkinton officials tell runners: Stay home • Virtual Town Hall Office Hours • Public Service Announcement: Fire flow test to be conducted on main transmission lines. Temporary discoloration is expected • Hayden Rowe/Chestnut Street intersection improvement project completed • Hopkinton's Main Street corridor project slowed, in part, due to coronavirus outbreak
---
Covid-19 Updates and Precautions
Covid-19 Resource page has moved to a new site below. This page provides information, maps and resources about the coronavirus response in our local area.
Visit Hopkinton, MA – Coronavirus Response Hub
As of 11:00 a.m. on 4/17/20, Hopkinton's Health Department is reporting 25 total confirmed COVID-19 cases; 8 of those cases are active, with 16 recoveries and 1 death. You can see historical tracking and updates on Hopkinton's Community Impact Dashboard. Health officials report that the Commonwealth is in the middle of the surge phase of the COVID-19 virus. This surge is expected to continue for at least another 10 days, if not longer.
This April 17th includes update on expanded reporting and contact tracing
Expanded Data Reporting Secretary Sudders announced that, for the first time, the Massachusetts Department of Public Health will release a breakdown of novel coronavirus cases by city and town, as the state takes additional steps to assess and report the burden of infection across the Commonwealth.
On April 3, the Baker-Polito Administration announced an initiative to mitigate the spread of COVID-19 in Massachusetts through contact tracing. Working with Partners in Health, Massachusetts was the first state in the nation to develop a program to trace individuals who have tested positive for COVID-19 as well as their immediate contacts who may have been exposed to the virus.
Residents who receive a phone call from the Contact Tracing Collaborative are urged to take the call and provide the relevant information.
Most recent update from April 17, 2020  
RELATED NEWS: Baker-Polito Administration Announces COVID-19 Community Tracing Collaborative to Further Mitigate the Spread of Virus
https://www.mass.gov/news/baker-polito-administration-announces-covid-19-community-tracing-collaborative-to-further
New Town Election and Caucus Dates
At their April 7 meeting the Select Board voted to postpone the Town Election to June 29, 2020. They also voted to postpone the Republican Caucus until May 15, and the Democratic Caucus until May 14. The caucuses are expected to be held remotely in a manner that uses safe social distancing practices. For the town election the Town Clerk is encouraging EVERYONE to vote absentee or by mail. Absentee ballots may now also be requested by anyone who has a condition that puts them at higher risk for COVID-19. Absentee or Mail-in Early Voting Ballots may be requested by printing out the Absentee or Mail-in Early Voting Ballot Application, completing it with a real signature, and sending it to the Town Clerk's office. eHop will provide more details in the weeks to come.
Hopkinton officials tell runners: Stay home
The Select Board is urging runners to refrain from coming to the start line of the Boston Marathon or attempting to run the course on Monday.
"In the spirit of keeping not only those who run, but the citizens of Hopkinton and its first responders safe, we are asking everyone to continue complying with the Commonwealth's Stay-at-Home Advisory," said Select Board Vice Chairman and Boston Athletic Association liaison John Coutinho.
https://www.metrowestdailynews.com/news/20200417/hopkinton-officials-tell-runners-stay-home
Virtual Town Hall Office Hours
Hopkinton continues to explore options for ways to best serve our residents during this unique time. To that end, we are pleased to offer a pilot program that will begin on Tuesday 4/21/2020.
Public Service Announcement: Fire flow test to be conducted on main transmission lines that may cause temporary discoloration to water. 
Please be advised that a required fire flow test will take place next week on Wednesday, April 22nd, at approximately 8:30AM.
Crews will be testing the fire pump system at Middle and High School. Because these tests will take place on main transmission lines, customers may notice some discoloration during and after the tests throughout town.  Please avoid doing any laundry, dishwasher loads or other water use activities, during this time. Any discoloration that may occur will eventually dissipate. Please check your water before using it. You may need to run your cold water line to clear your internal pipes after the test is complete.
Hayden Rowe/Chestnut Street intersection improvement project is complete
The oft-delayed Hayden Rowe/Chestnut Street intersection improvement project moved closer was completed on Friday, as workers repaved the road and turned on the traffic signals. The project, which began almost two years ago, provides the intersection with new, full-service traffic lights and a widened roadway, allowing for dedicated turn lanes. The primary cause for the delay, according to the town, was Verizon's lack of urgency to relocate and reconnect a utility pole.
https://hopkintonindependent.com/hopkinton-today-wednesday-april-15/
Hopkinton's Main Street corridor project slowed, in part, due to coronavirus outbreak
A start date for the construction of the much-anticipated Main Street corridor project is unclear, in part, due to the ongoing coronavirus outbreak.
Design plans are completed and the project is scheduled to be put out to bid in June, with bids likely due back in September or October. The bid process will likely determine the actual start of the work, said Brian Herr, Hopkinton Select Board member.
https://www.metrowestdailynews.com/news/20200412/hopkintons-main-street-corridor-project-slowed-in-part-due-to-coronavirus-outbreak
---