Select Board Actions Taken – 05/19/2020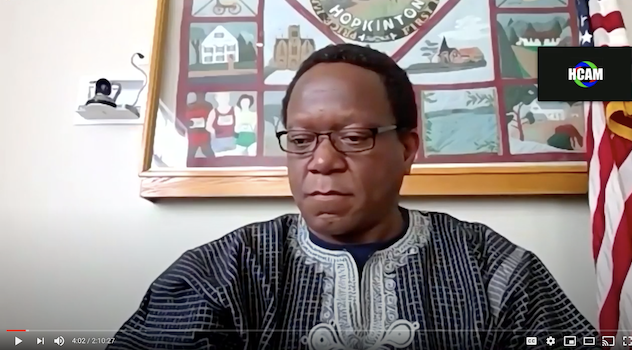 Public Forum • Covid-19 Update • Consent Agenda • Parks and Recreation Commission Program Update • National Public Works Week • FY 2020 AND FY 2021 Budget Updates • Town Manager Report 
---
The meeting video is available on the HCAM YouTube Channel and the Actions Taken are posted in blue below.
TOWN OF HOPKINTON
SELECT BOARD MEETING
Tuesday, May 19, 2020 6:00 PM
Remote Meeting
6:31 PM PUBLIC FORUM
3. Residents are invited to share ideas, opinions or ask questions regarding Town Government.
View Video ~3 minutes
6:35 PM COVID-19 UPDATE
4. The Select Board will receive an update from the Board of Health on the Town's response to COVID-19.
View Video ~14 minutes
6:50 PM CONSENT AGENDA
5.
i. MINUTES – The Select Board will consider approving the Minutes of the 5/5/20 meeting.
ii. PARADE PERMIT APPLICATION – HHS CLASS OF 2020
The Select Board will consider approving a Parade Permit application submitted by Carol Cavanaugh on behalf of the HHS Class of 2020 and Principal Evan Bishop for a rolling parade of approximately 300 cars to celebrate the graduates in the Class of 2020 on May 30, 2020 beginning at 1 p.m. The route begins and ends at the High School, and includes the downtown area.
iii. METROWEST REGIONAL TRANSIT AUTHORITY – MUNICIPAL REPRESENTATIVE
The Select Board will consider confirming the current Advisory Board designee for the Town, Brian Herr.
Supporting Exhibits: Parade Permit Application and supporting documents; Permitting Team Comments; Letter from MWRTA
The Select Board approved the Consent Agenda. (5-0)
View Agenda Packet – Page 6-10
View Video ~8 minutes
6:55 PM PARKS AND RECREATION COMMISSION PROGRAM UPDATE
6. The Select Board will receive an update from the Park and Recreation Commission regarding summer programming, related matters and consider taking any related action.
The Select Board allowed the Town to fill the following positions: Staff for Parks & Recreation




Dept. 2020 summer camps. (5-0)

The Select Board allowed the Town to fill the following positions: Sandy Beach lifeguard staff for




the 2020 summer season. (4-1)
View Video ~18 minutes
7:05 PM NATIONAL PUBLIC WORKS WEEK
7. The Select Board will recognize and celebrate National Public Works Week, May 17-23, highlighting the value and vital role of public works projects in Hopkinton.
Supporting Exhibits: Proclamation
The Select Board designated the week of May 17-23 as National Public Works Week and thanked the employees of Hopkinton's Department of Public Works for their service to the Town. (5-0)
View Agenda Packet – Page 11 
View Video ~10 minutes
7:20 PM FY 2020 AND FY 2021 BUDGET AND ANNUAL TOWN MEETING UPDATES
9. The Select Board will consider FY 2020 and 2021 Budget and annual town meeting updates. The Select Board will review the June 22, 2020 Annual Town Meeting warrant. The Select Board will review draft ATM motions and take positions on articles. The Select Board will finalize ballot questions. The Select Board will consider postponing the Annual Town Meeting to September, 2020.
Supporting Exhibits: Draft ATM Warrant
The Select Board found that:
a. There currently exists an emergency that poses an immediate threat to the health or safety of persons or property in the Town of Hopkinton; and
b. This threat prevents the completion of the business of the Town's Annual Town Meeting by June 30, 2020; and
c. The governor has declared a state of emergency with respect to such emergency;
And that, based on these findings, the Annual Town Meeting, which was previously delayed to June 22, 2020, be further delayed to a date to be determined, and that the Town Manager be instructed to prepare, for the Select Board's approval at its next meeting on June 2, 2020, a warrant for the Annual Town Election, to be held on June 29, 2020. (5-0)
View Agenda Packet – Page 12-23
View Video ~25 minutes
7:30 PM TOWN MANAGER REPORT
10. a. Main Street Corridor Project Update.
Supporting Exhibits: Town Manager Report
View Agenda Packet – Page 12-22
View Video ~2 minutes
---
Correspondence to the Select Board
1. I-495/I-90 FEIR Transmittal Letter; Link to FEIR: FEIR Link I90-I495 Interchange Project 5-19-20 SB Agenda
2. Jewel Environmental Permanent Solution Statement Report, I90W Service Station
Upcoming Select Board Meetings
1. June 2, 2020
2. June 16, 2020
3. June 22, 2020 Annual Town Meeting
---