Select Board Actions Takens – 06/02/2020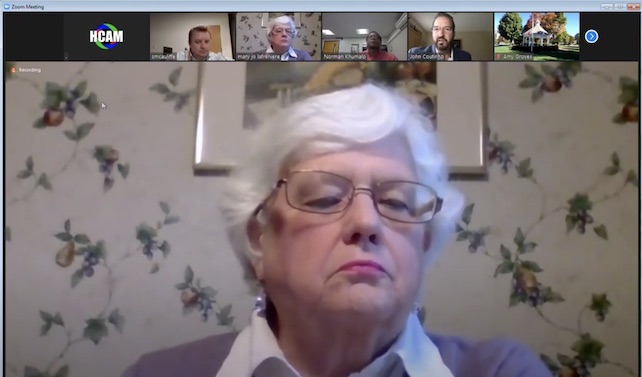 Covid-19 Update • Consent Agenda • Hopkinton Public Library Foundation Donation • Quarterly Deposit and Investment Report – Treasurer/ Collector • FY2020 CARES Act,  FY2021 Budget, Annual Town Hall Meeting updates and Annual Town Meeting Warrant • Hopkinton Restaurant Outdoor Seating • Town Manager Report – Temporary Closure of Town Hall driveway to support outdoor sitting, Main Street Corridor Project Update
---
The meeting video is available on the HCAM YouTube Channel and the Actions Taken are posted in blue below.
SELECT BOARD MEETING AGENDA
Tuesday, June 2, 2020 6:00 PM
Remote Meeting
Meeting Materials:
Full Agenda Packet
Full Video
6:35 PM COVID-19 UPDATE
4. The Select Board will receive an update from the Board of Health on the Town's response to COVID-19.
View Video ~8 minutes

6:50 PM CONSENT AGENDA
5.
i. MINUTES – The Select Board will consider approving the Minutes of the 5/19/20 meeting.
ii. RESIGNATION – The Select Board will consider accepting the resignation of Margaret Shaw from the Board of Appeals.
Supporting Exhibits: Margaret Shaw resignation letter
The Select Board approved the Consent Agenda. (5-0)
View Agenda Packet – Page 6
View Video ~1 minute
6:55 PM HOPKINTON PUBLIC LIBRARY FOUNDATION DONATION
6. The Select Board will consider accepting a donation of $119,438.00, the third and final donation towards the cost of the Public Library renovation and addition project, from Laura Barry on behalf of the Hopkinton Public Library Foundation. Said donation will be applied to the FY 21 Library project debt service.
Supporting Exhibits: Letter from Hopkinton Public Library Foundation donating $119,438
The Select Board accepted the $119,438 donation from the Hopkinton Public Library Foundation. (5-0)
View Agenda Packet – Page 7-8
View Video ~7 minutes
7:00 PM QUARTERLY DEPOSIT & INVESTMENT REPORT – TOWN TREASURER/COLLECTOR
7. The Select Board will receive an update from Chris Heymanns, Town Treasurer/ Collector, on the Quarterly Deposit & Investment Report, period Ending 03/31/2020.
Supporting Exhibits: Quarterly Deposit & Investment Report, 3/31/20
View Agenda Packet – Page 9-19
View Video ~4 minutes

7:10 PM FY 2020/CARES ACT, FY 2021 BUDGET AND ANNUAL TOWN MEETING UPDATES, AND ANNUAL TOWN ELECTION WARRANT
8. The Select Board will consider FY 2020 and 2021 budget and annual town meeting updates. The Select Board will review and take any necessary action relative to a CARES Act funding application. The Select Board will consider setting the date for the Annual Town Meeting in September, 2020. The Select Board will consider signing the June 29, 2020 Annual Town Election Warrant.
Supporting Exhibits: June 29, 2020 Annual Town Election Warrant
The Select Board approved the Annual Town Election Warrant, with poll hours 7 AM – 8 PM. (5-0)
The Select Board authorized the Town Manager to initiate requests for CARES Act reimbursement. (5-0)
View Agenda Packet – Page 20-21
View Video ~52 minutes
7:20 PM HOPKINTON RESTAURANT OUTDOOR SEATING
9. a. The Select Board will consider the needs and options available to assist Hopkinton restaurants with exterior seating arrangements necessary to reopen for service to customers on-site. Options could include use of parking lots for seating and streamlined permitting.
Supporting Exhibit: Draft Temporary Outdoor Dining Rules and Regulations
The Select Board adopted the Temporary Outdoor Dining Rules and Regulations as revised. (5-0)
View Agenda Packet – Page 22
View Video ~15 minutes
7:30 PM TOWN MANAGER REPORT
10.
a. Temporary Closure of Town Hall driveway to support outdoor sitting
b. Main Street Corridor Project Update.
Supporting Exhibits: Town Manager Report
The Select Board authorized the Town Manager to work with the Town Engineer, DPW Director, Assistant Town Manager, local restaurants and property owners to allow the use of the Town Hall driveway for outdoor dining if desired, resulting in temporary closure of the driveway. (4-0-1)
View Agenda Packet – Page 23
View Video ~5 minutes
7:40 PM LIAISON REPORTS/BOARD INVITES
11. Supporting Exhibits: 2019-2020 Liaison Assignments
View Video ~5 minutes
7:45 PM FUTURE BOARD AGENDA ITEMS
View Video ~5 minutes
---
Upcoming Select Board Meetings
1. June 16, 2020
---