Weekly News Roundup – 07/26/2020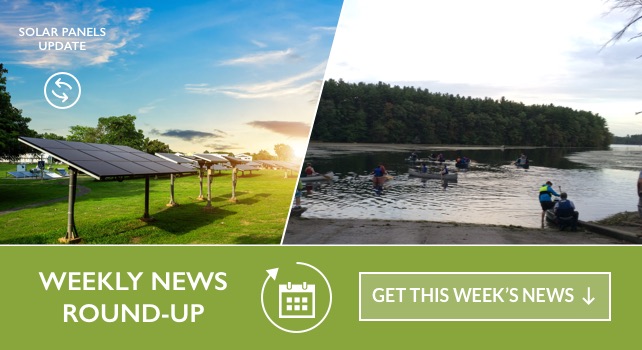 Covid-19 Updates & Precautions • Hopkinton Solar Panel project moves along • School Committee roundup: HHS construction bid awarded • Independent Thoughts: Residents work on public needs fund • Police restart boat patrols on Maspenock, Whitehall • HPS superintendent introduces trio of new hires • Ashland Select Board wins court case against Eversource over gas pipeline • Hopkinton Planning Board Vacancy Announcement • Main Street Corridor Project bid process underway
---
Covid-19 Updates & Precautions
This page provides information, maps and resources about the coronavirus response in our local area.
Visit Hopkinton, MA – Coronavirus Response Hub
As of 7/24/20, Hopkinton's Health Department is reporting 132 total confirmed COVID-19 cases; 1 of those cases are active, with 119 recoveries and 12 deaths. You can see historical tracking and updates on Hopkinton's Community Impact Dashboard
The most recent update from July 24th includes:
July 24th Update
Hopkinton Public Schools
Mass Support
Hopkinton DPW to resume White Metal Day – Reminder
The update from July 22nd includes:
Massachusetts Department of Public Health COVID-19 weekly Public Health Report
Mental Health Resources
RELATED NEWS: 
Select Board roundup: Health Department director pushes residents to stay vigilant
Health Department director Shaun McAuliffe, in his update to the Select Board at its Tuesday night meeting, reported that there have been 132 cases of COVID-19 in town. One case is active and there have been 119 recoveries and 12 deaths.
"Recent cases in town have resulted from workplace exposure out of the town, international travel coming to the town, and socializing without proper distancing and face covering," he said. "We've had a number of individuals aged 20-25 test positive or have recent antigen testing revealing that they had been infected within the last 2-3 weeks.
Hopkinton Solar Panel project moves along
Having earned the proper permit from the Conservation Commission earlier this month, a Connecticut-based solar energy company is a step closer to constructing another large solar panel project in town.
Those acres of land are home to wetlands, wildlife and trails. For years, Liberty Mutual allowed residents to walk on private property without much issue.
The site would require cutting approximately 25 acres of forest to accommodate the project, but the company has been working with the Hopkinton Area Land Trust, which maintains a protected trail on the lot known as the Deer Run Conservation Area, and said it would be leaving the remaining approximately 40 acres of land not used for the project as open space.
Hopkinton resident, Ann Karnofsky, has filed an appeal with the Massachusetts Department of Environmental Protection against the Conservation Commission's decision to grant the company the storm water management permit.
A solar panel district overlay district bylaw article is in the works in town and will be voted on during an upcoming town meeting. If approved, it would provide clearer guidance as to where solar panel projects can be developed in the town. Trendel said if approved at the Town Meeting, the solar panel district overlay would also apply to this project.
School Committee roundup
HHS construction bid awarded
The Hopkinton School Committee voted unanimously at its July 23 meeting to award the bid to build six new classrooms at Hopkinton High School to Avatar Construction at a cost of $2,839,000.
Construction on the new wing is expected to start soon and will take place while students are in school. The district hopes the work will be completed by the end of the 2020-21 school year.
The project was approved by Town Meeting voters to accommodate the growing enrollment numbers in the schools.
Committee to address Hopkins School name
School Committee chair Amanda Fargiano pointed to an article in the previous issue of the Hopkinton Independent about Edward Hopkins, namesake of Hopkins School (and for whom the town was named), indicating Hopkins was a slaveowner. Issues involving the naming of schools fall under the purview of the School Committee, which will "investigate and consider any appropriate action regarding information about the slave-owning history of Edward Hopkins," she said.
Fargiano asked that the issue be added to a future agenda for discussion. Committee member Joe Markey suggested bringing in a historian to assist with a comprehensive review of the issue, and Fargiano supported that idea.
RELATED ARTICLES: 
Independent Thoughts: Residents work on public needs fund
While Zack Sisitsky's sophomore year at Georgetown University was upended in March due to the COVID-19 pandemic, he recognized there are far more people for whom the pandemic has caused greater issues.
Sisitsky, along with Hannah Krueger, a teacher who grew up in Hopkinton, have taken on the task of getting this organization started.
"Hopkinton Youth & Family Services and the town in general was seeing an increasing number of cases where families and individuals had needs that extended beyond what these organizations could offer. So there was really no place for them to go. So this project is a financial safety net to support residents who are experiencing challenging circumstances, who have needs that expand beyond what the organizations we currently have can help with."
Police restart boat patrols on Maspenock, Whitehall
According to an HPD tweet from Thursday, "Officers from HPD have been trained to identify and enforce boating regulations on the water. Our mission is to ensure the safety of boaters, swimmers and property of the residents of the lakes."
Parks & Recreation Commission chair Dan Terry and director Jay Guelfi appeared before the Select Board on Tuesday and discussed their concerns with parking issues at the Sandy Beach parking lot, and that led to a discussion about safety issues on Lake Maspenock due to overcrowding. Guelfi noted that more people are staying local and using Sandy Beach and the lake rather than traveling to more well known beaches and bodies of water due to the pandemic.
HPS superintendent introduces trio of new hires

At the July 9 School Committee meeting, superintendent Carol Cavanaugh introduced three new hires in the Hopkinton Public Schools.
Chris Ocampo is the new Hopkinton Middle School assistant principal. He has spent the past decade in a variety of roles in the Framingham Public Schools and recently obtained his administrator's license.
Laura Theis, who had been teaching Spanish at Hopkinton High School, will be the interim HHS assistant principal for the 2020-21 school year. She replaces Josh Hanna, who left to become principal at Franklin.
Jennifer Cuker was named director of English language acquisition equity, and access. Cuker previously served as interim director of English language education in the Northborough and Southborough school system for one year, after teaching ESL (English as a second language) since 2002 in in Natick, Leominster and Northborough/Southborough, at all grade levels.
Ashland Select Board wins court case against Eversource over gas pipeline
Associate Justice Michael D. Vhay issued the judgment earlier this week, supporting the Town of Ashland's position.
In Ashland and Hopkinton, Eversource wants to decommission a 6-inch-wide, 3.7-mile underground gas line that passes through both towns and replace it with new 12-inch pipeline. In Ashland, the gas line runs for 2.5 miles, cutting through more 80 house lots, town-owned properties, wetlands, the Chestnut Street Apartments and the conservation-restricted Great Bend Farm Trust.
Town officials and many residents adamantly oppose the project, saying it will have no direct benefit for Ashland residents and runs counter to the town's sustainability goals.
RELATED ARTICLE:
Hopkinton Planning Board Vacancy Announcement
The Planning Board currently has one vacancy and the Town is seeking candidates for the position. The term of office will expire at the May, 2021 annual town election.
Interested parties must be a registered voter in the Town of Hopkinton and should apply on-line by 5:00 PM on Monday, August 3, 2020.
Main Street Corridor Project bid process underway
Town Manager Norman Khumalo announced Wednesday that the Main Street Corridor Improvement Project is in the Massachusetts Department of Transportation (MassDOT) bid process, with proposals tentatively expected to be reviewed on Aug. 11.
The bid process began with the advertisement of the project by MassDOT on June 27. From there, VHB, the town's design consultant, will be working closely over the next month or so with the town and MassDOT to coordinate all of the next steps in the bid process.
---