Weekly News Roundup – 09/06/2020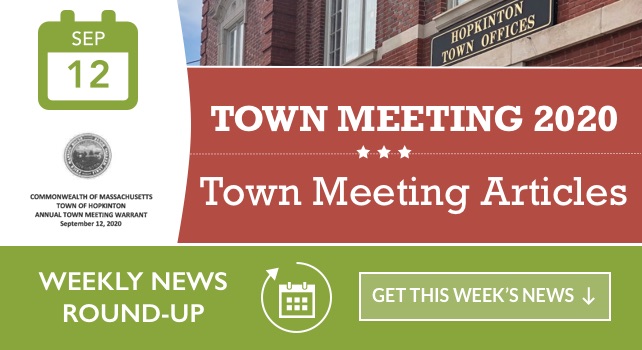 Covid-19 Updates & Precautions • List of Town Meeting Articles with Links and Details • Superintendent: District, teachers union 'working really hard' to finalize agreement • Town counsel: Select Board did not violate open meeting law with anonymous comments • Select Board roundup: Developer continues prep work around Legacy Farms Road North
---
Covid-19 Updates & Precautions
This page provides information, maps and resources about the coronavirus response in our local area.
Visit Hopkinton, MA – Coronavirus Response Hub
As of 9/4/20, Hopkinton's Health Department is reporting 140 total confirmed COVID-19 cases; 0 of those cases are active, with 127 recoveries and 13 deaths. You can see historical tracking and updates on Hopkinton's Community Impact Dashboard
The most recent update from Sep 4th includes:
Annual Town Meeting – New Details
Labor Day – Reminder
BAA Postpones Registration for 2021 Boston Marathon
Update from School Superintendent Dr. Carol Cavanaugh
The update from Sep 2nd includes:
Massachusetts Department of Public Health COVID-19 weekly Public Health Report
Annual Town Meeting – New Details
List of Town Meeting Articles with Links and Details
Town Meeting is Saturday, September 12 at 9:30 AM – Outside – at the High School
The Articles cover the following categories:
Financial – Fiscal Yr 2020
Capital Expenses and Projects
Community Preservation Funds
Zoning By-Law Ammendments
Land Acquisition and Disposition
Administrative
View Town Meeting Articles with Links & Details
More Useful Town Meeting Links:
Superintendent: District, teachers union 'working really hard' to finalize agreement
Representatives for the Hopkinton Teachers Association and the school department have been "working really hard'' on negotiations for a memorandum of agreement (MOA) for the new school year, superintendent Carol Cavanaugh told School Committee members Thursday.
Two of the major issues under discussion include whether teachers will be required to teach onsite if the district goes to remote learning and whether lessons will be livestreamed, Cavanaugh said.
School Committee Actions Taken 9/3/20
RELATED REGIONAL NEWS: 
Keefe Regional Technical School has walked back its reopening plan, deciding to go with a 100% remote start in the fall. The switch is due to the city recently being classified as a "red" or high-risk community by the state.
Bredberg teaches history at Marlborough High School, and worries that a return to the classroom later this month to start the district's hybrid-model of education could put him at risk of catching COVID-19. And if that happens, Bredberg fears he could infect his daughter.
David Felper, a labor and employment lawyer at Bowditch & Dewey, which has offices in Boston, Framingham and Worcester, said the obligation to return to work begins with the employer. It sets conditions for returning to the classroom, subject to negotiations with teachers union regarding changes in working conditions.
Town counsel: Select Board did not violate open meeting law with anonymous comments
Responding to a complaint filed by a Hopkinton resident with the state Attorney General's Office regarding anonymous public comment during the Aug. 18 Select Board meeting, town counsel Ray Miyares told the board at Tuesday's meeting there was no violation.
Board members Mary Jo LaFreniere and Amy Ritterbusch said while they agree the law was not violated, they do not agree with the departure from how public comment traditionally has been handled.
Select Board roundup: Developer continues prep work around Legacy Farms Road North
Legacy Farms developer Roy MacDowell checked in with the Select Board Tuesday night to discuss the status of Legacy Farms Road North, which the town is considering accepting as a public road for the primary purpose of allowing school buses to travel on it and make the situation safer for schoolchildren in that neighborhood.
---