Weekly News Roundup – 09/20/2020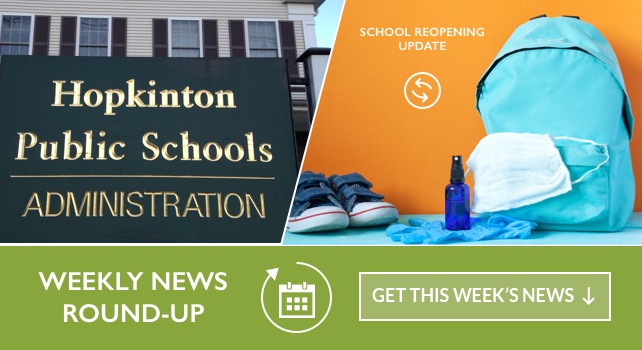 Covid-19 Updates & Precautions • In second vote, Hopkinton teachers turn down new agreement due to live-streaming again • Town of Hopkinton Community Survey 2020 • In second vote, Hopkinton teachers turn down new agreement due to live-streaming again • Statement from HTA: Teachers reject district plan 'heavy on livestreaming' • Teachers 'disappointed' with district but 'will be in classrooms on Wednesday' • School Committee statement: Teachers have received 'last best offer' • Schools Notebook update: Student breakfasts/lunches free, no pre-ordering at school • Select Board roundup: Kudos for Town Meeting; yard sign theft an issue; HPD adds officer • Rash of car break-ins, thefts hits Southboro 
---
Covid-19 Updates & Precautions
This page provides information, maps and resources about the coronavirus response in our local area.
Visit Hopkinton, MA – Coronavirus Response Hub
As of 9/18/20, Hopkinton's Health Department is reporting 140 total confirmed COVID-19 cases; 0 of those cases are active, with 127 recoveries and 13 deaths. You can see historical tracking and updates on Hopkinton's Community Impact Dashboard
The most recent update from Sep 18th includes:
Hopkinton Public Library Reopening
The update from Sep 16th includes:
Massachusetts Department of Public Health COVID-19 weekly Public Health Report
New ESRI map/app – COVIDPulse
Means-tested senior (tax) exemption program
Travel Order – Reminder
Town of Hopkinton Community Survey 2020
The Town is undertaking a survey of resident opinions about community and services in collaboration with the National Research Center. The survey results may be used by staff, elected officials, and other stakeholders for community planning and resource allocation, program improvement, and policymaking.
In second vote, Hopkinton teachers turn down new agreement due to live-streaming again
The Hopkinton Teachers Association and the School Committee have still not reached an agreement on back-to-school work conditions in a hybrid model.
Ninety-five percent of the teachers union membership rejected the proposed deal again Tuesday night, according to President Becky Abate. The union represents about 350 educators.
The snag is live-streaming. According to the School Committee, the agreement includes a plan to live-stream classes to 145 remote high school general education students, and some remote special education students.
RELATED NEWS: 
The members of the Hopkinton Teachers Association rejected by an overwhelming majority a proposed memorandum of understanding between the School Committee and union concerning hybrid learning. Because of the language surrounding livestreaming of classes, HTA members believed that the proposal is not in the best interest of students. This is the second time the MOU has been rejected by members of the association.
Two days before school is scheduled to start, committee members have made their "last best offer to the Hopkinton Teachers Association," committee chair Amanda Fargiano said in a statement read at the meeting and later issued via press release.
Schools Notebook update: Student breakfasts/lunches free, no pre-ordering at school
According to an email from the Hopkinton Public Schools Food Services Department, the school cafeteria will be offering a "limited yet healthy and nutritious lunch menu daily." However, no cash or checks will be accepted. All payments must be made online via MySchoolBucks.com or mailed to the Finance Department (89 Hayden Rowe St.). Additionally, all meals must be pre-ordered one week in advance.
Select Board roundup: Kudos for Town Meeting; yard sign theft an issue; HPD adds officer
Town Meeting was moved outside, under a tent in front of Hopkinton High School. It took just over two hours to get through the 22 articles on the warrant.
During the public comment portion of the meeting, Select Board member Amy Ritterbusch expressed disappointment with yard signs being take from residents' yards as well as signs being placed on lawns without consent.
Cody Normandin was approved to be the town's next police officer. Normandin completed police academy training last week and is set to start on the job Wednesday, Chief Joseph Bennett said.
Rash of car break-ins, thefts hits Southboro
Twenty-five cars were broken into, and four others stolen, overnight Wednesday, said Police Chief Kenneth Paulhus.
"This is pretty widespread all over Connecticut and Rhode Island, and now here in MetroWest," the Chief said. "This is an organized gang we believe is from Connecticut."
A task force that is made up of several area police departments, including Hopkinton, Holliston, Franklin and Medway, had already been set up. Last week, Southboro police attended a task force meeting and learned this group will often hit the same community a second time.
---