Weekly News Roundup – 09/27/2020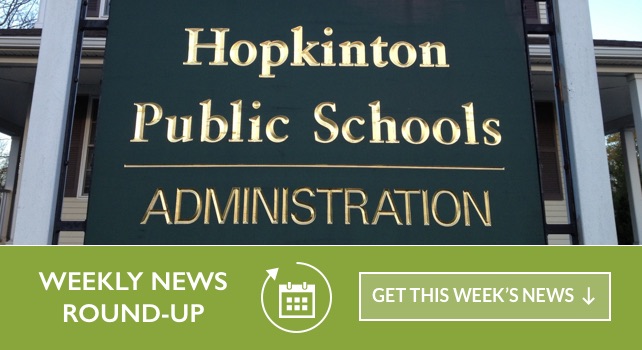 Covid-19 Updates & Precautions • Superintendent: HHS student tests positive for COVID-19 • Health director: Managing return of college students 'keeping me up at night right now' • HTA statement: Teachers continue to raise concerns about livestreaming • Public Notice: Water Supply Update • Resident introduces plan for pair of 4-lot cul-de-sacs off Cedar Street
---
Covid-19 Updates & Precautions
This page provides information, maps and resources about the coronavirus response in our local area.
Visit Hopkinton, MA – Coronavirus Response Hub
As of 9/23/20, Hopkinton's Health Department is reporting 141 total confirmed COVID-19 cases; 1 of those cases are active, with 127 recoveries and 13 deaths. You can see historical tracking and updates on Hopkinton's Community Impact Dashboard
The most recent update from Sep 23rd includes:
Massachusetts Department of Public Health COVID-19 weekly Public Health Report – New Update
Superintendent: HHS student tests positive for COVID-19
According to an email Friday from Hopkinton Public Schools superintendent Carol Cavanaugh and town health director Shaun McAuliffe, a student at Hopkinton High School has tested positive for COVID-19.
"Anyone in our HHS community who has been in close contact with this student has been notified and will be quarantined," the email reads.
Health director: Managing return of college students 'keeping me up at night right now'
Hopkinton health director Shaun McAuliffe, during an appearance on HCAM's Hopkinton Hangout Hour on Thursday, said there are two active cases of COVID-19 in town, both individuals under the age of 23 who were not as responsible as they should have been.
"Both of them likely picked it up at parties where they weren't wearing face coverings," McAuliffe said.
HTA statement: Teachers continue to raise concerns about livestreaming
"The district's extensive use of livestreaming shortchanges both the students receiving in-person instruction and those viewing the class remotely," said HTA president Becky Abate.
Abate noted that educators are still without a contract, and that the district has significantly changed working conditions without bargaining.
"Our working conditions are our students' learning conditions, and right now both of those are unsettled," Abate said.
Public Notice: Water Supply Update
Due to the continued severe drought, watering restrictions remain in place. No lawn watering is permitted. The only permitted uses are the hand watering of plants, shrubs, or gardens before 9 AM or after 5 PM. Also for Health or Safety reasons; for the production of food and fiber; for the maintenance of livestock; or to meet core functions of a business.  We are now at over an 8" rain deficit for the year with no significant rain in sight through the remainder of the month. Anyone that still has their lawn sprinklers on,  needs to shut them off immediately! As seen by the major fire in town recently and the need to fight it with a significant amount of water, we need to ensure a safe and adequate supply for fire protection and essential daily needs.
Resident introduces plan for pair of 4-lot cul-de-sacs off Cedar Street
The new plan is to extend Lincoln Street and build four homes there, and to create a new cul-de-sac off Cedar Street Extension, across from Wedgewood Drive, with another four lots.
Joe Marquedant, who heads up the design team, said the land was the subject of a special permit in 2003. While that has expired, the planners have been using some of the information in the new design.
Multiple Planning Board members expressed concern with cul-de-sacs and suggested it might be more appropriate to have the through road.
---