Weekly News Roundup – 10/4/2020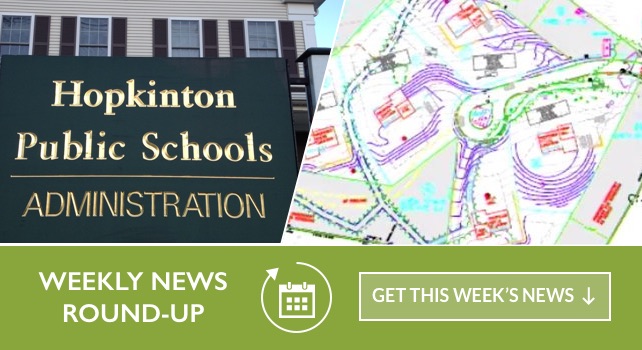 Covid-19 Updates & Precautions • Early in-person voting at Senior Center Oct. 17-30 • DPW hosts household hazardous waste collection Oct. 17 • Superintendent explains closing to School Committee: 'We decided to err on the side of caution' • Superintendent: HHS student tests positive for COVID-19 • Hopkinton moves to remote learning for 2 days to allow 'for extensive contact tracing' after a high schooler tests positive for COVID-19 • Health director: Managing return of college students 'keeping me up at night right now' • HTA statement: Teachers continue to raise concerns about live streaming • Scheduling for hybrid, remote models a challenge for districts • Residents asked to review yard sign regulations • Resident introduces plan for pair of 4-lot cul-de-sacs off Cedar Street • Select Board Actions Taken 09/29/2020
---
Covid-19 Updates & Precautions
This page provides information, maps and resources about the coronavirus response in our local area.
Visit Hopkinton, MA – Coronavirus Response Hub
As of 9/30/20, Hopkinton's Health Department is reporting 145 total confirmed COVID-19 cases; 4 of those cases are active, with 128 recoveries and 13 deaths. You can see historical tracking and updates on Hopkinton's Community Impact Dashboard
The most recent update from Sep 30th includes:
Massachusetts Department of Public Health COVID-19 weekly Public Health Report
Transition to Step II of Phase III for Lower Risk Communities Effective October 5th
Hopkinton Public Schools
Early in-person voting at Senior Center Oct. 17-30
Early voting in person will be offered from Saturday, Oct. 17, until Friday, Oct. 30. Due to occupancy issues at Town Hall, the Board of Registrars voted on Sept. 29 to hold early voting in person for the Nov. 3 state election at the Hopkinton Senior Center, 28 Mayhew St. Voters will not use the main entrance, but will enter through the library door and will exit through the side door once they have voted. Mask wearing as well as social distancing will be required to protect our dedicated team of election staff and fellow voters.
DPW hosts household hazardous waste collection Oct. 17
The Department of Public Works is hosting a household hazardous waste collection day on Saturday, Oct. 17, from 8 a.m.-1 p.m. at the DPW facility at 83 Wood St.
Superintendent explains closing to School Committee: 'We decided to err on the side of caution'
The decision to close schools Tuesday and Wednesday after two high school students tested positive for COVID-19 allowed necessary time for contact tracing, superintendent Carol Cavanaugh told members of the Hopkinton School Committee at its Thursday meeting.
"There was the potential for many close contacts" to the affected students, she said. High school students attend seven classes and could have 28 close contacts in one classroom alone.
RELATED NEWS: 
According to an email Friday from Hopkinton Public Schools superintendent Carol Cavanaugh and town health director Shaun McAuliffe, a student at Hopkinton High School has tested positive for COVID-19.
The Hopkinton Public Schools pivoted to remote learning on Tuesday, after two positive cases of COVID-19 were discovered at the high school.
All schools and campuses will be closed for in-person learning, athletics and extracurricular activities on Tuesday and Wednesday. The switch allows local health officials to begin contact tracing, said Superintendent of Schools Carol Cavanaugh in an email to families.
Hopkinton health director Shaun McAuliffe, during an appearance on HCAM's Hopkinton Hangout Hour on Thursday, said there are two active cases of COVID-19 in town, both individuals under the age of 23 who were not as responsible as they should have been.
"Both of them likely picked it up at parties where they weren't wearing face coverings," McAuliffe said.
HTA statement: Teachers continue to raise concerns about livestreaming
"The district's extensive use of livestreaming shortchanges both the students receiving in-person instruction and those viewing the class remotely," said HTA president Becky Abate.
Abate noted that educators are still without a contract, and that the district has significantly changed working conditions without bargaining.
"Our working conditions are our students' learning conditions, and right now both of those are unsettled," Abate said.
RELATED NEWS:
Every district must allow families the option of enrolling their children in a 100% remote model, according to the Department of Elementary and Secondary Education. Teachers can also file for accommodations to teach remotely.
Residents asked to review yard sign regulations
The town sent out a press release Thursday requesting residents be aware of the regulations regarding the display of temporary signs. The regulations are contained in zoning bylaw 210-179, and the enforcement of the regulations falls under the purview of the Building Department.
Resident introduces plan for pair of 4-lot cul-de-sacs off Cedar Street
Resident Courtney Derderian presented to the Planning Board on Sept. 14 a design for two four-lot developments off Cedar Street, near the Southborough town line.
Derderian explained that she and her husband, Kyle, moved into a house at the end of Lincoln Street — a dead-end street across from Carbone's restaurant — four years ago. There are about 20 acres of undeveloped land next to her property, and she learned of previous plans to develop the property and put in a road connecting Lincoln Street to Cedar Street Extension.
Select Board Actions Taken 09/29/2020
MATERIALS FOR THIS MEETING:
6:05 PM FY 2022 BUDGET CALENDAR & MESSAGE
The Select Board approved the FY 2022 budget calendar as revised. (4-0)
6:30 PM CONSENT AGENDA
i. MINUTES – The Select Board will consider approving the Minutes of the Sept. 8, 2020 and Sept. 12, 2020 meetings.
ii. NOVEMBER 3, 2020 STATE ELECTION WARRANT – The Select Board will consider signing the November 3, 2020 State Election Warrant.
The Select Board approved the Consent Agenda. (4-0)
6:35 PM APPOINTMENTS – Andrew Michael Hayes to the Sustainable Green Committee
The Select Board appointed Andrew Michael Hayes to the Sustainable Green Committee, to a term expiring 6/30/2021. (4-0)
6:55 PM CONFIRMATION OF ALLOWED USE – ATOZ LABORATORIES, 100 SOUTH STREET – The Select Board will consider confirming that a Marijuana Testing Laboratory is an allowed use at 100 South Street.
The Select Board confirmed that a Marijuana Testing Laboratory is an allowed use at 100 South Street, and authorized the Town Manager to submit the response to the Cannabis Control Commission on behalf of the Town. (4-0)
---