Weekly News Roundup – 10/11/2020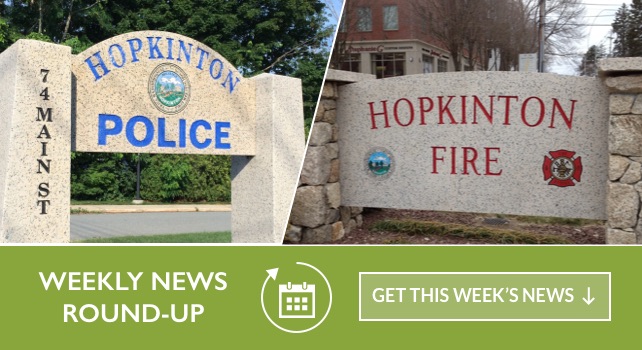 Covid-19 Updates & Precautions • Public Notice: Mail in Ballots – Correct Deadlines • Town clerk clarifies mail-in ballot deadline after some voters receive wrong information • Public Notice: October 12 – Town Hall and Municipal Offices Closed • Public Hearing Notice: CC/ 147 Lumber Street • Public Notice: REMINDER – DPW hosts household hazardous waste collection Oct. 17 • Storm wreaks havoc in MetroWest with trees down throughout the area. Hundreds lost power and roads were made impassable • HFD: Storm causes dozens of incidents with poles, trees, wires • Historical Commission seeks answers about decaying building at 83 East Main • Police chief takes pride in town's jail diversion program
---
Covid-19 Updates & Precautions
This page provides information, maps and resources about the coronavirus response in our local area.
Visit Hopkinton, MA – Coronavirus Response Hub
As of 9/30/20, Hopkinton's Health Department is reporting 146 total confirmed COVID-19 cases; 5 of those cases are active, with 128 recoveries and 13 deaths. You can see historical tracking and updates on Hopkinton's Community Impact Dashboard
The most recent update from Oct 7th includes:
Massachusetts Department of Public Health COVID-19 weekly Public Health Report – New
Transition to Step II of Phase III for Lower Risk Communities Effective October 5th – Reminder
Hopkinton Public Schools – Reminder
Hopkinton Senior Center – Reminder
Public Notice: Mail in Ballots – Correct Deadlines
Please see these correct deadlines relating to submission of mail-in/absentee ballots:
If you return your ballot by drop box/in-person, it must be returned no later than 8 p.m. EST on November 3, 2020.
If you return your ballot by mail from inside the United States, it must be postmarked by November 3, 2020 and must be received in this office no later than November 6, 2020.
If you return your ballot by mail from outside the United States, it must be postmarked by November 3, 2020 and received in this office no later than November 13, 2020.
RELATED NEWS: 
Town clerk Connor Degan clarified the deadlines for mail-in ballots after indicating that instructions mailed with some of the first round of ballots mistakenly have deadlines from last month's state primary election.
Public Notice: October 12 – Town Hall and Municipal Offices Closed
In observance of Indigenous Peoples' Day, Hopkinton Town Hall and Municipal Offices will be closed on Monday October 12.
Public Hearing Notice: CC/ 147 Lumber Street
The Conservation Commission will hold an online public hearing on 10/20/20 at 6:30pm regarding the work proposed at 147 Lumber Street.
Public Notice: REMINDER – DPW hosts household hazardous waste collection Oct. 17
The Department of Public Works is hosting a household hazardous waste collection day on Saturday, Oct. 17, from 8 a.m.-1 p.m. at the DPW facility at 83 Wood St.
Storm wreaks havoc in MetroWest with trees down throughout the area. Hundreds lost power and roads were made impassable.
Fifteen roads remained closed Thursday morning in Hopkinton after Wednesday's storm, trapping residents who live on the seven dead-end streets on that list and restricting emergency vehicle access.
"We haven't seen Eversource yet," Public Works Director John Westerling said late Thursday morning. "It's truly an unacceptable situation where we haven't seen them yet."
RELATED NEWS:
Around 8 p.m. the department tweeted that Pond Street and West Elm were "high hazard areas with multiple issues." Around 10 p.m. the HFD tweeted that there were more than 36 incidents with poles, trees and wires.
Historical Commission seeks answers about decaying building at 83 East Main
As part of the contract with the town when he purchased the land from Weston Nurseries for the Legacy Farms development, MacDowell agreed to preserve and repurpose the historic building, estimated to have been built around 1875.
Two years ago MacDowell, who had pushed to demolish the house and build a replica, agreed to the commission's request to restore the home. However, the commission has softened its stance, especially with the house continuing to deteriorate.
Police chief takes pride in town's jail diversion program
This summer's national protests that demanded changes in policing included a call for more people trained to handle mental health issues, individuals who would be better prepared than police to deal with those suffering from psychological or substance-abuse issues.
Hopkinton appears to be well ahead of the curve on this issue.
---