Select Board Actions Taken 01/26/21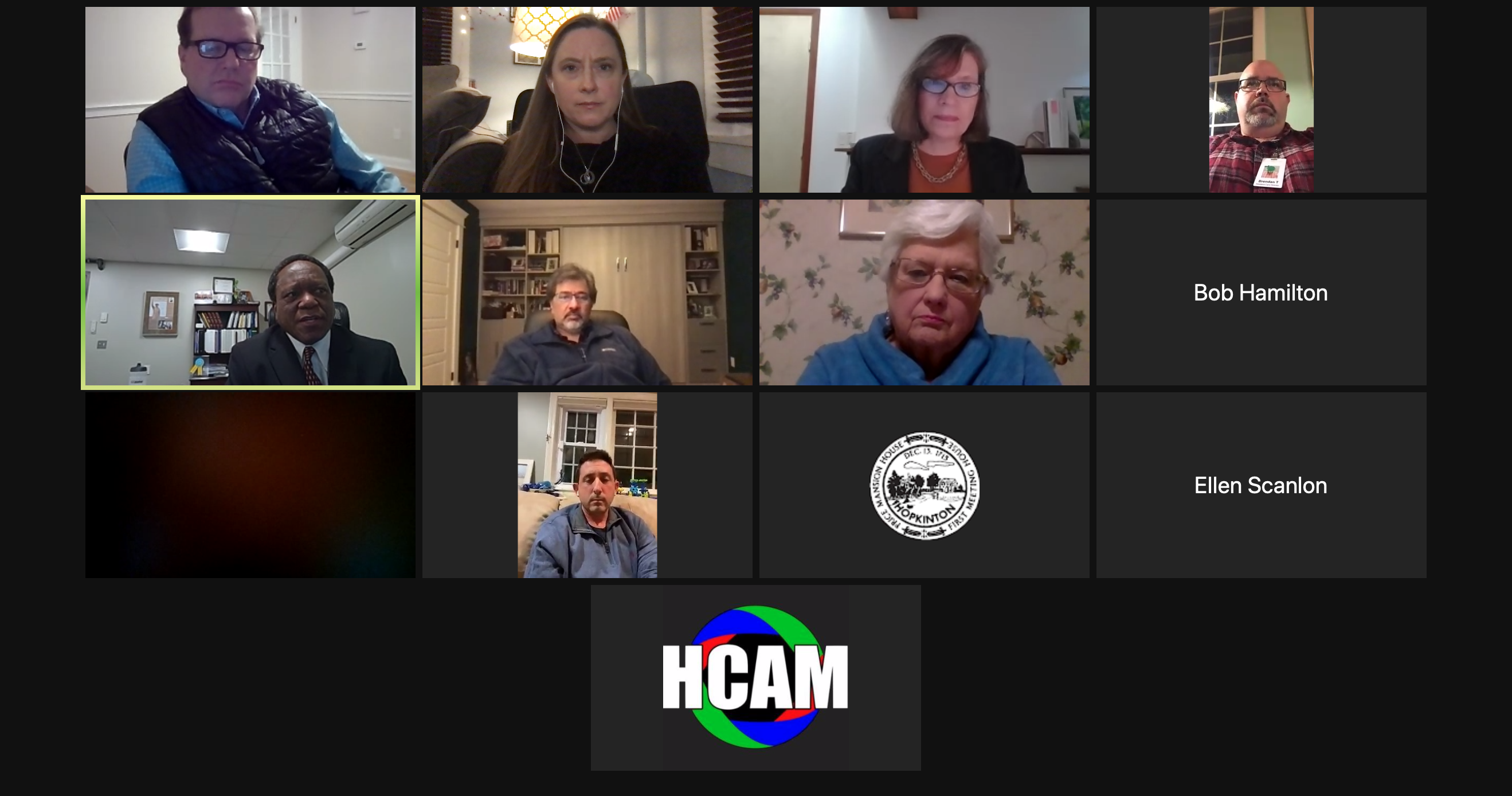 Agenda Items & Actions Taken:
6:00 PM CALL TO ORDER –  PLEDGE OF ALLEGIANCE
6:01 PM PUBLIC FORUM – Residents are invited to share ideas, opinions or ask questions regarding Town Government.
6:10 PM FY 2022 CONSOLIDATED BUDGET SUBMISSION
The Town Manager will submit the consolidated budget to the Select Board, and the Board will discuss the budget provisions and the process going forward.
6:30 PM CONSENT AGENDA
i. MINUTES – The Select Board will consider approving the Minutes of the Jan. 11, 2021 meeting.
ii. GIFT FOR THE VETERANS CELEBRATION COMMITTEE – The Select Board will consider accepting a $5,000 gift from a charity runner, for the Veterans Celebration Committee.
iii. NOTICES OF TAKING, LEGACY FARMS NORTH – The Select Board will consider signing Notices of Taking for Legacy Farms North, in accordance with Article 21 of the September 12, 2020 Annual Town Meeting.
The Select Board approved the Consent Agenda. (5-0)
6:35 PM 2021 ANNUAL TOWN MEETING
The Select Board will consider submitting articles into the 2021 Annual Town Meeting Warrant.
Supporting Exhibits: Potential 2021 ATM Select Board-Town Manager Warrant Articles ; Draft Articles – New Trench Safety Officer Bylaw, Dog Licensing, Street Opening Permits, Obstructing Public Way/Streets and Sidewalks, Discharge of Firearms, Tree Preservation ; 2021 ATM Timeline & FY22 Budget Schedule
The Select Board submitted the following articles into the Annual Town Meeting warrant: (5-0)
● New Trench Safety Officer Bylaw
● New Street Opening Permit Bylaw
● Amend Dog Licensing Bylaw to comply with state statute with respect to the fine for failure to license dogs
● Amendments to Obstructing Public Way/Streets & Sidewalks Bylaws
● Transfer from General Stabilization Fund
● First Year of Union Contracts
● Acceptance of Town Reports
● Last Fiscal Year Supplemental Appropriations and Transfers
● Unpaid Bills from Previous Fiscal Years
● Excess Bond Premium
● Set the Salary of Elected Officials
● Current Fiscal Year Operating Budget
● Revolving Fund Spending Limits
● Chapter 90 Highway Funds
● Transfer To Other Post Employment Benefits Liability Trust Fund
● Transfer to General Stabilization Fund
● Pay-As-You-Go Capital Expenses
On a motion to submit an article into the Annual Town Meeting warrant to adopt a Tree Preservation/Tree Cutting bylaw, the Board voted 1-4.
The Select Board kept a placeholder on the Annual Town Meeting warrant regarding the discharge of firearms, with the caveat that if there is not a clear and concise article by the time the warrant is signed, the article will be removed. (5-0)
6:50 PM TOWN MANAGER REPORT
i. Main Street Corridor Project Update
ii. Hiring Freeze exemption – 2 Police Officers and Executive Assistant to the Town Manager
The Select Board allowed the hiring of two Police Officers and the Executive Assistant to the Town Manager. (5-0)
7:00 PM PUBLIC HEARINGS
i. Section 12 All-Alcohol On-Premises License, Application for Alteration of Premises, Cornell's Irish Pub, 229 Hayden Rowe – Permanent Outdoor Dining  The Applicant proposes to increase the area for permanent outdoor dining to accommodate 50 seats within a fenced area behind the restaurant, within a former parking area.
The Select Board approved the Alteration of Premises with the following conditions: 1) Contingent on Site Plan Approval by the Planning Board; 2) After 10:00 PM, no music being played outside is to be heard off the premises; 3) No light shall spill off the property after 11:00 PM.
ii. Verizon New England Inc. Petition for New Utility Pole, Wilson St.
Verizon has petitioned for a new utility pole to provide support to an existing pole on  the opposite side of the street, replacing guy wires on a tree that will be removed. The request is to place one new pole numbered T.19S on the southwesterly side of Wilson Street at a point approximately 1,755 feet northwesterly from the center line of East Main Street.
7:30 PM LIAISON REPORTS/BOARD INVITES
7:35 PM FUTURE BOARD AGENDA ITEMS Board members will identify future agenda items.
7:40 PM ADJOURN
Correspondence to Select Board
1. KENO License Application – Quattro/Bison Burger, 22 South Street
2. Conservation Commission Public Hearing Notice – 1 Woody Island Rd.
Materials for this Meeting:
---
Related News Articles:
General Select Board Links:
---