Select Board Actions Taken 01/19/21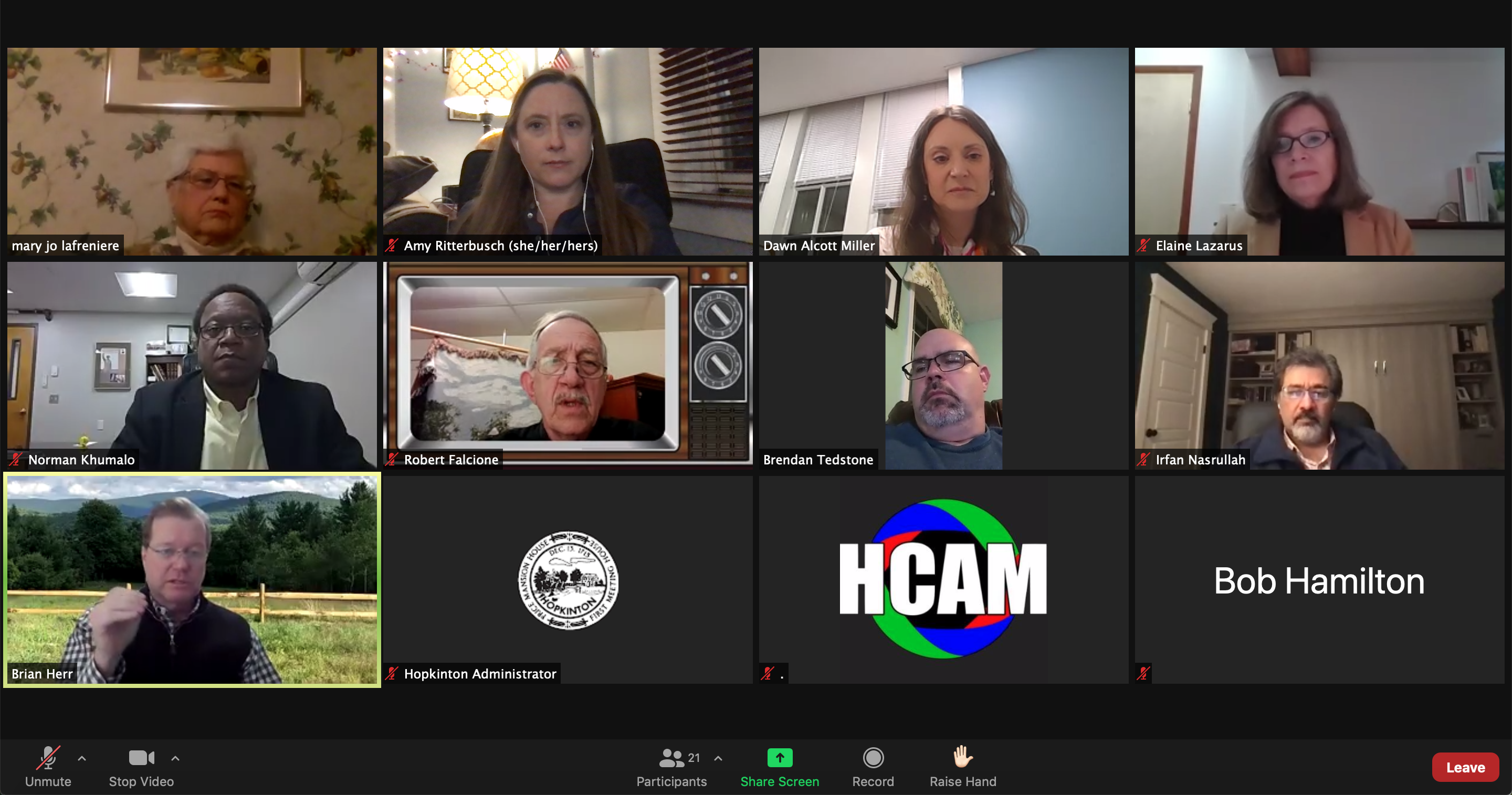 Agenda Items & Actions Taken:
6:00 PM CALL TO ORDER –  PLEDGE OF ALLEGIANCE
6:01 PM PUBLIC FORUM –  Residents are invited to share ideas, opinions or ask questions regarding Town Government.
6:10 PM COVID-19 UPDATE –  The Select Board will receive an update on the Town's response to the Covid-19 Pandemic.
6:20 PM CONSENT AGENDA
i. MINUTES – The Select Board will consider approving the Minutes of the Jan. 5, 2021 meeting.
The Select Board approved the Consent Agenda. (5-0)
6:22 PM HOPKINTON YOUTH AND FAMILY SERVICES STRATEGIC PLAN  –  The Hopkinton Youth & Family Services Department will present the 2020-2023 Strategic Plan.
6:35 PM ECONOMIC DEVELOPMENT OFFICE PROPOSAL – GROWTH STUDY COMMITTEE
The Select Board will hear a request of the Growth Study Committee for a new Economic Development Office for the Town.
6:45 PM 2021 ANNUAL TOWN MEETING AND FY 2022 BUDGET UPDATE –  The Select Board will consider discussing its own potential Annual Town Meeting (ATM) articles and vote to submit articles into the ATM warrant. The Board will consider FY 2022 budget updates.
Supporting Exhibits: Potential 2021 ATM Select Board-Town Manager Warrant Articles ; Draft Articles – New Trench Safety Officer Bylaw, Dog Licensing, Street Opening Permits, Streets and Sidewalks
The Select Board voted to submit a placeholder article into the 2021 Annual Town Meeting warrant regarding the discharge of firearms. (5-0)
6:55 PM TOWN MANAGER REPORT
i. Main Street Corridor Project Update
ii. FY 22 Budget Update
7:00 PM LIAISON REPORTS/BOARD INVITES
7:05 PM FUTURE BOARD AGENDA ITEMS –  Board members will identify future agenda items.
7:10 PM ADJOURN
Correspondence to Select Board
1. Verizon Fios Notification
2. Legal Notice -76 Pine Island Rd. – DEP Waterways Regulation Program
Materials for this Meeting:
---
Related News Articles:
General Select Board Links:
---