Weekly News Roundup – 01/10/2021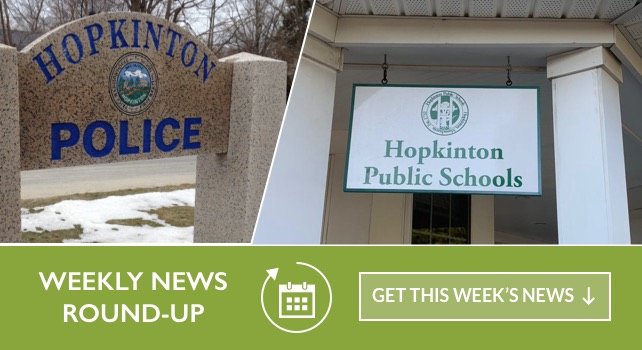 Covid-19 Updates & Precautions • Hopkinton Officials Discuss Healthtrac Application • Library to close starting Friday due to COVID spike; remote/curbside services remain open • LakePharma announces it will develop, produce COVID vaccine at South Street facility • Hopkinton Police Department talk about happenings at HPD • School Superintendent, Dr. Cavanaugh talks COVID-19, MCAS Testing and more! • Select Board roundup: Town manager optimistic about FY22 budget • FY22 School Budget Update • School Committee considers requesting funds from Legacy Farms HCA to bolster FY22 budget • Public Notice: Tax Relief Fund • Public Notice: Invitation for Bids – General Materials and Services • Main Street Corridor Project Update • Select Board Actions Taken – 01/05/21
---
Covid-19 Updates & Precautions
This page provides information, maps and resources about the coronavirus response in our local area.
Visit Hopkinton, MA – Coronavirus Response Hub
As of 01/05/21, Hopkinton's Health Department is reporting 453 total confirmed COVID-19 cases; 60 of those cases are active, with 376 recoveries and 17 deaths. You can see historical tracking and updates on Hopkinton's Community Impact Dashboard
The most recent update from Jan 5th includes:
Martin Luther King Day
Massachusetts Department of Public Health COVID-19 weekly Public Health Report
New Massachusetts Interactive Data Dashboard
Hopkinton Emergency Notification System; Code Red
Stay Connected
Library Services Returning to Remote/Curbside-Only on Friday January 8
RELATED NEWS:
Hopkinton Health Director, Shaun McAuliffe along with Dr. Cavanaugh and Hopkinton School Nurse, Kathryn Bain were recently on the Hangout Hour to talk about the new Healthtrac App that is available throughout the school system.
The Hopkinton Public Library announced Tuesday evening that due to a spike in COVID-19 cases in town and regionally, it will close to the public as of 4 p.m. on Thursday. Library services will be available on a remote/curbside-only basis starting Friday. The building will remain closed to the public until at least Friday, Jan. 22.
Hopkinton might end up playing a key role in helping to end the COVID-19 pandemic, as the biotech company LakePharma announced that it will work to develop and produce a vaccine at its facility on South Street.
LakePharma revealed Monday that it has established a "strategic partnership" with Akston Biosciences, which "develops new classes of biologic therapeutics."
Hopkinton Police Department talk about happenings at HPD
Hopkinton Police Chief, Joseph Bennett along with Sergeant, Matthew McNeil and Lieutenant, John Porter joined us to talk about some of the latest happenings at the Police Department. Topics included traffic mitigation, traffic laws and School Resource Officers.
School Superintendent, Dr. Cavanaugh talks COVID-19, MCAS Testing and more!
Hopkinton School Superintendent, Dr. Carol Cavanaugh recently joined us on the Hopkinton Hangout Hour to discuss a number of happenings in the school system including COVID-19, return of MCAS Testing and more.
Select Board roundup: Town manager optimistic about FY22 budget
At Tuesday's Select Board meeting, Town Manager Norman Khumalo said Annual Town Meeting remains on track for May 3, and the work on the budget continues.
"I'm really happy to report this evening that the town is making good progress in developing the Fiscal Year 2022 budget," he announced, adding that departments and committees are meeting periodically to review projected revenue figures and summaries.
Board member Brian Herr said he was more concerned about the 2023 and '24 budgets, as he feels the primary impact won't be felt until then.
FY22 School Budget Update
The 2021-22 school budget process has been underway for several months. The School Committee will hold a public hearing on the FY22 Budget:
Monday, January 11 at 7:00 PM
Televised Live on HCAM (YouTube or Comcast 8/96 or Verizon 30/31)
Meeting Packet 
School Committee considers requesting funds from Legacy Farms HCA to bolster FY22 budget
Hopkinton School Committee members will decide at an upcoming meeting whether to request $500,000 from the Legacy Farms host community agreement to bolster the Fiscal Year 2022 budget.
The request, if approved by the committee, would be made in the form of a warrant article at May's Annual Town Meeting.
Public Notice: Tax Relief Fund
Applications for Tax Relief for 2021 have been mailed to last year's recipients.  You can also find the application attached to this message.
Applications must be filed on or before March 1, 2021 and can be returned to the Drop Box in the front alcove at Town Hall or mailed to: TAX RELIEF COMMITTEE 18 Main Street, Hopkinton, MA 01748
Application for a Grant from Hopkinton Tax Relief Fund
Public Notice: Invitation for Bids – General Materials and Services
Competitive bids for materials, services, and construction services will be received by the Department of Public Works, for the Town of Hopkinton, MA, through Project Dog at www.projectdog.com, until according to Verizon time). Due to COVID-19 restrictions, the bids will be opened 2:00 PM, Friday, January 29, 2021 (by the Director of Public Works and the results will be posted within 5 business days on www.projectdog.com. Bids will be for the Town requirements in materials, services and construction services for various amounts in varying locations throughout the Town as determined by the Department of Public Works.
Main Street Corridor Project Update
The Pre-Construction meeting for the Main Street Corridor Project was held on Thursday, January 7. In attendance were representatives from town departments, MassDOT, contractor A.F. Amorello & Sons, Inc., public outreach firm City Point Partners, Town Engineering Consultant VHB, and utility companies.
MassDOT announced during the meeting that their survey crew is scheduled to be back onsite, weather permitting, starting on Tuesday, January 19th. They are scheduled to complete the right-of-way survey and start laying out project easements. The survey of the easements will require MassDOT survey personnel to work on private property.
Planning Board OK's proposal for commercial building on South Street
The Planning Board unanimously approved a major site plan review for 0 South Street, where REC Hopkinton proposes to construct a commercial building and parking lot. The site, located across from a Dell EMC building at 80 South St., consists of approximately 11.7 acres of undeveloped land located entirely within the Industrial A district.
The proposed development is a one-story building of approximately 32,400 square feet of gross floor area along with a 106-space parking lot and nine loading bays.
Select Board Actions Taken – 01/05/21
6:25 PM CONSENT AGENDA
i. MINUTES – The Select Board will consider approving the Minutes of 12/10/2020 and 12/15/2020.
ii. GIFTS TO FIRE DEPARTMENT – The Select Board will consider accepting $220 in gifts to the Fire Dept. from residents of Legacy Farms.
iii. GIFT TO POLICE DEPARTMENT – The Select Board will consider accepting a $100 gift to the Police Department from residents of Juniper Trail.
The Select Board approved the Consent Agenda. (5-0)
6:30 PM HISTORICAL COMMISSION APPOINTMENT
The Select Board will consider making an appointment to the Historical Commission. There is one vacancy for a full member, to a term expiring 6/30/2022. There are two applicants:
1) Stacy Spies, currently an Associate member; and 2) Kevin Mccaffrey, new applicant.
The Select Board appointed Stacy Spies to the Historical Commission (full member), to a term expiring 6/30/2022. (5-0)
The Select Board appointed Kevin McCaffrey as an associate member of the Historical Commission, to a term expiring 6/30/2023. (5-0)
6:50 PM LEGACY FARMS NORTH – ORDER OF TAKING, STREET ACCEPTANCE
The Select Board will consider adopting an Order of Taking for Legacy Farms North, which was accepted as a public way at the Sept. 12, 2020 Annual Town Meeting.
The Select Board voted, pursuant to Art. 21 of the 9/12/2020 Annual Town Meeting, to execute an Order of Taking of the private way known as Legacy Farms North, together with easements for drainage, utility, and other purposes. (5-0)
---