Weekly News Roundup – 05/09/2021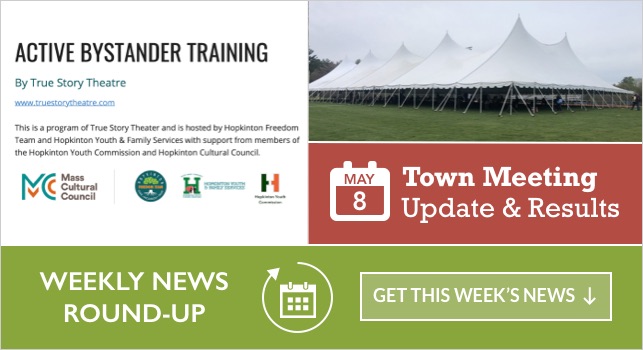 Covid-19 Updates and Vaccine Information • 2021 Annual Town Meeting and Special Town Meeting Update and Results • Hopkinton Sustainable Green Committee springs into action for Earth Day and beyond • Hopkinton Main Street Corridor Project – Construction Advisory • Freedom Team's bystander training seeks to help defuse issues • Mikayla Miller remembered as a 'bright and shining star' at Hopkinton vigil • At Town Common rally, Mikayla Miller's mother eulogizes late teen, calls for 'full and transparent investigation' • School Committee Debate 
---
Covid-19 Updates and Vaccine InfoRmation
As of 05/07/21, Hopkinton's Health Department is reporting 1,051 total confirmed COVID-19 cases; 35 of those cases are active, with 999 recoveries and 17 deaths. You can see historical tracking and updates on Hopkinton's Community Impact Dashboard which is updated frequently.
This week's new Covid Updates include:
Regional Vaccine Clinic
Dial A Ride is now available for Hopkinton Senior Residents – NEW SERVICE IN TOWN
Related News and Resources: 
Regional Vaccine Clinic – NEW UPDATE
There will be a Pfizer Covid-19 Vaccine Clinic on Saturday, May 8, from 8:30am-5:30pm at the MetroWest-Westborough Regional Vaccination Site at the DoubleTree Hotel, 5400 Computer Drive, Westborough. Open to Individuals Ages 16+ (must be 16 by 5/8). Appointments Required. Click link below to register.
https://home.color.com/vaccine/register/northborough
Annual Town Meeting 2021 Results
On Saturday, May 8th, the Hopkinton Annual Town Meeting was held at football field behind Hopkinton High School where voters were present under a large tent. Both Articles in the Special Town Meeting passed. There were 44 Articles in the Annual Town Meeting of which 2 of at articles (36 and 37) failed.
ARTICLE: 36 Commercial Solar Photovoltaic Installations Overlay District Sponsor: Planning Board | Vote Needed: Two-Thirds Majority – FAILED TO GET REQUIRED 2/3RDS – 82 YES 59 NO
ARTICLE: 37 Rubbish Disposal, Garden Apartments in Residential Districts and Village Housing in Residential Districts Sponsor: Citizens Petition | Vote Needed: Two-Thirds Majority FAILED
Click here to view full update
Related Articles: 
Town moderator Tom Garabedian called for a half-hour recess and encouraged voters to turn out to the tent at Hopkinton High School so that the session would not have to reconvene the following Saturday.
One article discussed at length was Article 37, which considered rubbish disposal for garden style apartments and village style condominiums in residential districts. It failed, getting only 12 supporters vs. 94 opposed, with a two-thirds majority required for passage.
Town Meeting shed some light on how it wants to pursue its solar energy policy, voting 126-14 to approve restrictions on commercial solar photovoltaic installations.
However, there was not enough support for a proposed commercial solar photovoltaic overlay district proposed by the Planning Board, with some voters expressing concern that it could be challenged in court because there was no case law setting precedent on its governance. The article got 82 yes votes vs. 59 against, but a two-thirds majority was required for passage.
Hopkinton Sustainable Green Committee springs into action for Earth Day and beyond
The Hopkinton Sustainable Green Committee is springing forward with a number of initiatives to protect the town's environmental health and educate the public how to safeguard resources.
The group originally formed in 2008, but vice chair Rebeka Hoffman said it was reborn in late 2019 after years of inactivity.
Hopkinton Main Street Corridor Project – Construction Advisory
Two Weeks Look Ahead – What to expect  during the weeks of May 7th and 17th.
Freedom Team's bystander training seeks to help defuse issues
The Hopkinton Freedom Team (hopkintonfreedomteam.org) is holding a two-part active bystander training on May 18 and June 9 (5:30-8 p.m. both nights) to help people constructively resolve everything from microaggressions to witnessing acts of violence or abuse, such as the murder of George Floyd and the recent bystander shooting death of a Boston grandmother. It is cosponsored by Hopkinton Youth & Family Services and supported by members of the Hopkinton Youth Commission and the Hopkinton Cultural Council. The sessions are run by True Story Theater, a nonprofit improvisational theater group based in Arlington that seeks to create understanding, empathy and cultural competency by acting out real-life situations.
A separate two-part training for those in high school and college will be held on May 25 and June 21 from 5:30 p.m. to 8 p.m.
To Register for this event, go to https://www.hopkintonfreedomteam.org/events
Mikayla Miller remembered as a 'bright and shining star' at Hopkinton vigil
A crowd of several hundred people gathered on the Town Common late Thursday afternoon to grieve and honor Mikayla Miller, a Black 16-year-old whose death last month has unleashed a wave of anger and skepticism over authorities' response.
Holding signs reading "Black Lives Matter," the crowd chanted "Mikayla Miller, say her name. Mikayla Miller, say her name."
At Town Common rally, Mikayla Miller's mother eulogizes late teen, calls for 'full and transparent investigation'
Calling her daughter "bright, funny, loving, caring," an emotional Calvina Strothers paid tribute to Mikayla Miller and called for a "full and transparent investigation" into the teenager's death during Thursday's rally that drew hundreds to the Town Common.
School Committee Debate
The School Committee debate replay is available on YouTube.
---