Weekly News Update – 01/23/2022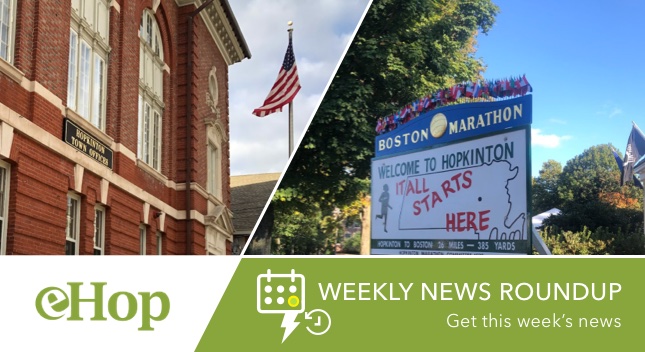 Covid-19 Updates and Precautions • School Committee weighs continued COVID precautions against emotional strain from 'culture of fear' • Select Board finalizes Boston Marathon charity number distribution • Nomination papers available for elected town positions • Upper Charles Trail Committee hears alternate trail proposal • SMOC Fuel Assistance 
---
Covid-19 Updates and Precautions
Hopkinton continues to see an uptick in the number of positive cases. On Thursday, January 13, 2022, the MDPH reported the highest 14-day percent positivity for the Town of Hopkinton since the start of the pandemic (21.24%). As we are seeing the Omicron variant spreading more quickly and easily than past variants, we are also seeing less severe infections. However, given the quick spike in cases, it takes a lower percentage of hospitalizations before healthcare facilities may become overwhelmed. It also presents a significant disruptive risk to our businesses, schools, daycares and municipal departments, as we have already seen several businesses have to close or modify their operating hours due to illness.
New Update includes: 
COVID-19 SMART Health Card
Free COVID-19 Home Test Kits
Resources for Behavioral Health from HYFS
Click here for Hopkinton Health Services Vaccine Calendar
RELATED: 
Board of Health Director Shaun McAuliffe said the latest data shows there have been 541 confirmed COVID-19 cases since the beginning of the year, the highest number the town has experienced in a 10-day period since the pandemic began. Forty percent of those cases were school-aged children, which is a drastic jump. Also, 40 percent of the 541 cases occurred in people who were fully vaccinated.
While last week's positivity rate was 14.14 percent, this week it is 21.24 percent, a leap that McAuliffe said is comparable to area towns.
Select Board finalizes Boston Marathon charity number distribution
The Select Board held a meeting Tuesday to decide which local organizations would receive a charity number for the 2022 Boston Marathon. The town received 50 numbers from the Boston Athletic Association, which organizes the historic race.
Town Manager Norman Khumalo noted that last year, despite tough economic times and the race being rescheduled to October, local organizations were able to raise $294,000.
Nomination papers available for elected town positions
Nomination papers for town positions available in the May 16 Annual Town Election are available at the town clerk's office. The deadline to return the forms is March 28.
Upper Charles Trail Committee hears alternate trail proposal
The Upper Charles Trail Committee held a virtual meeting Wednesday evening with its primary focus to gather information on the presentation of an alternative trail design for the Hopkinton portion of the Upper Charles Trail running from Milford to Ashland.
SMOC Fuel Assistance
Applications are currently being accepted for the home heating fuel assistance program through SMOC (South Middlesex Opportunity Council). The program runs from November to April, and is available to all households in Hopkinton if the total household income falls within their guidelines. A household of one qualifies for assistance with an income up to $39,105; a household of two qualifies with an income up to $51,137; etc.
---