Weekly News Update – 01/16/2022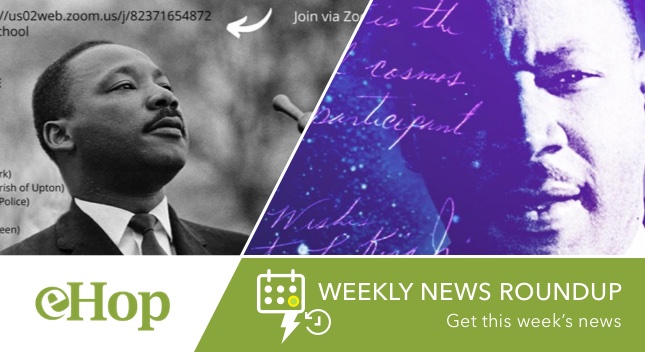 Health director: Expect COVID surge to continue through February; Omicron now dominant variant • Business Briefs: Details shared on 17 Main redesign; RE/MAX Executive Realty 'top place to work' • School Committee roundup: No support for trail proposal; budget vote upcoming • Parks and Rec roundup: Concern about PFAS might delay Fruit Street turf replacement • Hopkinton hosts MLK Day virtual programs Sunday, Monday • Calls to Action – MLK Day of Service 2022 • Planning Board Actions Taken 1/3/22 • Select Board roundup: Town applies for grant to address PFAS; Timlin 5K approved for live return • Hopkinton Open Burn Permits for the 2022 Season • Updated with new deadline of Jan. 18: Town plans random selection for Boston Marathon charity numbers • Main Street Corridor Update
---
Health director: Expect COVID surge to continue through February; Omicron now dominant variant
In his COVID-19 update to the Select Board on Tuesday night, Health Director Shaun McAuliffe indicated that the town continues to have its highest COVID case total since the start of the pandemic, and he expects this surge to continue through February.
Added McAuliffe: "By the end of January we estimate that over a quarter of the [town] population will have contracted COVID," he said. "We believe that between the high rate of infection and the high rate of boosters we can really come out of this hopefully by the end of February, so we'll be able to have the [road] races and get back to some of these events that we have so sorely missed."
Click here for Hopkinton Health Services Vaccine Calendar
Business Briefs: Details shared on 17 Main redesign; RE/MAX Executive Realty 'top place to work'
17 Main Street Redesign
The building at 17 Main Street, which was damaged by fire in 2020, is set to be reconstructed and expanded.
There will be a first-floor expansion with additional retail/commercial space in the rear of the building. The second floor will include three apartments. The main floor will continue to be used for office space.
RE/MAX No. 1 in Top Places to Work
RE/MAX Executive Realty, which is based in Franklin and Hopkinton, was named the No. 1 midsize company in Massachusetts in The Boston Globe's list of Top Places to Work.
Mass Audubon names regional director
Mass Audubon named Scott McCue as its new MetroWest regional director, which includes oversight of Hopkinton's Waseeka Wildlife Sanctuary.
School Committee roundup: No support for trail proposal; budget vote upcoming
The School Committee at its Thursday meeting voted unanimously not to support a current application proposed by the Upper Charles Trail Committee (UCTC) to extend a portion of its trail across the Irvine-Todaro property to Hayden Rowe Street.
Parks & Rec roundup: Concern about PFAS might delay Fruit Street turf replacement
Regarding the Fruit Street fields, Chair Dan Terry reported that he and consultant Kathy Hervol of Gale Associates presented an application to the Conservation Commission to determine whether engineering work was necessary to satisfy commission requirements. The Conservation Commission responded with a request to broaden the scope of the application to determine if the water beneath the fields is contaminated with PFAS, a group of chemicals that has been found in one of the town's wells on Fruit Street.
Hopkinton hosts MLK Day virtual programs Sunday, Monday
There are two MLK Day virtual events planned in Hopkinton for the Martin Luther King Jr. Day long weekend.
On Sunday (Jan. 16) at 11 a.m., the Islamic Masumeen School of Hopkinton is hosting a Zoom event, open to the public. Speakers include Town Clerk Connor Degan, Police Chief Joseph Bennett, United Parish of Upton Pastor Lourey Savick, Islamic Masumeen Center of New England religious leader Agha Mehdi Ali, Blak Madeen performer Yusuf Trombly and Sunday School students.
Click here for information on Sunday's virtual program
On Monday (Jan. 17) at 10 a.m., the Hopkinton Freedom Team and HCAM-TV are broadcasting an event featuring keynote speaker Jamele Adams, the DEI (Diversity, Equity and Inclusion) Director for Scituate Public Schools and the visionary of the Freedom Team concept that originated in Natick. He will discuss love, inclusion and trust, and how these values align with the humanitarian legacy of Dr. King.
Click here for information on Monday's MLK Day Program
RELATED: 
CALLS TO ACTION – MLK DAY OF SERVICE 2022
In the light of MLK Day's spirit of service to our community Hopkinton Freedom Team along with several community and town organizations have suggested several calls to action and activities you can do to learn and elevate trust in our community and also to perform a small act of kindness, uplifting others in our community.
Choose to read a book, watch a documentary, take an implicit bias test, check out a social justice organization's website, talk about what you've learned with others, support legislation and workplace efforts that implement diversity, equity, inclusion and accessibility measures, vote, and let us know other resources.
Click here for more information
Planning Board Actions Taken 1/3/22
Updates on previously approved projects and administrative items.
Select Board roundup: Town applies for grant to address PFAS; Timlin 5K approved for live return
PFAS water rebate program
Khumalo noted that 105 customers have applied for assistance under the town's PFAS water rebate program, which reimburses individuals in the sensitive subgroups (those advised not to consume the water) for bottled water purchases.
Timlin Event OK'd pending COVID guidelines
The board approved a parade permit for the Sharon Timlin Memorial 5K on June 18. After two years as a virtual event, the race is scheduled to be held in person this spring.
Trail signs approved
Trails advocate Peter LaGoy asked for permission to place signs in the right of way of Hayden Rowe Street encouraging residents to attend town meetings about the proposed Upper Charles Trail extension. LaGoy is pushing an alternative proposal to the one suggested by the town's Upper Charles Trail Committee.
Hopkinton Open Burn Permits for the 2022 Season
The 2022 Open Burn Season starts tomorrow, Saturday January 15, 2022.
Massachusetts allows residents to burn brush between January 15 and May 1, depending on weather conditions and air quality. Hopkinton does not charge a fee, though you must obtain permission (a permit) from the Hopkinton Fire Department if you plan to open burn.
View Notice
Updated with new deadline of Jan. 18: Town plans random selection for Boston Marathon charity numbers
Applications, which are available in the news section of the home page on the town's website and in the Town Manager's Office, must be filled out and returned to the Select Board/Town Manager's Office by noon on Jan. 18 (changed from original deadline of Feb. 10), with the Select Board conducting the draw that day at 6 p.m. in a public meeting. Late applications will not be considered.
Main Street Corridor Update
Operations suspended on 12/17/21 – No project work currently scheduled
Anticipated Work – Spring 2022
The main focus of work will be in the area from the Wood St intersection to the 85/135 intersection.
Underground conduit will be completed as well as the conduit for the traffic signal at Wood St. After that, the contractor will begin full depth excavation work (removal of pavement and sub-base and installation of gravel, dense graded, base pavement course and pavement binder course.) Once completed, curbing and sidewalk will follow.
No disruptions from the 135/85 intersection to Ash Street will occur until after the Boston Marathon is completed.
---