Weekly News Update – 05/01/2022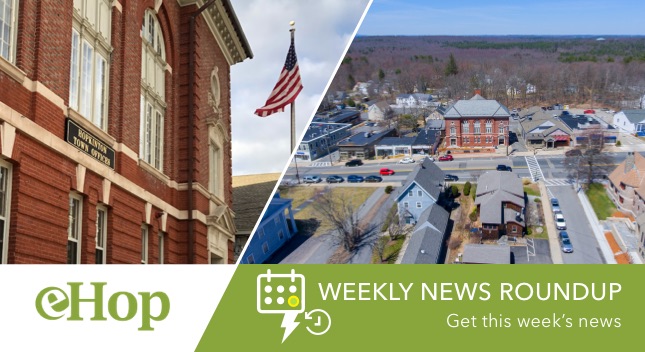 Everything you need for Town Meeting 2022 • Replay of Know Your Vote – eHop Spotlight Forum • Town of Hopkinton Explains Legislative Process of Annual Town Meeting • Main  Street Corridor Project – Weekly Update • TOWN ELECTION 2022 – CANDIDATES & BALLOT QUESTIONS • Watch Meet the Candidates and Select Board Debate • School Committee roundup: Services outlined for children with dyslexia; lunch prices to rise • Concerns raised about screening at Wilson Street solar array • Conservation Commission votes to allow DPW option to use herbicides in Lake Maspenock • Concerns raised about how state's MBTA community mandate will affect Hopkinton • Town of Hopkinton Shares Information on Fruit Street Fields Turf Replacement Project Ahead of Annual Town Meeting
---
Everything you need for Town Meeting 2022
Annual Town Meeting is on Monday May 2nd, 2022! Here's everything you need to be prepared for the meeting.
At Monday's eHop Know Your Vote forum, representatives from the town discussed articles and issues that will come before Town Meeting voters next Monday (May 2).
Town Meeting Moderator Ellen Rutter discussed the setup for the meeting, noting that a walk-through was done earlier in the day at the High School Athletic Center. Typically, Town Meeting is held at the Hopkinton Middle School auditorium, but the Select Board voted to support a change suggested by the Health Department.
Town of Hopkinton Explains Legislative Process of Annual Town Meeting
View Video of Legislative Process
2022 Warrant & Motions document with hyperlinks to supporting exhibits (Accessible Google Doc)
Main  Street Corridor Project – Weekly Update
What to Expect for the Week of May 2, 2022 to May 6, 2022
Saw Cut for Vaults and Ductbanks — east of the 135/85 intersection
Install Electric Manholes, Comcast and Telephone manholes — east of the 135/85 intersection. Detours or one way traffic may be required for this work
A second crew will be onsite west of the 135/85 intersection to begin installation of utility conduit for services to property lines — near the Police Station and CVS as well as conduit work for the Wood Street traffic signals
https://hopkintonmainstreet.com/
RELATED: Live Construction Video Feeds are available for the Main Street Corridor Project, check where crews are working and traffic / weather conditions before you leave your home or office.
TOWN ELECTION 2022 – CANDIDATES & BALLOT QUESTIONS
This year there are six contested races, and six ballot questions. eHop has posted all candidate statements received by 4/30 and will continue to post new statements as they are received on a rolling basis. All candidates are encouraged to email eHop a candidate statement and headshot, please send to webmaster@ehop.org.
RELATED: 
School Committee roundup: Services outlined for children with dyslexia; lunch prices to rise
More than half of the three-hour School Committee meeting Thursday night was devoted to the issue of dyslexia and the various programs the district offers to address it and other learning disabilities.
During the public comment period, several mothers spoke about the problems and frustrations their children are having with reading and called for the schools to provide more thorough training for teachers as well as structured instruction.
Lunch prices to rise
The cost for elementary school lunches will rise by 50 cents to $3.25. The prices for secondary school and adults will increase by 25 cents to $3.50 and $4.00, respectively.
Concerns raised about screening at Wilson Street solar array
The Planning Board and neighbors of the recently installed commercial solar array at 17 Wilson Street expressed frustration with the developer's screening implementation during Tuesday's Planning Board meeting.
"What was installed [is] very different than what was approved," Principal Planner John Gelcich said.
Conservation Commission votes to allow DPW option to use herbicides in Lake Maspenock
At its meeting Tuesday night, the Conservation Commission voted to approve the Department of Public Works' notice of intent to be able use a variety of tools — including herbicides — to address the weed problem in Lake Maspenock.
The motion passed unanimously, with Chair Jeff Barnes abstaining because he is an abutter.
Concerns raised about how state's MBTA community mandate will affect Hopkinton
Much like 170-plus other Massachusetts communities, town planners in Hopkinton have a number of concerns and questions surrounding the state's mandate requiring zoning for new housing.
Whether Hopkinton ever actually builds new housing as part of the new district isn't certain, according to Principal Planner John Gelcich, who led a presentation on the program to the Planning Board at its Tuesday meeting.
Town of Hopkinton Shares Information on Fruit Street Fields Turf Replacement Project Ahead of Annual Town Meeting
In August 2021, the Parks & Recreation Department engaged Tom Irwin & Associates of Burlington to perform a diagnostic review of the fields and evaluate their safety, performance and overall condition. The review determined that the condition of the fields was rapidly declining. Though the fields meet the minimum standards for safety and performance, significant repairs are needed to extend their usefulness and to ensure they remain safe beyond the next few years, at which time the original useful expectancy period of the fields will have been reached.
As a result of the review and findings, the Parks & Recreation Department and Parks & Recreation Commission determined that replacing the surface was the best option. Gale Associates, a consulting engineering firm of Weymouth, was brought on to help manage the project.
---
---