Weekly News Update – 05/08/2022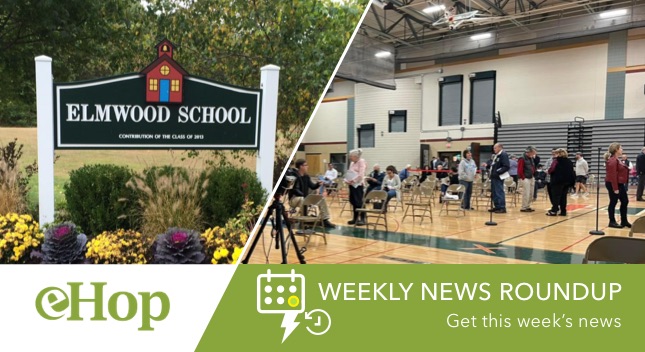 Annual Town Meeting 2022 Results • Committee studies enrollment, conditions at Elmwood • Superintendent receives high praise from School Committee • Main  Street Corridor Project – Weekly Update • TOWN ELECTION 2022 – CANDIDATES & BALLOT QUESTIONS • Watch Meet the Candidates and Select Board Debate • Parks & Rec roundup: Fruit Street turf replacement moves forward
---
Annual Town Meeting 2022 Results
All Town Meeting Articles passed expect ARTICLE: 45 Land Acquisition – 0 & 71 Frankland Road, Rear; Sponsor: Citizens Petition – 2/3rds Majority Required
$500,000 or whatever price is determined to the just cost by an appraisal commission by the Town for said acquisition. – FAILED (Yes 26 No 87)
The Town Meeting lasted 3 nights from Monday May 2nd and concluded on Wednesday May 4th.
Related Documents and News:
Town Meeting Warrant 2022 (53 articles)
2022 Warrant & Motions Document
Committee studies enrollment, conditions at Elmwood
Community members in Hopkinton should be on the lookout in late summer/early fall for public forums where they'll be asked for input on what a new elementary school should look like to replace Elmwood School. An option of renovations or changes to grade configurations and more will also be put out for discussion and debate.
"We don't want any surprises," said Jon Graziano, chair of the Elementary School Building Committee (ESBC). "We want to bring everyone along with us and give people their say. … It's going to be a proactive, engaging process."
Superintendent receives high praise from School Committee
The way Cavanaugh is addressing enrollment growth and building projects won raves from the committee. The board highlighted some measures that have been taken, such as the addition to the high school, modular classrooms at Hopkins and Elmwood and the Marathon addition project.
Main  Street Corridor Project – Weekly Update
What to Expect for the Week of May 16, 2022 to May 20, 2022
Saw Cut for Vaults and Ductbanks
Continue Installation of Electric Manholes ("I" and "J") – In front of the Town Common and 5 East Main Street — One lane of traffic may be necessary for the manhole in front of the Common but will only be in place between the hours of 9am and 3pm. For work east of 5 East Main Street a single lane of alternating traffic will be required, including overnight. Police details will be onsite to direct traffic.
Install Comcast Manholes at Main St/Church St and 28 Main Street and Telephone Manholes at Main St/Church St and 36 Main Street — On street parking will be impacted during this work.
Start installation of service connections from Police Station towards the 135/85 intersection. NOTE: This work may include work on private property to install conduits from the street to the foundation of the building. No work on the foundation itself or inside any building will be done at this time.
https://hopkintonmainstreet.com/
RELATED: Live Construction Video Feeds are available for the Main Street Corridor Project, check where crews are working and traffic / weather conditions before you leave your home or office.
TOWN ELECTION 2022 – CANDIDATES & BALLOT QUESTIONS
This year there are six contested races, and six ballot questions. eHop has posted all candidate statements received by 4/30 and will continue to post new statements as they are received on a rolling basis. All candidates are encouraged to email eHop a candidate statement and headshot, please send to webmaster@ehop.org.
RELATED: 
Parks & Rec roundup: Fruit Street turf replacement moves forward
At Town Meeting on Tuesday, the Fruit Street turf field replacement project (Article 28) passed 168-7 by standing count vote. "This is going to start to really move rapidly," Parks & Recreation Director Jay Guelfi said of the project. Guelfi reported that three project bids have been received, two of which were under the department's budgeted number.
All Community Preservation Committee requests were approved at Town Meeting, Guelfi noted, which means projects like new pickleball courts are set to move forward.
---