Weekly News Update – 07/24/2022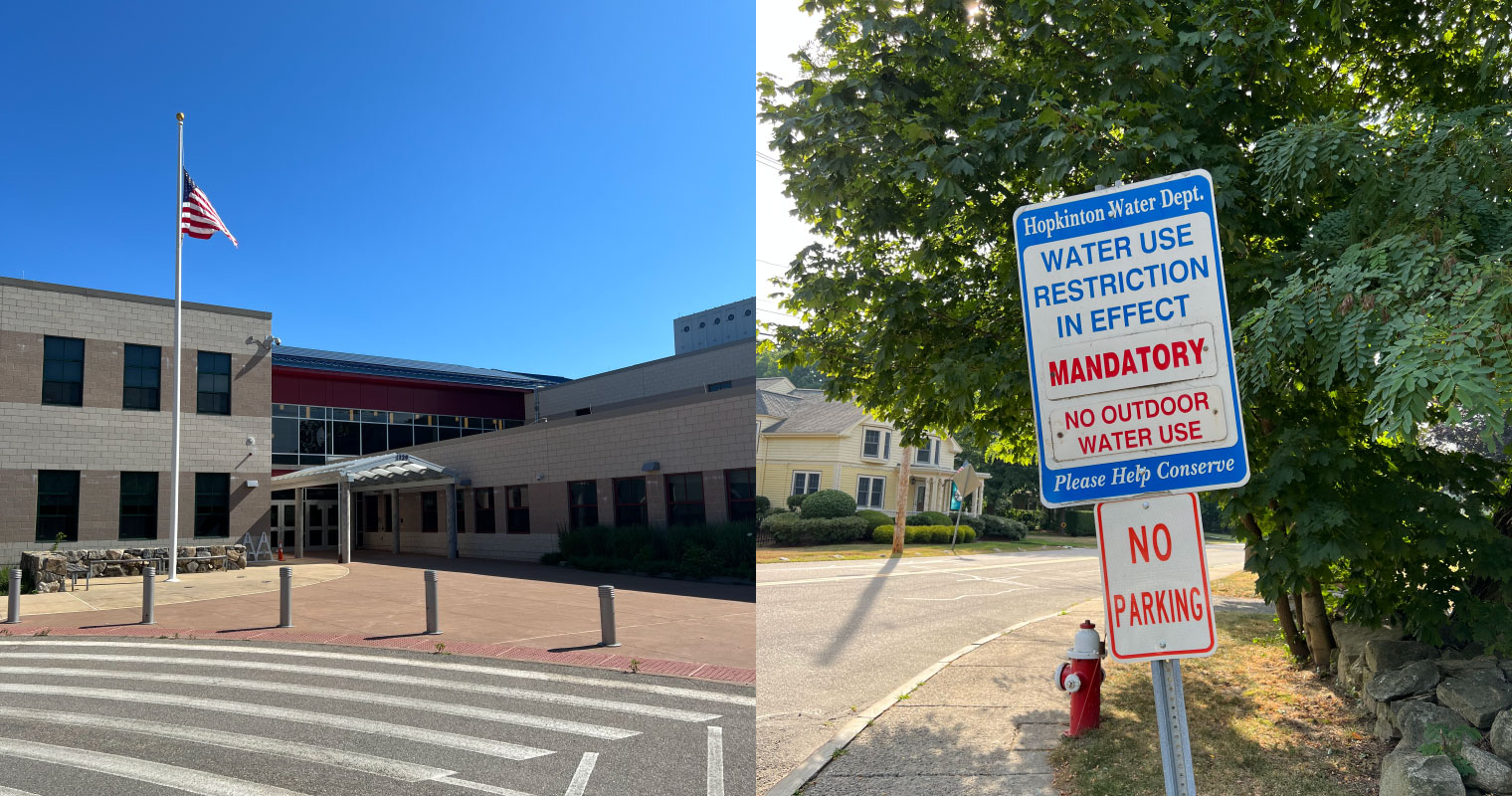 Main Street Corridor Project Update • Special Town Meeting • Housing Authority & Other Board Vacancies • National Suicide Prevention Number 988 • Outdoor Water Ban • Upper Charles Trail Committee • Roadwork Notice • Mosquito Spraying Notice
---
Main Street Corridor Project Update
What to Expect for the Week of July 25, 2022, to July 29, 2022
Saw Cut for ductbanks – detours may be utilized for this work.
Continue the service connections project wide
West Side of Project
Complete traffic signal at Wood Street intersection with Main Street
Reset frame and covers from manholes between Wood St. and Fire Station
Strip and grade sidewalks between Wood Street and the Fire Station
85/135 Intersection
Ductbank work at Grove Street and Cedar Street – detour may be utilized.
Read more details about the Main Street Corridor Project
Live video feeds of traffic conditions (website)
Hopkinton Main Street Live Traffic Cams (YouTube)
Special Town Meeting
A Special Town Meeting has been called to vote on the request for additional funding for the Marathon School addition. The Hopkinton Select Board has called a Special Town Meeting to be held on Thursday, August 18, 2022. All articles or petitions proposed to be included in the special town meeting warrant must be received at the Select Board/Town Manager's office no later than 4:30 PM on Wednesday, July 27, 2022. All articles and petitions must be submitted to: Select Board, Town Hall, 18 Main Street, Hopkinton, MA 01748.
Housing Authority Vacancy
The Hopkinton Housing Authority currently has one vacancy, and the Town is seeking candidates for the position. The appointment will be until the May, 2023 annual town election. Interested residents must apply via the online volunteer form.
Read about other Board & Committee Vacancies including Appropriation Committee, Hopkinton Historic District Commission, Board of Library Trustees, Upper Charles Trail Committee, Veterans Celebration Committee, Youth Commission, and Board of Registrars of Voters.
National Suicide Prevention Lifeline number – 988
Police Chief Joseph Bennett, Fire Chief William Miller and Hopkinton Youth & Family Services Director Dawn Alcott wish to share information regarding the new National Suicide Prevention Lifeline number, 988, which took effect on Saturday, July 16.
Outdoor Water Ban
Please be advised that due to the continued drought conditions, dramatic increase in water use, low tank levels and a continued forecast for hot and dry weather, the town is declaring an outdoor water ban on municipal water use. A meeting yesterday of the states drought task force also declared our area level 3, critical drought. It is imperative that everyone turn off all outdoor sprinkler systems immediately and cease all other non-essential use. It is absolutely vital that everyone comply to ensure proper storage levels for everyday use and fire protection. Thank you for your cooperation in this very important matter. Please see the DPW water department webpage for further details.
Upper Charles Trail Committee
Upper Charles Trail Committee debates MassTrails design grant for Marathon School area.
Roadwork Notice
Crews will be removing & plating structures in preparation for road resurfacing work on the following streets starting on Monday July 25 – Thursday July 28. Dates may change due to weather conditions:
West Main St – South St to just after the Price Chopper entrance.
South St – West Main St to 710' south of West Main St.
South St – #176 to the Milford town line.
Westcott Dr – Pond St to 760' South of Pond St (the old section).
West Elm St – Barbara Rd to the dead end.
Mosquito Spraying
The Central Massachusetts Mosquito Control Project (CMMCP) announced that personnel will be in Hopkinton to spray for mosquitoes on August 2, 3, 9, 10, 16, 17, 23, 24, 30 and 31.
---