Weekly News Update – 08/07/22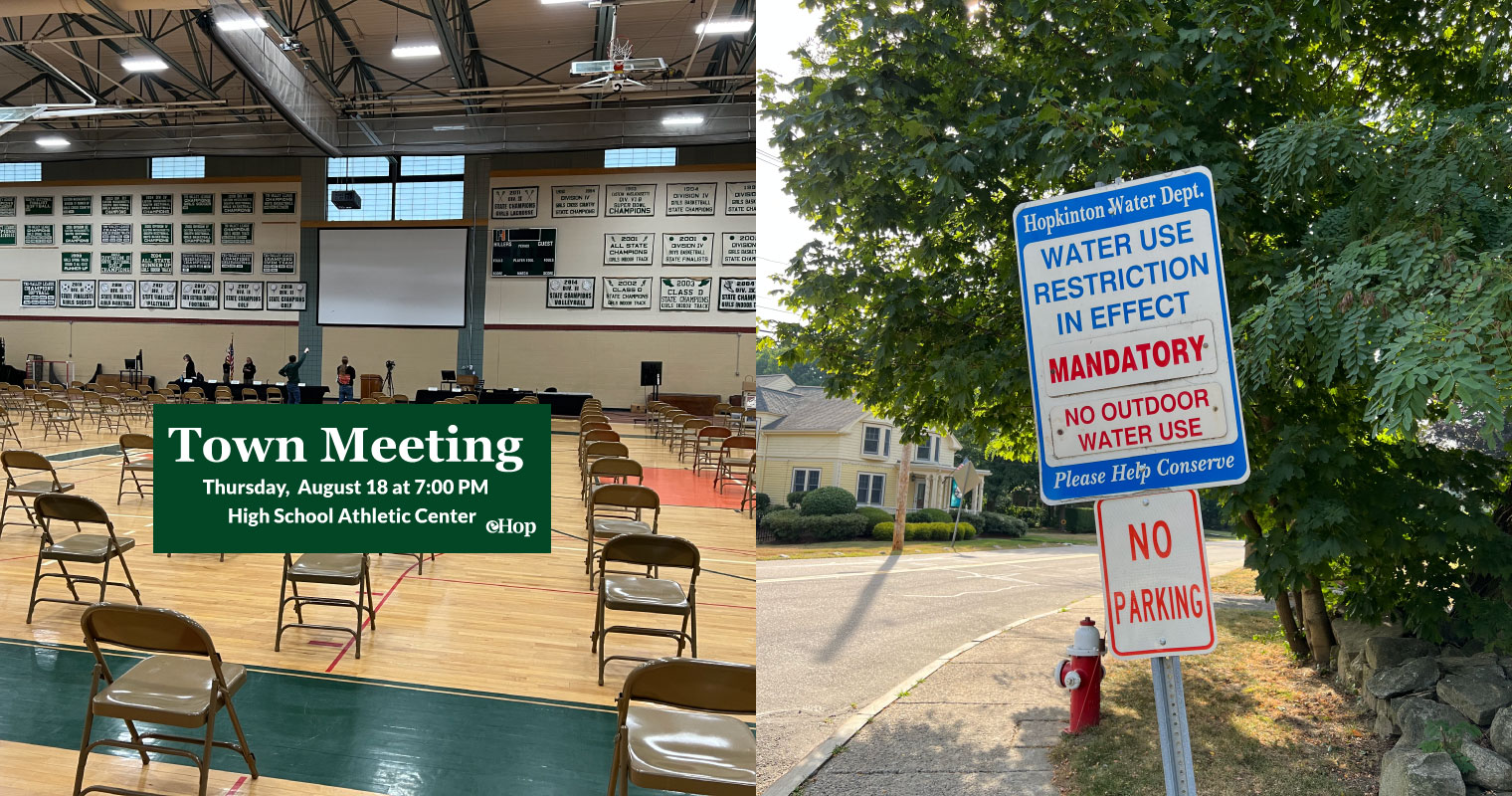 Special Town Meeting Information for 8/18/22 • Water Use Restrictions – Level 3 Drought • Main Street Corridor Project Update • Select Board Updates • Board & Committee Openings • New Hopkinton Public School Administrators • Roadwork Notice North Mill Street • Hopkinton Family Day
---
Special Town Meeting Information
Date: Thursday, August 18, 2022
Time: 7:00 PM
Location: Hopkinton High School Athletic Center (Gym)
Topic(s) on the Warrant:
Marathon School Addition of 4 Classrooms – Cost Increase of $850,000 – funds for this purpose are proposed to be transferred from the School Department Stabilization Fund. Article 1 – Marathon School Addition Presentation
Who Can Vote?
All residents who are registered voters may vote at Town Meeting, but they must be present in person during the meeting to vote. There is no absentee voting for Town Meeting. Please note that if you are new to town or newly eligible to vote (i.e. recently turned 18 or recently became a U.S. citizen) you must register to vote by August 8 in order to vote at Town Meeting. You can register online or in person at the Town Clerk's office.
Town Meeting 101 – What to Expect:
Video Essay
Text Narrative
Water Use Restrictions – Level 3 Drought
As the drought continues to worsen and we head for an extreme heatwave, the Hopkinton Water Department would like to remind everyone that we are at a level 3 Critical drought status. Groundwater levels continue to decrease, limiting pumping capacity. State restrictions on the Ashland plant are also now in place reducing the amount of pumping from the plant. Under our current water use restriction, there is NO LAWN WATERING permitted. Please make sure that all automatic sprinklers are in the off position. The filling of pools, vehicle washing, powering washing and all other non-essential use is also prohibited.
It is extremely important that everyone follow these resections to ensure we have an adequate supply of water for our essential daily needs and for fighting fires. Thank you for your cooperation in this very important matter.
Read the Water Department Notice
Main Street Corridor Project Update
What to Expect for the Week of August 8, 2022, to August 12, 2022
Continue the service connections project wide
West Side of Project
Complete traffic signal at Wood Street intersection with Main Street
Install new granite curb on Main Street moving east from the Wood St. intersection to the Fire Station
Fine Grade and Compact sidewalks between Wood Street and the Fire Station – detour will be utilized as needed
85/135 Intersection
Verizon and Comcast Ductbank work at Grove Street and Cedar Street – detour will be utilized as needed
Please be advised, the contractor plans on starting the full depth excavation at the 135/85 intersection on August 15. More details will be provided in the August 12 advisory.
The Town of Hopkinton appreciates your patience and consideration while we work to support MassDOT's project to revitalize our downtown infrastructure.
Read more details about the Main Street Corridor Project
Live video feeds of traffic conditions
Select Board Updates
Read "Select Board Roundup: PFAS back over state limit; Alltown Fresh grand opening Aug. 18"
Read the Select Board Actions Taken at the meeting
Watch the Actions Taken Video 5-minute Summary of the Meeting
Hopkinton Board & Committee Openings
The following Town boards & committees will have one or more anticipated vacancies.  Please see the Town website at www.hopkintonma.gov or eHop for information about the duties of specific boards and committees.  Interested residents must apply via the online volunteer form at Town of Hopkinton, MA: Boards. Never served on a Board or Committee before? Take a look at Hopkinton's Board/Committee Orientation Handbook to get a better idea of what to expect.
New Hopkinton Public School Administrators
Assistant Superintendent – Jeffrey LaBroad, the new assistant superintendent of Hopkinton Public Schools, decided at age 4 that he wanted to become a teacher. He never changed his mind. Read "New assistant superintendent hopes to help lead HPS' 'evolution' "
Middle School Principal – Matthew Lefebvre said he will bring a "no job is too small" mentality to his new role as principal of Hopkinton Middle School. "I believe in that old schoolhouse model that everyone here is really important," Lefebvre said. Read "New HMS principal brings enthusiastic approach to role"
Roadwork Notice – North Mill Street
The Hopkinton DPW will be paving North Mill Street on August 9th and 10th, from 7:00 am to 5:00 pm. The work will be between Front Street and the Milford town line. Traffic patterns and travel times will likely be impacted during this construction so please plan accordingly. The DPW appreciates your patience while this important work is being conducted.
Hopkinton Family Day Returns This Fall
Hopkinton Family Day Returns for First Time Since 2019 — Town Manager Norman Khumalo and Friends of Hopkinton President Ann Click wish to share information on this year's Hopkinton Family Day.
Date: Saturday, Sept. 17 beginning at 2 p.m.
Location: Athletic fields behind Hopkinton High School, 90 Hayden Rowe St.
Description: Hopkinton Family Day, coordinated by the Friends of Hopkinton, is an exciting event for families that features engaging live entertainment, fun activities for community members of all ages, delicious food trucks and a dazzling fireworks display.
---