Weekly News Update – 08/16/22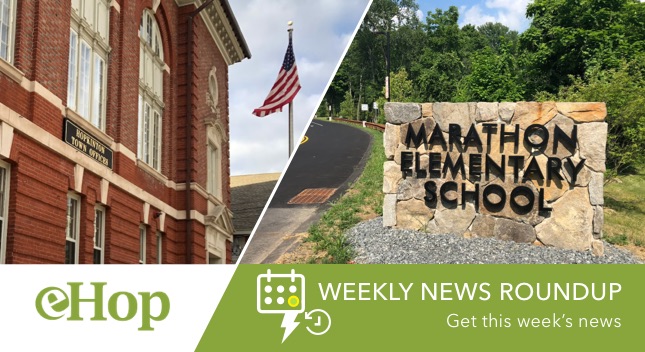 Special Town Meeting Information for 8/18/22 • `Lifelong educator' Tynan new assistant principal at Elmwood • Main Street Corridor Project Update • Board & Committee Openings • Parks & Rec roundup: Fruit Street turf project scheduled for Aug 19 completion • School Committee roundup: Special education proposal includes staffing additions, changes • Board of Health roundup: Noise complaints on Winter Street could lead to ordinance; State Park reopens upper beach • Planning Board roundup: Plans discussed for historic home at 83 East Main; Frankland Road solar decommissioning plan approved
---
Special Town Meeting Information
Date: Thursday, August 18, 2022 Time: 7:00 PM Location: Hopkinton High School Athletic Center (Gym)
Topic(s) on the Warrant:
Marathon School Addition of 4 Classrooms – Cost Increase of $850,000 – funds for this purpose are proposed to be transferred from the School Department Stabilization Fund. Article 1 – Marathon School Addition Presentation
Who Can Vote? All residents who are registered voters may vote at Town Meeting, but they must be present in person during the meeting to vote. There is no absentee voting for Town Meeting. Please note that if you are new to town or newly eligible to vote (i.e. recently turned 18 or recently became a U.S. citizen) you must register to vote by August 8 in order to vote at Town Meeting. You can register online or in person at the Town Clerk's office.
Town Meeting 101 – What to Expect: Video Essay Text Narrative
`Lifelong educator' Tynan new assistant principal at Elmwood
The new assistant principal initially taught fifth-and third-graders at Catholic schools in Marlborough and Framingham. She moved to public schools in Westford, where she was a third-grade teacher and assistant principal. Then, in Grafton schools, she taught kindergarten and third grade, served as principal for seven years and then returned to the kindergarten classroom for another 12 years.
Main Street Corridor Project Update
What to Expect for the Week of August 15, 2022, to August 18, 2022
East Side of Project and Project Wide
Comcast Ductbanks work on Main Street from the Muffin House to Ash Street
Underground service work to property lines (from the Muffin House working eastbound to Ash Street)
Continue the service connections project wide
West Side of Project
Install new granite curb along Main Street between Wood Street and the Fire Station
Fine Grade and Compact sidewalks between Wood Street and the Fire Station
Start forming Concrete Sidewalks between Wood Street and the Fire Station
85/135 Intersection
Start Phase 2 of Full-Depth excavation – estimated to be completed in 3 weeks
Work will begin at the Fire Station and move eastward to the Muffin House
Work will also take place within the project limits on Cedar and Grove Street
One lane of traffic will be maintained and the eastbound detour – from Pleasant St to Maple St to Hayden Rowe will be utilized; Walcott St. will be open to two-way traffic during the detour and will revert to one-way when the road is opened up.
Access to driveways will be maintained with possible brief delays
Dust control measures will be utilized including mandatory treatment over the weekend
Estimated work hours will be between 7am and 7pm and may include Saturdays
The Town of Hopkinton appreciates your patience and consideration while we work to support MassDOT's project to revitalize our downtown infrastructure. 
Read more details about the Main Street Corridor Project
Live video feeds of traffic conditions
RELATED: 
Hopkinton Board & Committee Openings
The following Town boards & committees will have one or more anticipated vacancies.  Please see the Town website at www.hopkintonma.gov or eHop for information about the duties of specific boards and committees.  Interested residents must apply via the online volunteer form at Town of Hopkinton, MA: Boards. Never served on a Board or Committee before? Take a look at Hopkinton's Board/Committee Orientation Handbook to get a better idea of what to expect.
Parks & Rec roundup: Fruit Street turf project scheduled for Aug. 19 completion
At its meeting on Wednesday, the Parks & Recreation Commission discussed the Fruit Street fields turf construction, CPC-funded projects, cricket pitch plans and summer programming.
CPC-funded projects on hold
With the recent departure of the town's procurement agent, Guelfi reported that projects funded by the Community Preservation Committee are in a "holding pattern" until a new agent is hired to assist with managing bid documents and other administrative duties. 
School Committee roundup: Special education proposal includes staffing additions, changes
A three-year special education staffing proposal was the focus of Monday night's School Committee meeting.
With enrollment growth comes an increase in the number of students requiring specially designed instruction, she said. A look at the numbers showed 586 students needing individualized educational programs (IEPs). This total is up from 483 students in 2018.
Additionally, in pre-K, it was pointed out that numbers went from 31 students to 50, a gain of 19 students or 61 percent. Nineteen students translate to three classrooms because each class can only have seven students with special needs.
Board of Health roundup: Noise complaints on Winter Street could lead to ordinance; State Park reopens upper beach
Complaints from several residents living on or near Winter Street could eventually lead to the town adopting its own noise ordinance sometime in the fall. That along with COVID regulations for the upcoming school year and the status of local beaches were the main topics of conversation during the Board of Health's Monday night meeting.
Planning Board roundup: Plans discussed for historic home at 83 East Main; Frankland Road solar decommissioning plan approved
The Planning Board at its meeting Monday night opened a new public hearing on an open space mixed use development (OSMUD) at 83 East Main Street, noting concerns about how the three proposed age-restricted housing units fit in with the historic single-family house that will be replicated on the site and mesh with the neighborhood's character.
Frankland Road solar decommissioning plan approved
The board unanimously approved a plan by Agilitas Energy for the decommissioning plan of the Frankland Road solar development it recently purchased from Seaboard Solar.
Eversource LNG update OK'd
The board unanimously approved minor alterations it determined to be insignificant to a stormwater management plan for Eversource's liquified natural gas (LNG) facility at 52 Wilson Street.
---
---