Weekly News Update – 08/21/22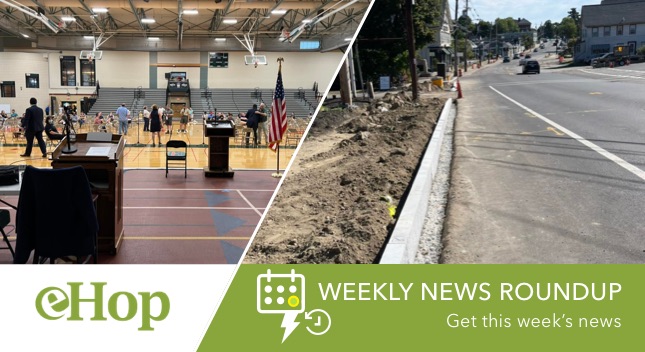 Special Town Meeting supports Marathon School addition increase • Main Street Corridor Project Update • State Primary Election Information • Upper Charles Trail Committee outlines goals for new fiscal year
---
Special Town Meeting supports Marathon School addition increase
Thursday's Special Town Meeting was short and to the point, and an overwhelming majority of attendees supported allocating funds to cover the increase in construction costs for the addition to Marathon School.
There was a strong turnout — at 276 residents, it was about double the total at Annual Town Meeting in May.
RELATED: Special Town Meeting Results 
Marathon School Addition of 4 Classrooms – Cost Increase of $850,000 – funds for this purpose are proposed to be transferred from the School Department Stabilization Fund
Motion to Approve PASSED by a 2/3 Majority Voice Vote
Main Street Corridor Project Update
What to Expect for the Week of August 22, 2022, to August 26, 2022
East Side of Project and Project Wide
Comcast Ductbank work from the Muffin House working eastbound to Ash Street
Service connections from the Muffin House to Ash Street
Continue the service connections project wide
West Side of Project
Install new granite curb – along Main Street working eastbound to the Fire Station
Fine Grade and Compact sidewalks between Wood Street and the Fire Station
Start pouring concrete sidewalks on Wood Street, West Main Street, and Main Street working towards the Fire Station
85/135 Intersection
Continue grading the road at the intersection
One lane of traffic will be maintained and the eastbound detour – From Pleasant Street to Maple Street to Hayden Rowe will be utilized
Walcott Street will be open to two-way traffic during the detour and will revert to one-way traffic when the road is opened up
Estimated work hours will be from 7am to 7pm.
Read more details about the Main Street Corridor Project
Live video feeds of traffic conditions
State Primary Election Information
There is a state primary election coming up on September 6 and there are many ways to vote this year including Absentee/Mail-In Voting, Early In-Person Voting and In-Person on Election Day. There are several contested races this year, including the race for Hopkinton's State Rep, to replace Carolyn Dykema who is not running again.  Candidates are:
Read more about the candidates, view sample ballots and early voting dates on the eHop website.
Upper Charles Trail Committee outlines goals for new fiscal year
The Upper Charles Trail Committee at its meeting Wednesday night unanimously approved a list of 10 priorities on which the group will focus during the 2023 fiscal year, with members choosing where to devote their energies as part of two-person working groups.
Member Eli Post noted that the first five goals had been approved by the Upper Charles Trail Committee (UCTC) at its last meeting. 
---