Weekly News Update – 06/04/2023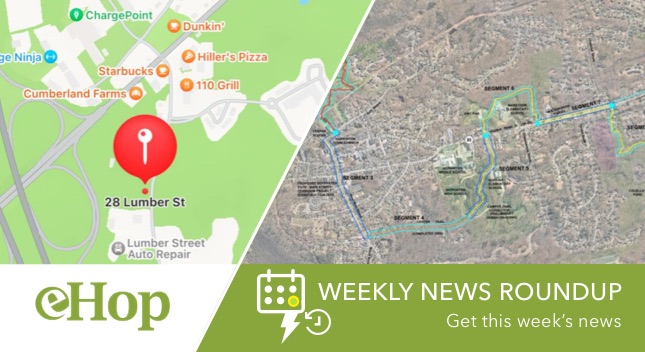 Openings on Boards and Committees – Apply Online • Hopkinton Parks & Recreation Commission Vacancy Announcement • Open Space Preservation Committee celebrates Jenner property acquisition • Select Board subcommittee creates Upper Charles Trail Committee survey • Select Board roundup: Members vote to suspend UCTC; Kramer elected chair • School Committee recommends new director of student services • Eversource LNG Update • Planning Board reviews Lumber Street office building plan • Main Street Corridor project update
---
Openings on Boards and Committees – Apply Online
Now is the best time to apply for a town board & committee appointment. Most committees have one or more anticipated annual vacancies. If you are new to the process consider applying for 3 committees you would be willing to serve on, because you can never be sure which committees will have MANY applicants and which committees will have ZERO applicants. Please see the Town website for information about the duties of specific boards and committees. Interested residents must apply via the online volunteer application form. Never served on a Board or Committee before? Take a look at Hopkinton's Board/Committee Orientation Handbook to get a better idea of what to expect.
RELATED-Public Announcement:
Open Space Preservation Committee celebrates Jenner property acquisition
The Open Space Preservation Committee at its hour-long hybrid meeting Thursday night thanked Alan and Jennifer Jenner for allowing the town to purchase their 40-acre parcel for open space.
The land, according to OSPC chair Ed Harrow, is a parcel of about 40 acres in the Saddle Hill Road area that is surrounded by the Conroy property and state Department of Conservation and Recreation (DCR) property.
Select Board subcommittee creates Upper Charles Trail Committee survey
After Town Meeting's resounding vote of no confidence earlier this month on the activities of the Upper Charles Trail Committee, a Select Board subcommittee on Sunday morning drafted a public survey to generate input on the committee's future.
UCTC faces opposition

For more than a year, residents expressed concerns that the UCTC was not following their will by pursuing a MassTrails grant for an engineering and design study of the proposed Segment 6 of the trail that is to run from the Ashland border to the Milford border.
Survey questions composed on leadership, liaison roles
Subcommittee discussion revolved around the composition of the UCTC and the roles of its members, alternate members and liaisons. It asked if there should be the same number of members — nine voting members with two alternates — or if there should be fewer or more members.
Surface composition, comparison to area trails
The surfacing type of a multiuse trail was one aspect Nasrullah said should be considered. At the last UCTC meeting, it was mentioned that skateboarders should be allowed to use the trail.
Select Board roundup: Members vote to suspend UCTC; Kramer elected chair
At its meeting Tuesday night, the Select Board decided to suspend the activities of the Upper Charles Trail Committee in response to the non-binding vote at Annual Town Meeting earlier this month to disband the oft-criticized committee.
The vote to suspend the UCTC until at least July 11 passed 3-2.
Kramer elected chair
During the board's annual reorganization, Muriel Kramer was elected chair, with Shahidul Mannan vice chair. Both votes were unanimous.
Misc.: Town adds downtown parking lot
The board voted to execute an order of taking for the parking lot at 25-35 Main Street, which will provide a total of 55 spots (some of which only will be available during evenings) for people using the downtown area.
School Committee recommends new director of student services
On Thursday, the Hopkinton School Committee voted 4-0 for the superintendent to enter negotiations with Abigail Hanscom, a Hopkinton resident, for the position of director of student services.
If negotiations are successful, Hanscom, currently director of student services in Westwood, will replace Karen Zaleski, who left the district to become interim superintendent in Weston.
Overview on computer science given
In other business, Assistant Superintendent Jeff LaBroad and Hopkinton High School teacher Doug Scott gave a presentation about computer science and its evolution in Grades K-12.
HMS robotics team recognized
The committee congratulated the Hopkinton Middle School KryptoKnights robotics team, which won the Excellence Award at the VEX IQ Robotics Competition in Dallas earlier this month.
Misc.: New school cost discussed
During her superintendent's report, Carol Cavanaugh addressed concerns expressed about the possible price tag for a proposed Elmwood School replacement.
Eversource LNG Update
Town Manager Norman Khumalo wishes to share documents concerning the Town's review and interactions with Eversource LNG Facility.   These documents are being shared with the public to highlight the town's involvement with the Eversource LNG Facility.
Hopkinton has an extensive history of involvement in matters concerning the LNG Plant, and continues to have ongoing substantive work concerning the LNG Plant.  You can read a summary letter from Hopkinton's Town Counsel, as well as access the documents here.
Planning Board reviews Lumber Street office building plan
The only hearing during Monday's Planning Board meeting focused on 28 Lumber Street. Project attorney George Connors noted that the Conservation Commission is expected to have input that may revise the plan. A hearing before the Conservation Commission has not yet been scheduled.
A medical office of about 10,000 square feet of gross floor area is proposed next to Hopkinton Stone and Garden, Inc. Connors described the parcel of about 3.5 acres owned by Doug DeWolfe, which lies to the south of Scott's Landscaping and an auto repair shop.
Projects' bond statuses discussed
The Planning Board voted unanimously to release a $102,560 bond for the construction of Box Mill Road. This project was approved at the Annual Town Meeting earlier this month.
Trendel reelected chair
During its annual reorganization, Trendel was unanimously reelected to chair, while Benson was tabbed vice chair by a 6-2 margin over fellow board member Ron Priefer.
Main Street Corridor project update
What to Expect for the Week of June 5th to June 9th
Detours
The eastbound detour from Pleasant St. to Maple St. to Hayden Rowe will be used at the beginning of the week. The eastbound detour from Grove Street to Maple Street to Hayden Rowe will be used later in the week.
East Side of Project
Installation of conduit for site lighting from the Muffin House to Ash Street (work will take place in the excavated sidewalk area)
Setting the curb from the Muffin House to Ash Street
Raising structures, including catch basins and manholes for electric and communications vaults
West Side of Project
Finish retaining walls (at 2 West Main and 5 West Main)
Site Wide
Eversource will onsite pulling underground wiring at various locations on site.
Please be advised that this schedule may change due to weather and existing conditions found while performing the above tasks. This work may impact traffic and require lane and sidewalk closures limiting access to driveways and entrances to businesses.
View live video feeds of traffic
---
---