Weekly News Update – 06/18/2023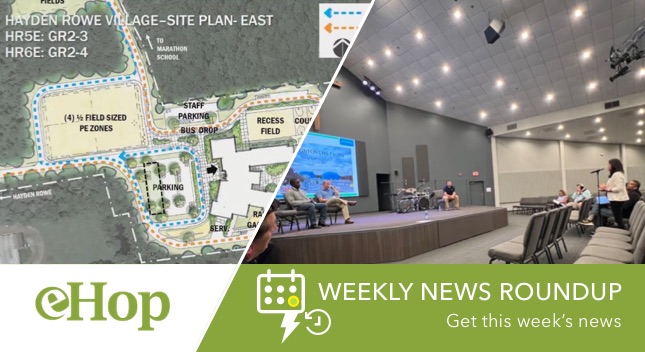 Public Notice: Water and Sewer rate setting • ESBC ponders proposed school's future, building materials • New school's cost, possibility of rejection questioned at ESBC forum • ESBC reviews traffic plans ahead of Wednesday's public forum • School committee completes reorganization, picks liaison roles • Tensions flare at Trails Committee meeting during discussion about UCTC • Eversource addresses concerns about LNG plant safety at public forum • Conservation Commission enforces fines on The Trails development held for nearly 2 years • Select Board roundup: UCTC survey questions refined; water/sewer rate increases discussed • School Committee roundup: New principals named for Hopkins, Elmwood • Main Street Corridor project update
---
Public Notice: Water and Sewer rate setting
The Select Board will hold a public meeting to set Water and Sewer rates and receive feedback from the community on Tuesday, June 20, 2023, at 6:10pm, at Town Hall, 18 Main Street, Hopkinton. The Meeting will also be held via Zoom webinar, with the link on the web meeting calendar listing for the hearing at www.hopkintonma.gov
ESBC ponders proposed school's future, building materials
The Elementary School Building Committee (ESBC) reviewed last week's public forum, viewed tweaks to outdoor learning spaces and discussed exterior and interior design materials at Tuesday's meeting.
Committee members said the recent forum highlighted the need to get the community more involved in the process for a proposed new Elmwood Elementary School for Grades 2-4 on Hayden Rowe Street.
What a 'no' vote means
Another discussion repeated what a 'no' vote from residents would mean for the project. The process would end, the committee would be disbanded and an exit poll would be conducted to review why the proposal failed.
Outdoor spaces tweaked
Following past feedback from the committee, Ashley Iannuccilli, principal at Traverse Landscape Architects, said her group had reduced playground spaces in the plans, pulled the ring road closer to the rear of the building, cut outdoor classrooms from five to three and reduced from two basketball courts to one and a half. Walkways were minimized, and paving of the site downsized by half an acre, she said.
ESBC reviews materials
In other business, the committee decided by consensus to use an economic concrete masonry unit (CMU) material for a large portion of the building exterior; brick and alternative brick for the front; and an HDL panel that adds a wood look with the windows systems.
RELATED:
During a two-hour Zoom public forum Wednesday, most questions asked of the Elementary School Building Committee concerned the cost and tax impact of a new Elmwood School on Hayden Rowe Street.
Other questions referred to traffic, educational and design decisions to date, and future growth.
Senior Project Manager Vinod Kalikiri from VHB presented an overview of a traffic study for the proposed new Elmwood School on Monday to the Elementary School Building Committee. He highlighted recommendations on how to mitigate the project's impact as well as improve traffic flow around the site in general.
School committee completes reorganization, picks liaison roles
After much discussion, the Hopkinton School Committee on Thursday named Amanda Fargiano vice chair. Member Holly Morand also expressed interest in assuming that role.
The board waited until all five members were present to complete its reorganization process. One factor stalling the decision was the fact that both Fargiano and Morand have terms expiring next spring.
Liaison roles selected
Another portion of the meeting centered around committee members deciding who would take on what liaison positions with other boards and organizations.
Munroe noted that his background with behavioral health and nursing would be helpful working with Hopkinton Organizing for Prevention (HOP) and the Special Education Parent Advisory Council (SEPAC).
Tensions flare at Trails Committee meeting during discussion about UCTC
The Trail Coordination and Management Committee met jointly with Select Board chair Muriel Kramer on Wednesday night for 90 minutes, with the main point of contention being the potential reorganization of the Upper Charles Trail Committee.
UCTC's future sparks tense debate
Said Kramer: "What we really want to have is a go-forward position that really is collaborative and works for all interested parties and really helps us make some progress."
She pointed out that because there has been some tension between the UCTC and the TCMC, she personally envisions them as remaining separate committees. Her reasoning was that subcommittees do not seem to be "a super successful structure." Also, she wanted to make sure that the UCTC's previous work was not invalidated.
TCMC charge discussed
Committee members reviewed the TCMC's three-page charge. What was missing from it, LaGoy said, is the work about building trails.
"You've been doing a lot of work that doesn't satisfy the charge," Kramer pointed out, noting that there are parts of both the UCTC and TCMC charters that are not being acted upon.
Eversource addresses concerns about LNG plant safety at public forum
Representatives from Eversource addressed safety and operational concerns about the company's liquefied natural gas (LNG) facility on Wilson Street at a public forum Thursday night that spanned more than three hours.
Project history detailed

"I appreciate the opportunity to get our side out," Blackburn said Wednesday in response to concerns recently raised about safety and security at the plant. He explained that the facility is unique because two pipelines intersect there.
Residents voice concerns about safety, air quality
At the meeting, Blackburn and the Eversource team addressed concerns about safety, security and air quality. Blackburn said the plant is overseen by manger Kirk Hayden and has three supervisors, a plant superintendent, an operations supervisor and a maintenance supervisor, all of whom were in attendance.
Nasrullah, who formerly worked for Mass DEP as its senior regional counsel, explained that the operating permit regarding air quality relates to the emissions from the equipment, not from the entire facility.
Conservation Commission enforces fines on The Trails development held for nearly 2 years
The Conservation Commission voted 5-0 to enforce the collection of $43,100 in fines assessed against The Trails at its 82-minute virtual meeting Tuesday night.
The Trails, an 80-unit open-space mixed-use development (OSMUD) off Legacy Farms North Road, between Wilson Street and the Ashland border, has been plagued by stormwater management issues that have negatively impacted the water system in Ashland, and violations first were issued in the summer of 2021.
Select Board roundup: UCTC survey questions refined; water/sewer rate increases discussed
The Select Board at its hybrid meeting Tuesday night reviewed questions for a survey created to solicit public feedback on the Upper Charles Trail Committee in response to the resounding but nonbinding Town Meeting vote last month calling for the UCTC to be disbanded and restructured.
Water/sewer rate increases discussed
The Select Board also received an update on water and sewer rates for fiscal year 2024 in advance of the rate-setting public meeting that will take place on June 20.
Utility pole placement considered
The board held a public hearing on the relocation of a utility pole at Cedar Street and B Street. Two other pole locations on Church Street and East Main Street did not need to be considered because they are included in the Main Street Corridor Project.
School Committee roundup: New principals named for Hopkins, Elmwood
At Monday's School Committee meeting, Superintendent Carol Cavanaugh announced several new hires in leadership positions.
Matt Cotter, currently assistant principal at Hopkins School, becomes principal there.
David Brauninger, currently an elementary school principal in Canton, takes on that position at Elmwood School.
Abigail Hanscom, the incoming director of student services, comes from that position in Westwood.
Ricardo "Ricky" Andrade, currently assistant athletic director in Needham, will become athletic director.
Cavanaugh said the district needs a new assistant principal at Hopkins School and will be working on filling that position.
Main Street Corridor project update
What to Expect for the Week of June 19th to June 23th, 2023
No work on Monday, June 19th in observance of Juneteenth holiday.
Detours
The eastbound detour from Grove Street to Maple Street to Hayden Rowe may be used as needed.
East Side of Project
Installation of conduit and bases for site lighting from the Muffin House to Ash Street (work will take place in the excavated sidewalk area)
Installation of the granite curb from the Muffin House to Ash Street
Grade sidewalks from the Muffin House to Ash Street
Sub-contractor is scheduled to be onsite to pour foundations for the pedestrian push button posts at Church Street and Hayden Rowe on Wednesday and Thursday
---
---