Weekly News Update – 07/02/2023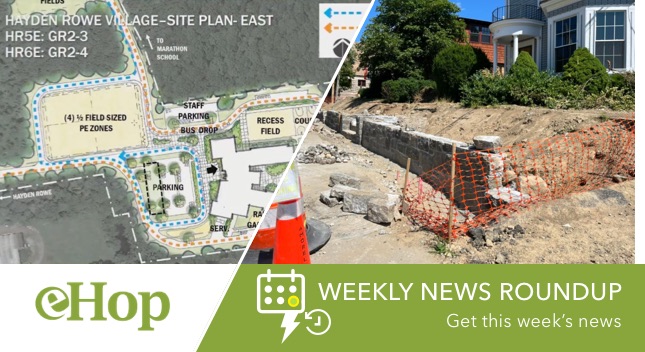 ESBC chooses design-bid-build delivery method for proposed school • Conservation Commission reviews Mass. Laborers' request to move gas line • Parks & Recreation roundup: Cricket pitch resurfacing stalled; Little League fields 'in bad shape' • Planning Board approves 2 bond releases, parcel conveyance • Public Notice: Committee Vacancy – Hopkinton Housing Authority Board • Board of Health roundup: Biosafety regulation announced; YMCA addresses PFAS issue • Town of Hopkinton Announces Completion of Main Street Public Parking Project • State orders Golden Pond not to accept new residents after failed compliance review • Main Street Corridor project update
---
ESBC chooses design-bid-build delivery method for proposed school
On Tuesday, the Elementary School Building Committee voted to use a design-bid-build (DBB) delivery method for its proposed new Elmwood School replacement project.
Committee members heard various pros and cons from Jeff D'Amico, Vertex's project director, and ultimately decided to use a general contractor approach rather than a construction manager (CM) at risk approach.
D'Amico said going with DBB would mean a simpler process, less staff and paperwork, more involvement by the design team, a smaller pool of candidates and 4-6 percent lower costs.
Conservation Commission reviews Mass. Laborers' request to move gas line
The gas line, which project attorney George Connors continually has stressed is the preferred option for the developer, would run through the main campus and necessitate the removal of about 100 trees.
At this hearing, Connors proposed moving the gas line in a way that does not disturb wetlands and will feed the entire site. He explained that the work will begin on the other side of the property at Front Street and proceed down Maple Avenue, where an easement exists. There it will meet the facility's property line.
Leonard Street violations, fines reviewed
The commission reviewed previous violations cited at 8 Leonard Street that were the result of stormwater erosion over the past couple of years. In April, member Ted Barker-Hook observed turbid water and sedimentation within the isolated vegetation wetland area on two separate occasions. In response, Ciaramicoli drafted a letter assessing $7,100 worth of fines.
Parks & Recreation roundup: Cricket pitch resurfacing stalled; Little League fields 'in bad shape'
The Parks & Recreation Commission at its 90-minute meeting Tuesday evening discussed progress on several pending projects, including the resurfacing of the public cricket pitch at the Fruit Street fields, the anticipated construction time frame on the new cricket pitch at Pyne Field, and the skate park at EMC Park.
Commission chair Dan Terry explained that several town departments now are involved in the process. He estimated that construction would be "about 12 months away." CPC-funded projects are expected to be completed within two years.
Skate park expected to be completed by year's end
Savage announced that the skate park is moving forward under the supervision of the town's Engineering Department. Drainage work needs to be performed on the site, and it should be completed by the end of the summer.
Little League fields 'in bad shape'
Commissioner Amy O'Donnell, the liaison to Hopkinton Little League, noted that Pyne Field, which is utilized by Little League teams, is in poor condition.
Sandy Beach update provided

Savage announced that someone applied to be the lifeguard supervisor at Sandy Beach. But because that person is a sibling of a lifeguard, she needed to check the protocols involved.
Planning Board approves 2 bond releases, parcel conveyance
The Planning Board approved two bond releases and a parcel conveyance during its half-hour meeting Monday evening.
The meeting served as a primer for newer board members regarding bond release and approval not required (ANR) protocols.
Maspenock Woods bond released
The board approved by a 6–0 vote the release of a bond regarding Maspenock Woods, a 31-unit complex of luxury townhomes that borders Lake Maspenock.
Eversource bond release
The board approved by a 6-0 vote the release of a $10,000 bond for Eversource in regard to the earth removal permit for the upper access road at the liquefied natural gas (LNG) facility at 52 Wilson Street.
Parcel conveyance approved for Greenstar Property Development
The board also endorsed an ANR for the conveyance of a parcel at 85R Fruit Street. Gelcich gave members a refresher on what an ANR entails because it is a procedure unique to Massachusetts.
Stormwater management permit hearing continued
The hearing for a stormwater management permit for two proposed homes for Fruit Street had to be continued due to an emergency on the applicant's part.
Public Notice: Committee Vacancy – Hopkinton Housing Authority Board
The Hopkinton Housing Authority Board will have a vacancy effective July 1, 2023. The Town is seeking candidates for the position, and the appointment will be until the May, 2024 annual town election.
View other committee vacancies here
Board of Health roundup: Biosafety regulation announced; YMCA addresses PFAS issue
"There's really only one community that has a well written biosafety regulation, and that's Cambridge," McAuliffe explained, noting that Cambridge worked with the state's Department of Public Health and Department of Environmental Protection when creating its document.
McAuliffe consulted with counterparts in Cambridge to craft the language of the five-page document.
Mass DEP finds off-site well at YMCA as a PFAS source
McAuliffe said he recently confirmed with the deputy director of MassDEP that an off-site well located at the MetroWest YMCA Family Outdoor Center on East Street is going to be considered "a yet-to-be-determined off-site source" for PFAS.
Director working on program to raise public awareness on peanut allergies
McAuliffe announced that he is working on a public awareness campaign on the dangers of exposure to peanut-based products at playgrounds for those who suffer from peanut allergies. He had been approached by a student at the Hopkins Elementary School with a deadly peanut allergy. McAuliffe said the student told him that this allergy prevents her from using the playground because fellow students eat peanut butter sandwiches there.
Mannan elected vice chair
Nasiba Mannan, who was elected to the board in May for a three-year term, was elected to serve as vice chair. She has more than 16 years of experience in the healthcare industry. She holds master's degrees  in public health and nutrition and is planning on completing her master's degree in business administration next year.
Town of Hopkinton Announces Completion of Main Street Public Parking Project
As of Thursday, June 22, 53 new parking spaces in the area behind 25 and 35 Main St. are now available for public parking.
"It is a pleasure to announce that the Main Street public parking project has come to a successful conclusion," said Town Manager Khumalo. "It is our hope that with the addition of these public parking spaces, we can welcome more people to visit Hopkinton and support our local businesses."
State orders Golden Pond not to accept new residents after failed compliance review
"Based on findings of non-compliance identified through the review, EOEA has suspended the Assisted Living Residence Certification status of Golden Pond," reads the letter from the EOEA to Golden Pond (and viewed by the Independent). "Suspension of Certification means that Golden Pond may continue to operate but may not accept any new residents on or after May 4, 2023, until the Secretary of EOEA determines that Golden Pond is in full compliance with all the laws and regulations applicable to Assisted Living Residences."
McAuliffe said the finding of noncompliance was concerning. What he also found troubling was that three Golden Pond residents died there during a one-week span in mid-June.
Main Street Corridor project update
What to Expect for the Week of July 3rd to July 7th, 2023
No work on Monday, July 3 or Tuesday, July 4, in observance of Independence Day.
No work on Wednesday, July 5 – Hopkinton Town Hall and municipal offices closed.
East Side of Project
Installation of conduit and bases for site lighting from the Muffin House to Ash Street (work will take place in the excavated sidewalk area)
Installation of the granite curb from the Muffin House to Ash Street
Grade and pour concrete sidewalks from the Muffin House to Ash Street
West Side of Project
Grade and pour concrete sidewalks.
View live video feeds of traffic
---
---