Weekly News Update – 07/23/23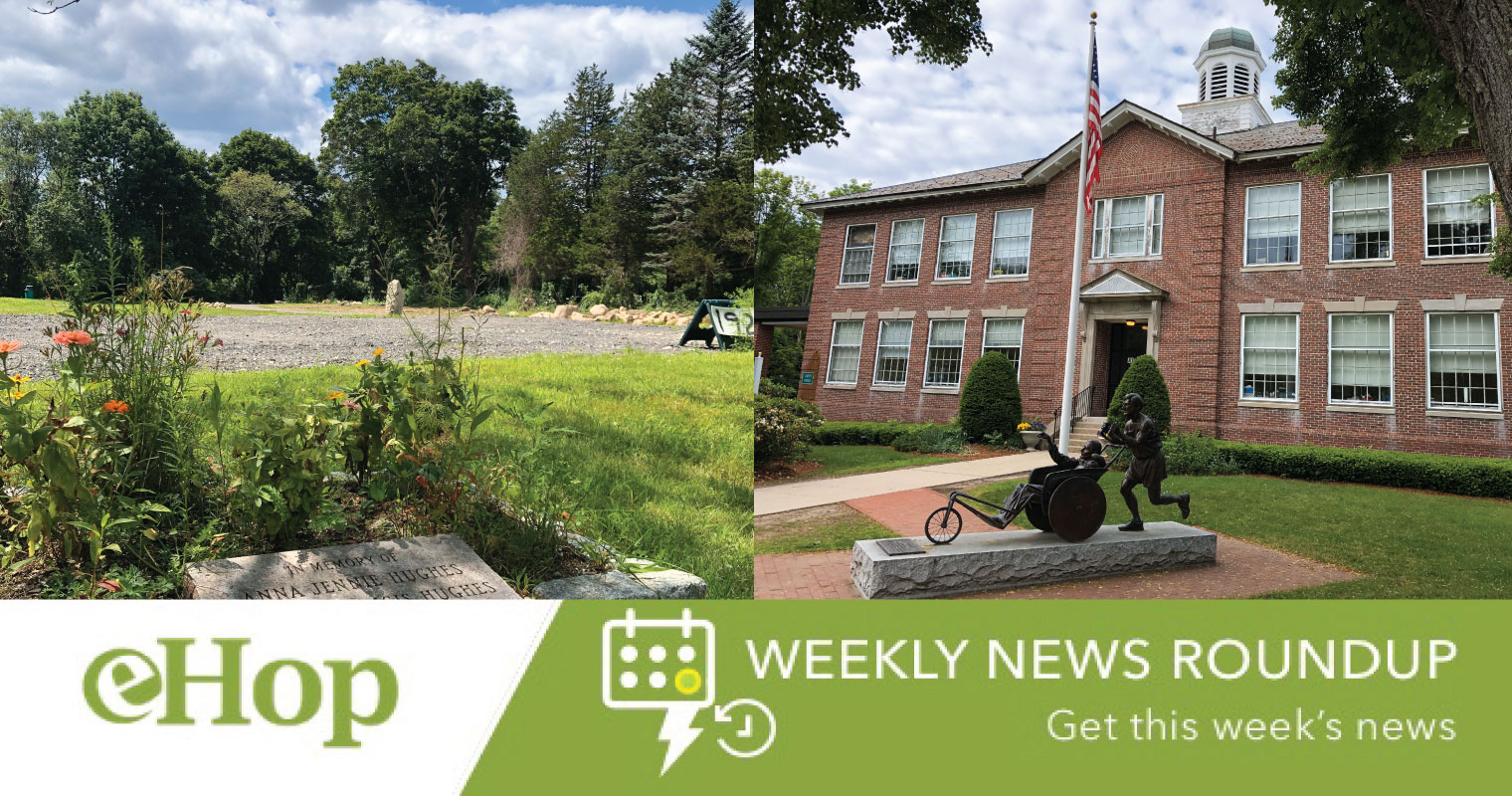 Trails Coordination and Management Committee Update • Conservation Commission Updates • New DPW Director • Center School Permanent Building Committee Update• Community Preservation Committee Project Updates • Select Board Working Session • Elmwood School Forum #8 Recap • Main Street Project Update • HCAM Actions Taken Video Series
---
TCMC (Trails Coordination and Management Committee) Updates
Committee recommends changes to name, composition and charge
Trail volunteer activities discussed
Upper Charles Trail western alternative's future unclear
Hughes Property project updates
Read "TCMC votes unanimously on new name, recommends Upper Charles Trail Committee become subcommittee" on the Hopkinton Independent website
Conservation Commission Update
Proposed subdivision off Blueberry Lane
Stormwater issues at The Trails (Legacy Farms North)
Stormwater issues on Leonard Street
Read "Conservation Commission discusses proposed subdivision off Blueberry Lane, addresses new stormwater issues at The Trails, Leonard Street" on the Hopkinton Independent website
New DPW Director
Town Manager Norman Khumalo is pleased to announce that the Town of Hopkinton has welcomed Kerry Reed as the new Director of Public Works.
Read the "Press Release: Kerry Reed Joins the Town of Hopkinton as New Director of Public Works"
Permanent Building Committee Update
Town Manager Norman Khumalo, on behalf of the Permanent Building Committee, wishes to provide an update on the ongoing facilities planning work to evaluate how town properties, including Center School and Elmwood School, can meet municipal and community space needs now and in the future.
Read the "Press Release: Town of Hopkinton Shares Update on Ongoing Facilities Planning Work"
Community Preservation Committee Update
Trail Coordination and Management Committee requests extensions for three projects.
Upper Charles Trail western alternative route discussion about Gorman property permission
Parks & Recreation Department requests discussed
Historical Commission extensions granted
Cemetery Commission's headstone project request approved
HALT requests approved
'War on Japanese knotweed' proposed by resident
Larson-Marlowe thanked for her service
Kelleigh property to be discussed at July 20 meeting
Read "Community Preservation Committee roundup: Project extensions approved; 'War on Japanese knotweed' discussed" on the Hopkinton Independent website
Select Board Working Session
The Select Board met for nearly two hours on Thursday night to discuss members' most pressing priorities, reflect on the past year's accomplishments and brainstorm about overarching town goals. Police Chief Bennett also gave an update on a special projects consultant hired.
Read "Select Board discusses priorities for upcoming fiscal year" on the Hopkinton Independent website
Elmwood School Project Update
Elmwood ESBC public forum #8 Held on July 18
The Elementary School Building Committee still has major decisions to make before finalizing its schematic design phase for a proposed new Elmwood School on Hayden Rowe Street.
Future timeline provided
Stormwater, mechanical system outlined
Parking, outdoor learning discussed
Building, savings measures highlighted
ESBC vice chair Tiffany Ostrander encouraged people to "stay engaged" with the proposed school project and reach out by email at esbc2@hopkinton.ma.gov with questions or for more information.
Read "Proposed New School Design, Features Highlighted at ESBC Public Forum" on the Hopkinton Independent website
Watch the video of the Elmwood School Building Forum on the HCAM YouTube Channel
Elmwood School Building Project Website
Contact Info: esbc2@hopkinton.ma.gov
Next Elmwood Community Forum #9: August 2023, date TBD
Main Street Corridor project update
What to Expect for the Week of July 24, 2023
Detours
The eastbound detour from Pleasant Street to Maple Street to Grove Street will be used on Monday, July 24th starting at 7am.
East Side of Project
Installation of conduit and bases for site lighting from the Muffin House to Ash Street (work will take place in the excavated sidewalk area)
Installation of the granite curb from the Muffin House to Ash Street
Grade and pour concrete sidewalks from the Muffin House to Ash Street
West Side of Project
Grade and pour concrete sidewalks
See hopkintonmainstreet.com for details
View live video feeds of traffic on YouTube
HCAM Actions Taken Video Series
Don't have time to watch committee meetings? Did you know you can watch short recaps of recent Hopkinton board and committees on the HCAM YouTube Channel? Updated weekly, save the playlist on YouTube for future reference.
---
---