Weekly News Update – 08/27/2023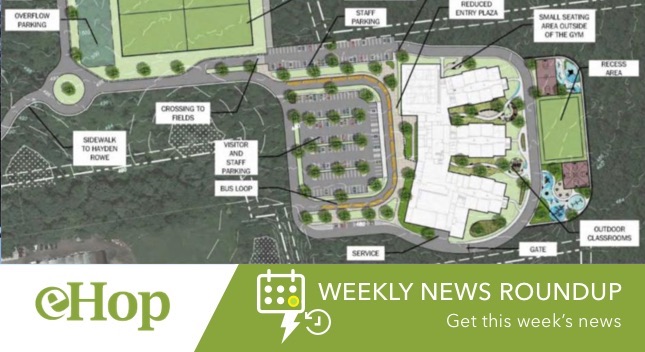 Roadwork continues on multiple streets in town • Community Preservation Committee reviews projects, announces start of new funding cycle • Upper, main beaches at State Park again unsafe for swimming • ESBC moves $158 million budget forward with School Committee endorsement • Select Board votes to endorse $158 million budget proposed for new school building • Planning Board continues discussion on Hayden Rowe office building proposal • Parks & Rec Commission votes to support Lewitus as new director • Thieves target homes of people of Indian and South Asian descent in Middlesex County, DA says • Main Street Corridor Project Update
---
Roadwork continues on multiple streets in town
The town's Department of Public Works provided an update on roadwork for five streets that started earlier this month.
Affected roads are: Appaloosa Circle, Ridge Road, Breakneck Hill Road, Glen Road (from Lumber Street to Breakneck Hill Road) and Gibbon Road.
Community Preservation Committee reviews projects, announces start of new funding cycle
Under the Community Preservation Act (CPA), at least 10 percent of the funding raised must be allocated among three categories — open space, historic preservation and affordable housing, according to the state website. The remaining 70 percent can be allocated to any of these categories, as well as recreation.
Potential Hopkinton Historical Society application discussed
The organization is considering applying for a grant to preserve and protect historical documents and to make them publicly accessible by preventing water leaking into the Historical Society building because of the high groundwater table there.
Updates on current projects provided

Regarding current projects, Land Use administrative assistant Shannon Soares said that the grant agreement and budget submission has been received from the Town Manager's office for the Jenner property. Budgets were submitted by the Open Space Preservation Commission for boundary marking for nine parcels.
Grant applications due by Oct. 12
Soares noted that applications for CPC funding must be received by Oct. 12. Anyone seeking information or an application can email her at ssoares@hopkintonma.gov.
Upper, main beaches at State Park again unsafe for swimming
The water quality at the upper beach at Hopkinton State Park returned to an unsafe level for swimming due to an increase in enterococci bacteria over the past week, according to water sample test results released Friday, while the water quality at the main beach remains unsuitable for swimming.
Beaches statewide have been experiencing high levels of bacteria in recent weeks during the time of year when they are in the greatest demand for recreation. One cause is the amount of goose droppings in the water.
Lake Maspenock remains safe for swimming.
ESBC moves $158 million budget forward with School Committee endorsement
The Elementary School Building Committee voted 6-0 on Tuesday to approve a budget not to exceed $158,427,494 for a proposed Elmwood School replacement. The figure is inclusive of the $1 million feasibility study previously approved by Town Meeting.
This total will be voted on in early November by Town Meeting and by residents on a ballot question for a debt exclusion.
Related:
The Select Board at its two-hour meeting Wednesday night voted 4-0-1 to endorse a budget recommendation not to exceed $158,427,494 for a proposed replacement building for Elmwood School. This figure was approved by the Elementary School Building Committee the night before in a 6-0 vote and had been recommended by the School Committee in a 5-0 vote.
Planning Board continues discussion on Hayden Rowe office building proposal
The Planning Board at its meeting Monday night continued discussions on a redevelopment proposal for an office building on Hayden Rowe Street as well as a proposed subdivision that triggered the usage of the town's new inclusionary zoning bylaw.
Daron Kurkjian, the town's engineering consultant from Weston and Sampson, gave a peer review presentation on the project. He pointed out that there are no area wetlands. In his review, he sought further information on screening for the dumpster area and site equipment as well as the underground utility installation.
Parks & Rec Commission votes to support Lewitus as new director
The Parks & Recreation Commission voted unanimously for Jonathan Lewitus as the new department director at its nearly three-hour meeting Monday night.
While members felt both Lewitus and fellow finalist Mark Kelly would be successful in the role, chair Dan Terry said it came down to an "onion-skin thin" edge for Lewitus because of his budgetary experience as the assistant recreation director for the town of Brookline.
Thieves target homes of people of Indian and South Asian descent in Middlesex County, DA says
The burglars have struck in Lincoln, Hopkinton, Weston, Chelmsford, Burlington, and Carlisle, Ryan said.
"People should be really conscious about the kinds of information they're giving out about when they're going to be away, especially on social media," Ryan said.
"Currently, there is no connection between the residents, other than they are both of Indian descent," the post said. "Regionally, there is an increase exhibiting similar patterns."
Main Street Corridor Project Update
What to Expect for the Week of August 28th to September 1st, 2023
Project Wide
Winterizing some sections of gravel and temp paving those areas throughout the site
Continue adjusting various structures that have settled in the road
Potentially paving top course for the bike lane (pending on structure adjustments)
East Side of Project
Placing loam in various areas
Various on-site clean-up
West Side of Project
Placing loam in various areas
Various on-site clean-up
---
---