Q & A from the eHop Spotlight on Traffic & Pedestrian Safety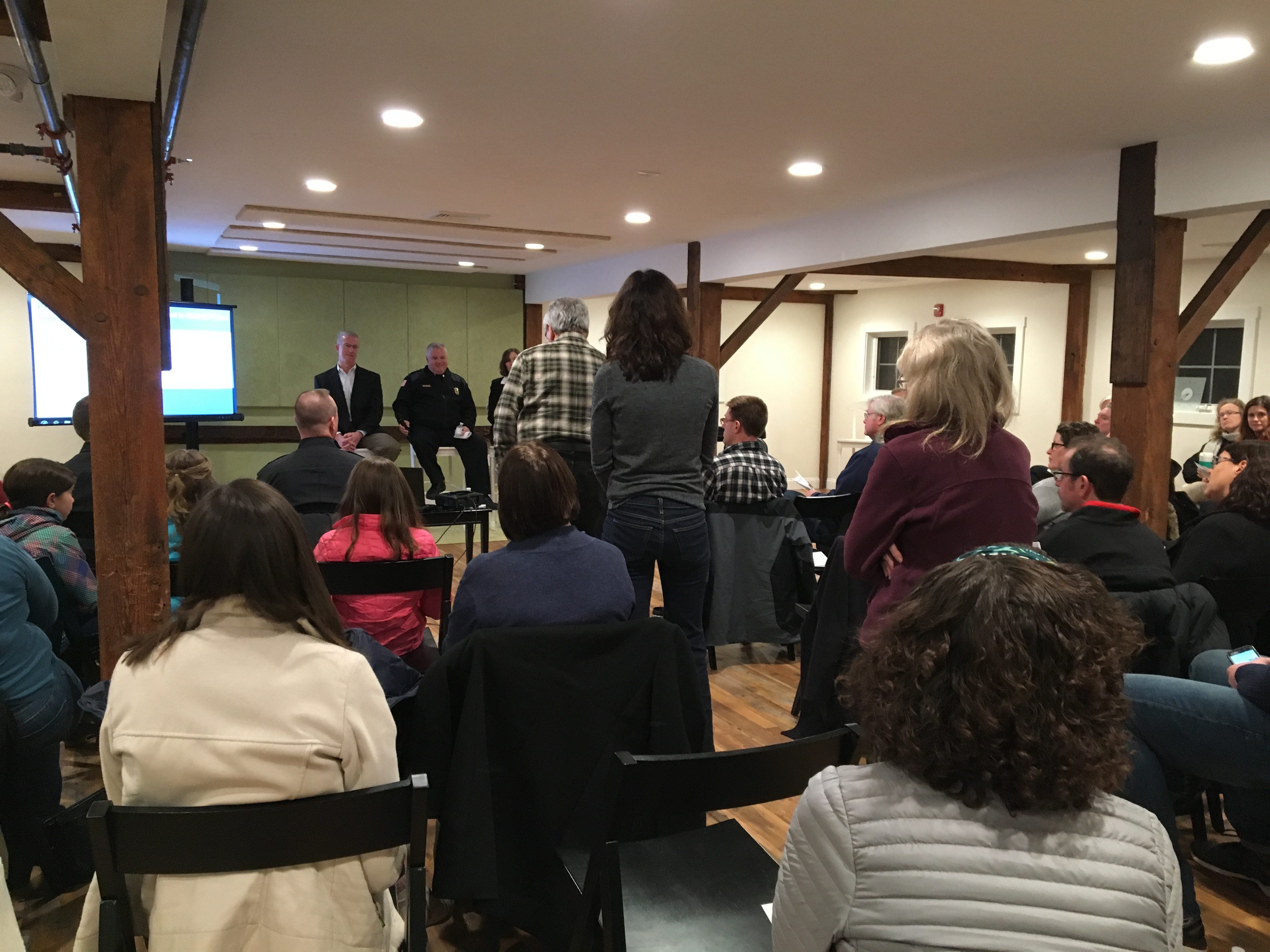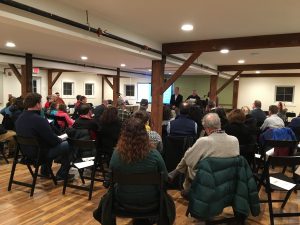 Q: Chamberlain Road resident: If a neighborhood is going to be drastically changed by a development and the residents are really concerned but the Planning Board says they are constrained by bylaws and can't do anything about it legally, do you have any advice for that neighborhood?
A: Elaine Lazarus, Director of Town Operations: It depends on the goal of the neighborhood. If you think the bylaws need to be changed, there is a process we can go through to work on changes to the bylaws, it happens every year, we're working on bylaw changes proposed for Town Meeting right now. If, one wants to convince a board to see things differently, one should appear at the board, communicate with the board, write to the board, email, to let them know how you feel. I would communicate.
Q: Chamberlain Road resident follow up: Is there a possibility of putting a bylaw in to protect a neighborhood? I know the Master Plan speaks to keeping neighborhoods nice and not overly trafficked.
A: Elaine Lazarus, Director of Town Operations: The devil is in the details. When the Zoning Advisory Committee, for example, reviews ideas for bylaw changes, people brainstorm about what the goal is and how we can accomplish it. There's a lot of discussion about what the changes might be and how it benefits the community. It's a brainstorming session and ideas come out of that.
---
Q: Sanctuary Lane Resident (off of Chamberlain): What would the process be to add a small right turn lane out of Chamberlain onto Rt 85 South? Traffic backs up for people turning left off of Chamberlain which slows people turning right. A lane could smooth out traffic flow.
A: John Westerling, DPW: We can look at what the existing right of way width is there. If there is sufficient room, we can look at the potential of adding a right hand turn lane. If it's coming forward as part of a subdivision plan, that might be an off-site improvement that the Planning Board can look at requiring of the developer. It depends on the timing of that. But we can certainly look at the right of way there.
Q: Sanctuary Lane resident follow up: With the school coming do we have a plan on posting another 20 MPH sign south of Hilltop closer to the school?
A: Chief Lee: Yes that's part of the plan. With the new school we are going to have to lengthen the amount of the school zone, so it will be quite a distance before the school and all the way back to the high school.
---
Q: Marshall Ave resident (by Main St): We have a neighbor who is blind and I've seen her seeing eye dog save her life more than once because the crosswalk is right at the crest of the hill and a lot of people don't see it. You don't see the pavement until you're right up on it. I've had a school bus pass me twice when I'm in the crosswalk. There is a crosswalk closer to Wood Street about a block down that is marked with a crosswalk marking. Ours is not marked. There are no signs to the right or left of the crosswalk. I have suggested that there be a flashing sign there because it is a very dangerous spot and our neighbor has lived there quite some time and she is blind so I think it is a critical intersection.
A: Chief Lee: Please report any violations (including bus number) to the police. We will call the bus company and report the bus. We can also send an officer in plain clothes and have him/her stand at the crosswalk and when violators don't stop a cruiser down the street will pull them over and enforce.
A: John Westerling, DPW: Thank you for bringing that to my attention. Part of the problem with Main St is the number of crosswalks that are "mid block" crosswalks. A driver typical expects a crosswalk at an intersection. If it's not at a signalized intersection then it's a "mid-block" crosswalk. Those are particularly dangerous because a motorist doesn't expect to see them there. We will do what we can to ensure a sign on each side, pointing it out. As far as a flashing beacon, that whole stretch will be reconstructed so that we can look at if there will be a crosswalk in the new design and if so, we will look at whether it meets the warrants of putting up a beacon.
---
Q: Hayden Rowe resident: I'm here for the nightmare called Hayden. I'm glad to hear there is another forum next week [Downtown Corridor Study Workshop, 2/15, 7 pm, Hopkinton High School]. I have some suggestions from living there. Part of the problem is taking a left out of my driveway onto the street. Right before me there is a 40 MPH sign so people are gunning it. It's a bad combination. There are two culprit 40 MPH signs on that road that should be chopped down and put 30 MPH back. 40 MPH may have applied 50 years ago, but today it's so grossly inappropriate. You could drive 40 legally all the way from Milford to the superintendent's building unless the 20 MPH- when-flashing light is on. I'm glad to hear that the new school is going to be revamping that whole stretch. One other suggestion, the speeding trailer is a life saver. That has saved me from being bashed from behind while I'm going 25. Can you put that up permanently or semi-permanently?
A: Chief Lee: We do have a couple of them. We usually put them away in winter when sand, salt, and snow is worst. We'll keep it out there. Lt Bennett is looking into the cost of a permanent speed radar sign on a post.
A: John Westerling, DPW: This is an area where there is a posted speed limit. The state just changed the laws giving communities a lot more flexibility to change the speed limits. However, that law doesn't apply to an area with "registered speed limit." And this is an area with a registered speed limit. It is governed by MassDOT even though it's a local road, and so we are required to do an engineering study and find the 85th percentile of existing traffic speeds and report this back to the state. It can become a complicated issue. So, if people are driving 50 MPH at the 85th percentile then the town would have to consider posting it at 50 MPH. So it's a very complex issues. I assure you that the speed of that corridor will be looked at as part of the Hayden Rowe Corridor Study.
---
Q: Chamberlain Street resident: After the traffic calming measures were voted down a couple of years ago, why didn't a revised version come back at last year's town meeting? Why not propose a revision that people would be more satisfied with?
A: John Westerling, DPW: Two years ago we were looking for design and construction moneys. Without the design money we couldn't move forward with the design. So what we did was work with the Superintendent and School Committee to look at how we could improve that section of roadway. Now there is a crossing guard there at multiple times during the day helping school buses get out. The school department worked with parents in dismissal times to improve the way people were queuing on Hayden Rowe. We are looking at this more as part of the Hayden Rowe Corridor Study. The current $40K funding is just to get us to come to Town Meeting in May to look for design and construction funds.
Q: Chamberlain resident follow up: It's great to see new sidewalks on Main St and Legacy North, but while there is a sidewalk, there is almost no shoulder for bicycles. At what point does a bicycle lane or even a shoulder that's wide enough to ride on come into consideration? Also, in terms of civil engineering urban planning concepts "pedestrian friendly" means there is a buffer zone between sidewalks and roadway to make it more comfortable. Hayden Rowe doesn't have a buffer zone which is really problematic. Are those sorts of things being considered with this new sidewalk construction. Why wasn't there more room for more bicycles on Main St and Hayden Rowe?
A: John Westerling, DPW: As a cyclist myself, I know how very dangerous, potentially, that can be. With the sidewalk construction, we were challenged just to be able to put in a sidewalk that met ADA compliance within the existing right of ways. If we were going to look at increasing a shoulder to provide a bike lane that would require an increase in the cost of construction and considerable land takings to provide the necessary land. Ash Street is an example.
Q: Chamberlain resident follow up: I understand Ash, but what about Main Street?
A: John Westerling, DPW: The Main Street sidewalk (Ray Street easterly to Legacy Farms) was built by the developer under Planning Board requirements. The town will construct from Legacy Farms to Clinton. But the section from Ray to Legacy Farms was built by a developer. Legacy Farms falls under Planning Board subdivision control regulations as it relates to road and sidewalk width.
A: Elaine Lazarus, Director Town Operations: On Legacy Farms Roads North and South there is a very wide area that looks like a sidewalk, but it's a multi-use path, so there will be signage added directing bikes there that parallels both Legacy Farms North and South Roads.
A: John Westling, DPW: New Main Street Corridor, from Ash to Wood St, will have a new separated bike path, separate from the road and sidewalks.
Q: Chamberlain resident follow up: Are separate sidewalks preferred, is that taken into consideration?
A: John Westerling, DPW: Anytime we are building a sidewalk we look for separation from cars to protect pedestrians. Anytime we can't separate with a grass strip we try to separate with an unmountable 6" vertical curb. If a car veers off it will bounce off. It helps keeping drivers away from driving up onto the sidewalk. But again, the existing roads that we are putting sidewalks on have narrow rights of way and without taking additional land we are challenged to fit it in there.
---
Q: Hayden Rowe resident: What is the process to determine the next phase of sidewalk development after you complete construction this year?
A: John Westerling, DPW: The Planning Board created a Sidewalk Master Plan and that includes sidewalk recommended areas beyond what we've constructed and what we are planning this year. So I would recommend going through the Planning Department and Elaine Lazarus.
---
Q: Resident off of Chestnut Street: In light of recent events, as we had an accident right outside of our neighborhood, I have had some concern for some time that there is no sidewalk on Chestnut. The sidewalk survey showed that Chestnut was the second most requested sidewalk in town. It was really disappointing to see that it didn't make the list of sidewalks to come. I've been here for 8 years, I've seen significant traffic on Chestnut. It's been extremely difficult to take a left hand turn onto Rte 85 during rush hour. I've seen a bunch of accidents at Chestnut and 85. I'm more concerned as my kids get older and they need to walk to school, that this is a 40 MPH road with no sidewalks out of our neighborhood. What needs to happen to make the sidewalk happen and to hopefully get a light at Chestnut and 85?
A: John Westerling, DPW: As part of the Hayden Rowe Corridor Study, the engineers are looking at all of the intersecting streets. They will look at Chestnut and whether there is sufficient room in there for a left hand turn lane and whether the warrants for a traffic signal are met and if they are, that's one of the things that we will consider as part of traffic calming and safety.
A: Elaine Lazarus, Director Town Operations: The survey is very important and the results of that will stand and will be factored into programming for new sidewalks beyond the current initiative. It's the intent to redo the sidewalk survey every couple of years. That recommendation stands and hopefully funds might become available sooner.
---
Q: Resident followup: Is there anything that neighborhoods off of Chestnut can do to make it happen sooner than later before another accident happens that could be tragic?
A: Elaine Lazarus, Director Town Operations: What you're doing right now, petitions, talking to people. The Annual Town Meeting Warrant, where articles are proposed for annual funding and other projects is open until March 1st. So call us at Town Hall.
A: eHop: Annual Town Meeting is starting on Monday, May 1 at 7:00 PM in the Middle School auditorium.
---
Q: Pike Street Resident and President of the Hopkinton Running Club: We have a lot of runners and a lot of near misses. There a couple of places I want to talk about. One is the corner of Chestnut and Hayden Rowe at the blinking light. A lot of people run from Wild to that corner. There's a crosswalk there and no one stops at the crosswalk ever. People fly through it at 40 mph. Any thought of turning the light into a pedestrian crossing where you could hit a button and cross there?
A: John Westerling, DPW: This will be evaluated by engineers as part of the Hayden Rowe Corridor Study, if it does meet the warrants for a traffic signal…and when I say "meets the warrants of a traffic signal" I mean the Manual on Uniform Traffic Control Devices (MUTCD) [a document issued by the Federal Highway Administration of the United States Department of Transportation to specify the standards by which traffic signs, road surface markings, and signals are designed, installed, and used] lays out when you can/can't add a traffic signal, based on traffic volume, accident history, and a number of factors. Rest assured, because there are existing sidewalks in that area, if a signal goes in, we will add a pedestrian crossing.
A: Chief Lee: We look at trends and accident data. That is a hot spot. A lot of them are fender benders. We are looking into this as part of the Hayden Rowe Corridor study.
Q: Pike Street resident follow up: Is there a plan to add sidewalk on East Main from Wilson to Legacy Farms?
A: John Westerling, DPW: The developer is required to finish that. I don't know the schedule for that.
Q: eHop: Is there a schedule in the town's agreement with the developer, what is the timeline?
A: Elaine Lazarus, Director Town Operations: The timeline with the developer was extended. I don't know what the current date is, but it will go through the next construction season at least (Spring/Summer of 2017).
Q: Pike Street resident follow up: The more we get behind the trails, the more pedestrians will be off the roads.
---
Q: Pleasant Street resident: I'm still big on the speeding deal. We have two dogs we walk on Pleasant St, Hayden Rowe, and Grove St. It's crazy trying to walk there. During certain hours, right after kids get out of school, it's pretty bad. From 7pm to midnight, they drive like there is no speed limit there. Something is going to happen. We'd like to see some enforcement on Pleasant. Our problem is that we're a cut through from Eastview. Make Maple Street a one-way and make Pleasant one-way the other way so we would cut the traffic in half. Also, a lot of people park on sidewalks and pedestrians need to walk on the street to get around. Or people park the wrong way in front of their house for hours. A lot of the speeders we see are high school kids. Why not write a few tickets and if they get tickets pull their parking passes. Make them walk or take the bus instead. Driving isn't guaranteed.
A: Chief Lee: Those areas are extremely hard to enforce speed because there isn't enough road to get a reading off of the radar. We'd have to go by observation. You do have a problem of people not stopping at the stop sign. We've had some officers out there to stop people rolling through the stop sign. As far as educating the kids, you have an innovative idea that I might bounce off my school resource officer tomorrow.
Q: Pleasant Street resident followup: If people see a black and white they will slow down. Have an unmarked or just an officer standing on the corner watching. Take the driver's picture. You're only going to stop it by writing tickets.
---
Q: Resident on west side of Hopkinton: I'm excited that you're thinking about linking Downey Street area to 77 West Main area with a sidewalk. As you look at connecting the western part of the town to the town center, how are you going to get around Rte 495 and South Street intersections? Is there a safe way to get pedestrians through those intersections?
A: John Westerling, DPW: Part of the money we're looking for is for the design. We're working with engineers who have designed other sidewalks in town and they've also worked on the bike path in Milford that crosses Rte 495. If you look at that, it's challenging to get across those ramps. It will require a lot of signage to alert motorists and it will require pedestrians to be aware of their surroundings and to stop at crosswalks and wait until it's safe to cross. In Massachusetts it's not a requirements for motorists to stop. It's a yield. It's going to require a lot of design work and coordination with MassDOT because that's their corridor, they own the land under Rte 495. For South Street we are going to look at existing signals and look at adding push button pedestrian crosswalks. It's very wide there. Very challenging to cross without assistance.
---
Q: Brian Herr, Chair of the Board of Selectman: John mentioned there was an article before Town Meeting 2014 (Article #17) for traffic mitigation on Hayden Rowe in the school area. It failed because for as many people here tonight, passionate about pedestrian/traffic safety in town, there are as many people who don't want anything to change. So, I plead to everyone please go to Town Meeting, please make your voices heard. We could put more articles up before Town Meeting, but if we don't show up at Town Meeting, the folks who want to keep everything the same, it will fail. That's the reality of politics in Hopkinton. I'm with you 110% on these issues. But if we put time, energy, and money into them and then we don't participate in Town Meeting, it will all be for naught. It's really important that everyone come out and participate. Your voice has to be heard at Town Meeting.
eHop: eHop's next forum will be Know Your Vote, our 5th annual HCAM-TV call in show, the Monday before Town Meeting [April 24 @ 6:30 pm]. The goal of the show is to answer all sorts of questions relating to issues that will come up at Town Meeting so that when residents come to the Middle School auditorium for Town Meeting we will all be informed voters.
---
Q: Smith Road resident: I have a suggestion disguised as a question. What do you think about residents not flicking our lights to alert oncoming cars to speed traps?
A: Chief Lee: I drive an unmarked unit and sometimes people flash lights at me and I get the pleasure of pulling them over and asking if they want something. You can cite someone with an unlawful use of lights. But people are concerned about traffic and safety and on the other hand there are people who warn others to slow down to avoid the police.
eHop: There is a lot of push and pull between these issues. We all want to move through town quickly and efficiently and we all want to drive in our cars, yet we get annoyed that there are so many cars on the road. We also don't want other people to speed but we want to get to soccer practice (for example) fast too .  And in terms of the Downtown Corridor, we want there to be parking but we also want there to be a free flow of traffic. So there are many compromises. These are very complex issues. So they deserve forums and the town is going to be hosting two more forums [Hayden Rowe Corridor Study Workshop on Feb 15, 7 pm at HHS, and the Downtown Corridor Project forum in the next couple of months, date to be determined].
---